Check Me Out '14 -- Upperclassmen
Posted
9 years 1 month ago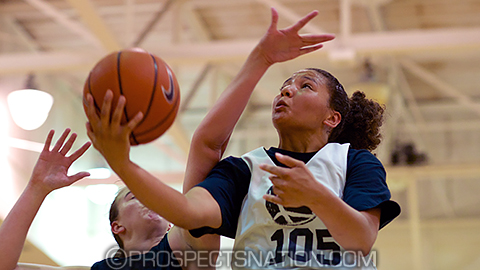 Not even a broken finger could stop ELITE 60 point guard Destiny Slocum from making plays at the 2014 Check Me Out Showcase. *Photo by Glenn Nelson.
SEATTLE, Wash. -- The 2014 Check Me Out Showcase brought 137 players to the court in the Pacific Northwest looking for competition, exposure and elite skill instruction. With two Canadians and players from 13 different states in attendance, the event allowed players from all over to play against different players than they saw during the club team circuit.
With ample talent in the gym this weekend we look at some of the standouts from the 2015 and 2016 classes.
TaeKenya Cleveland (Aurora, Colo.), Rockies -- 2016
Cleveland is a 6-foot-1 combo forward with the skill set to play an inside out game. She got better throughout the weekend and capped off her Showcase run with an exclamation mark in her final game Sunday where she made big basket after big basket in a game that went down the wire. Because she has both size and shooting range she is a really tough matchup when she's in attack mode.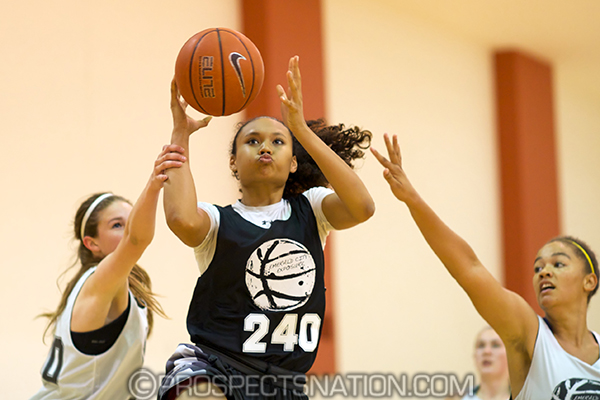 '16 ELITE 60 wing Mai-Loni Henson. *Photo by Glenn Nelson.
Mae-Loni Henson (San Diego, Calif.), Wiggins Waves -- 2016
Henson continues to show her advancement on the wing. Every time we see her she seems a little more comfortable handling the ball against pressure. This spring she added a consistent shot from 3-point range and she's using her improved handle to attack the paint more.
Mikayla Pivec (Lynnwood, Wash.), ECBA Swish Black – 2016
There aren't many players in the 2016 class who have games as well rounded at Pivec. The 5-10 wing molds in well playing with other elite players and proved she can make plays with and without the ball. She's a kid that will stuff the stat sheet in every column. She's a wing player that makes her teammates better in the many of the ways you ask a point guard to lead.
Amber Ramirez (San Antonio, Texas), SA Finest -- 2016
Ramirez came off a summer where she got to move primarily to the shooting guard position and this weekend she showed her versatility taking on the point guard role for her team. She is a player that can catch fire and become unguardable. Standing every bit of 5-9 now allows her to get her shot off even better than she did before and she already possessed one of the quickest triggers in the country. She wasn't as efficient as we saw in the summer but she still had a strong weekend.
Destiny Slocum (Meridian, Idaho), Boise Hoop Dreams -- 2016
Slocum was one of the hottest names of July but she wasn't a new face the Check Me Out Showcase. More than her talent, which is obvious, her toughness stood out. She's becoming a factor on the defensive end and her relentless style is not a gimmick when colleges are watching. She broke her pinky finger, had it taped and played out the weekend. Probably not the smartest move but at the time she didn't know it was broken and it's just how she is wired. She played basically one-handed on Sunday, only using the injured hand to balance when shooting.
Andee Velasco (Yorba Linda, Calif.), Cal Storm -- 2015
Velasco had a break out summer, much like Samantha Logic (Iowa) did in her last summer in 2010. The 5-8 point guard has always been savvy with range but her strength as improved where her dribble penetration, both to score and to set up teammates, is a real factor for defenses to deal with. She is realizing all the projections scouts and pundits saw from her as a freshman.
Makenna Woodfolk (University Place, Wash.), YEA -- 2016
At 6-2 and with good overall athleticism, Woodfolk is a prospect that will register for scouts looking for a mobile post. She can run the floor with any of the posts in the class and she possesses good length. The most impressive development in her game that wasn't prominent earlier this summer is her face up game. When defenders backed off of her at the high post and even out to 17 feet she didn't hesitate to punish them by knocking down the jumper.
#ProspectsNationTV
Watch the opening game between Team which features Alex Briggs (60), Amirah Abraham (100), Oliana Squires (102), Adyson Clabby (123), Giavanni Flowers (124), Mai-Loni Henson (240), Kylee Johnson (265), Emma Johnson (341), Amber Ramirez (409), Carly Rataushk (505), and Bianca Velasco (553), taking on Team 2 featuring Alyx Fast (104), Destiny Slocum (105), Tiana Parker (106), Kaelan Shamseldin (135), Shariah Green (242), Ann-Marie Jacobs (257), Aislinn Konig (278), Lindsey Cleary (285), Sterling McLennan (552), and Kat Tudor (600).
AROUND THE RIM
♦ Amirah Abraham of Portland, Ore., is a heady shooting guard with range. She has really become consistent in her play, never forces things and makes the right read. The senior will be productive at the next level.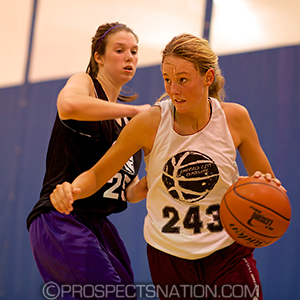 Montana native and '16 wing Nora Klick .
*Photo by Glenn Nelson.
♦ When you talk about the most improvement this summer, 2016 wing Nora Klick of Simms, Mont., might take the cake. Her confidence and strength is on a new level from the kid we saw at Check Me Out SoCal in March.
♦ We saw Oliana Squires of Colorado Springs, Colo., two months ago at EBA Super 64 and she picked up right where she left off making plays and showing a strong mid-range game. For a leaner build she's not afraid to attack the paint.
♦ Joyce Harrell of Seattle, Wash., had a good summer with Tree of Hope and the strides she has made being able to score in the paint with good pivots and patience showed up here this weekend.
♦ Loryn Musgrove of Kelso, Wash., is a bit of a sleeper that schools need to pay attention to at the point position in 2015. She's a kid that can't help but go hard on every possession and her speed and tenacity maker her factor with dribble penetration as well as knock down the open three.
♦ When you think of speed at the point, think of Payton Whitmore of Gilbert, Ariz. She joins Klick in the group of most improved as her poise with the ball stood out. She was turning the corner with the ball much more consistently than we saw in March.
♦ Some players turn it on for games and relax in the skill sessions but that was not the case for Janessa Willie of Seattle, Wash. The 5-8 guard brings a lot of strength and energy to the floor. She threaded the needle on a couple of skip passes to get teammates shots and hit a couple of threes herself.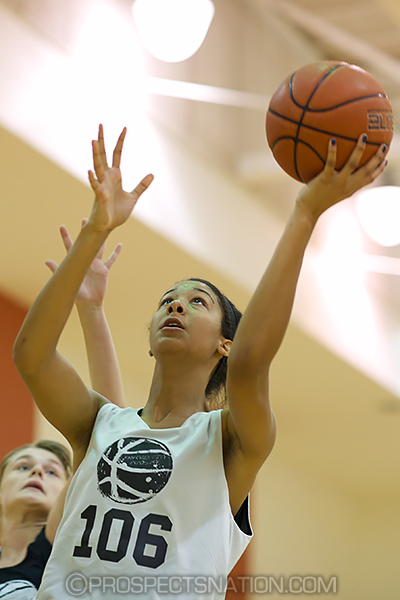 '15 post Tianna Parker .
*Photo by Glenn Nelson.
♦ Tiana Parker of Chehalis, Wash., had a terrific weekend in the post, showing more a more aggressive style in scoring on the blocks than we saw in July. She can turn over her left should to drop step or score on a jump hook.
♦ West Coast Premier point guard Genessa Bedoya of Santa Clarita, Calif., looked like a new player this weekend. The junior had a swagger about her and really embodied the role of a pure point guard. Teaming her with a player like Pivec who moves so well without the basketball was a fun pairing.
♦ Jessie Loera of Moses Lake, Wash., was only at the event for Saturday but she left a big impression. She showed that her skill set is diverse in that she is a sharp passer, capable scorer and an overall smart player at the point or even at the two.
♦ Jovana Nogic , the Portuguese native who now calls Vancouver, B.C., home, drew comparisons to a mid-major version of Notre Dame commit Ali Patberg this weekend. Her size and style were so similar that the 2015 combo guard will make a real difference for
♦ Kat Tudor of Woodbridge, Calif., is an ELITE 60 prospect in the 2016 class and played like it this weekend. The 6-0 sharpshooter has the length and quickness to get her shot off at will but also impressed starting the break and getting to the basket as well.
♦ Alyx Fast of Centralia, Wash., had a special weekend playing with big time talent like Slocum, Tudor and Konig. The 5-8 guard shot the 3-ball really well and was competing at a high level. Her confidence was at an all time high after recovering from an anterior cruciate ligament tear. Follow @ChrisHansenPSB

Hansen is managing editor of ProspectsNation.com and a McDonald's All-American selection committee member. He was the national director of scouting for ESPN HoopGurlz from 2005 until 2012. He can be reached at chris@prospectsnation.com.