Posted
8 years 3 months ago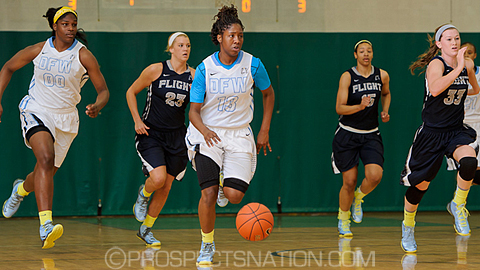 ELITE 150 combo guard McKenzie Calvert is looking west for college, committing to USC on Thursday. *Photo by Ty Freeman.
Tweet
There used to be a mindset in recruiting that Texas kids never leave the Longhorn State. But perhaps that is changing as the last five years has seen Chiney and Nneka Ogwumike leave for Stanford, Brianna and Stefanie Gilbreath leave for USC.
In the 2012 class Moriah Jefferson chose Connecticut while Alexis Jones chose Duke.
Even in the 2014 class Briana Turner is heading to Notre Dame. Add McKenzie Calvert, the ELITE 150 combo guard from Sherz, Texas, to the list with her commitment today to Southern California. The 5-foot-9 guard chose USC over finalists Duke, Georgia Tech, Texas A&M and Winthrop.
Calvert's decision isn't an indictment on Texas schools keeping kids home, as the University of Texas has one of the best classes in the country this year, but her reasons do highlight a change in thinking for kids in her state as well as the rise of the Pac-12 conference.
"Well I've lived in Texas my whole life, so I thought moving, and especially to LA, sounded cool," Calvert said.
Calvert originally committed to Baylor as an eighth grader but reopened her recruitment this spring. Calvert's reasoning for choosing the Trojans don't stop with wanting to spread her wings and leave the state though.
"They rank in the top five for pharmaceutical schools in the country," Calvert added. "I'll get to play for a coach that played in the Olympics and WNBA and was one of the best players in the country at her time. And I'd be surrounded by a great 2014 recruiting class and play along side one of the top point guards in California."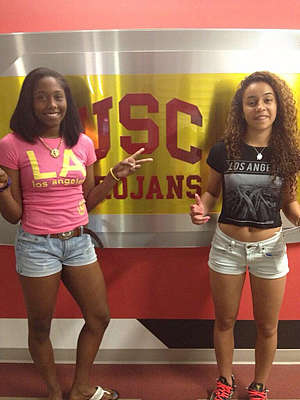 Calvert (left) poses with Butler on her official visit.
*Photo courtesy of Butler family.
That 2014 class includes two ELITE 150 prospects – Chyanne Butler, the 5-6 point guard from Corona, Calif., and Amy Okonkwo, a 6-1 forward from Rancho Cucamonga, Calif.
Calvert has played a lot of point guard in her prep career but the pairing with Butler was not a detractor in the process. In fact it was a crucial part of Calvert's decision.
"Well I think that me and Chy are going to work well off each other," Calvert said. "When I get to USC I will be a scorer, which is what I love to do. Having her smooth handles and solid floater along with my aggressive offensive and defensive game, we will make a mean combination."
That duo will join a talented existing backcourt with celebrated 2012 signee Jordan Adams, a high school All-American, who redshirted last season, sharpshooting freshman Courtney Jaco and Virginia Tech transfer Alexis Lloyd. That quintet will play for three years together.
With the backcourt cupboards stocked, look for USC to focus on frontcourt players with its remaining 2014 scholarships as well as making it an emphasis in 2015. USC is a finalist for Kristen Simon, the 6-2 post from Los Angeles, as it looks to replace senior All Conference post Cassie Harberts. Follow @ChrisHansenPSB

Hansen is managing editor of ProspectsNation.com and a McDonald's All-American selection committee member. He was the national director of scouting for ESPN HoopGurlz from 2005 until 2012. He can be reached at chris@prospectsnation.com.