Cal Adds Jaelyn Brown In 2016
Posted
7 years 8 months ago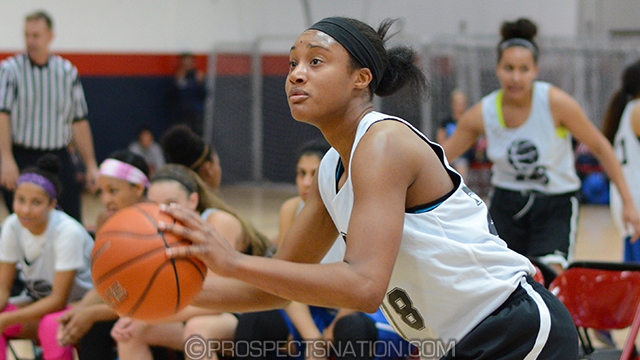 Jaeyln Brown of Murietta, Calif., sizes up a shot at the Check Me Out SoCal Showcase in Lake Forest, Calif. *Photo by EGB.
California coach Lindsey Gottlieb and her staff received good news this week when class of 2016 forward Jaelyn Brown of Murietta, Calif., made a verbal pledge to the PAC-12 school.
At 6 feet 1, Brown will give Cal another long, athletic, and versatile piece that will fit in perfectly with the type of athletes Gottleib and her staff likes to recruit. She has the ability to be effective playing on the wing, slashing to the rim, or posting up smaller defenders.
"Brown fits Cal's style perfectly," ProspectsNation.com managing editor, Chris Hansen, said. "When you look back at the 2013 Final Four team, with Gennifer Brandon, Afure Jemerigbe, Talia Caldwell, Reshanda Gray and Justine Hartman playing the three through five positions, they kept running big bodies at the opposition."
For Cal, the addition of Brown gives them two members of the ELITE 150 for the class of 2016. Joining Brown will be her Cal Sparks teammate Celeste West of Bakersfield, Calif. The combination of Brown and West is a strong start to the 2016 class for Gottleib and her staff, the next major chess piece for Cal will be No. 3 overall Sabrina Ionescu of Walnut Creek, Calif.
"With Kristine Anigwe, Mikayla Cowling, Gabby Green and MaAne Mosley joining forces with this class, you can see some similarities on the front line," Hansen added.
Now the Bears will have to wait and see who if they can land the player to fill the role on the perimeter that Layshia Clarendon and Brittany Boyd filled on that team.

Keil Moore is the Director of Scouting for the JumpOffPlus.com National Scouting Report and international scouting report. He serves on the Naismith Trophy Board of Selectors and has been a member of the women's basketball community for more than eight years as a trainer and evaluator. He can be reached at keil@prospectsnation.com.