Breaking Down The 2019 Class
Posted
6 years 8 months ago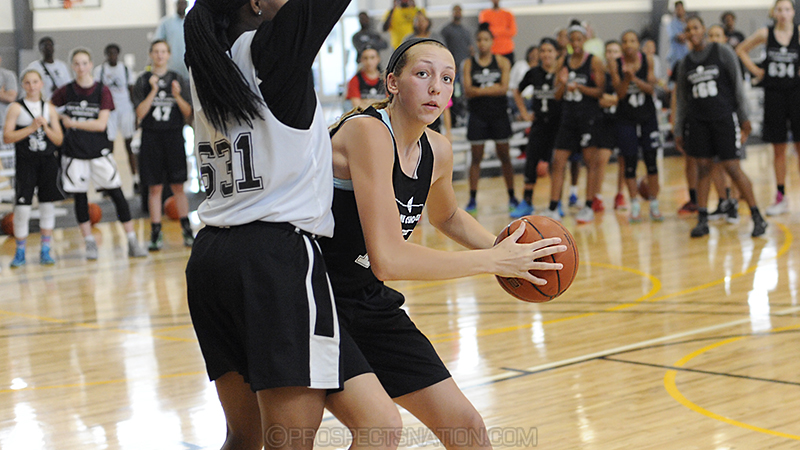 Taylor Jones is emerging as a star post player in the 2019 class and is in a long line of Texas standouts. *Photo by Chris Hansen.
The 2019 class continues to evolve and the class is well regarded nationally. With the expansion of the ProspectsNation.com rankings to the ELITE 60, here are some themes in the early stages of this class.

Post Play
The 2019 class is shaping up to be as strong as the 2018 class is in the post. Comparatively this class has 13 players in the ELITE 60 while the 2018 class currently has 12 players in the top 60 spots of the ELITE 100.
Taylor Jones stands out as the premier post in the class. Her size and length are comparable to current Baylor commit Lauren Cox. Jones is a prospect who has made tremendous progress over the last calendar year and is showing the ability to consistently score both in the post and facing the basket.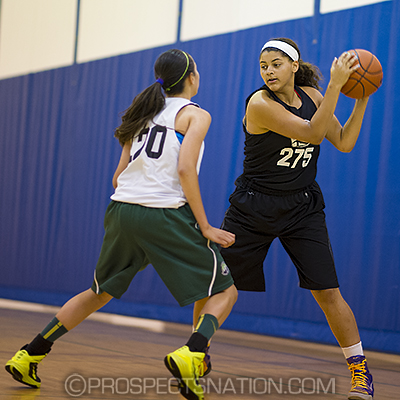 Destinee Oberg is arguably the most skilled post in the
2019 class. *Photo by Chris Hansen.Destinee Oberg is another post who has garnered national recruiting attention. She is a talented back to the basket post scorer with a great feel for how to pass and share the ball. Like Oberg, JaQuaya Miller has left a lasting impression on our staff. Miller was hard to guard this summer and forced teams to double team her with regularity.
Not far behind Oberg and Miller is another duo of posts who have made an impact in the class. Alliyah Boston and Malu Tshitenge who bring athleticism and size to the position. As they continue to develop and learn to use their gifts, look for both players to become well-known names.
Fluidity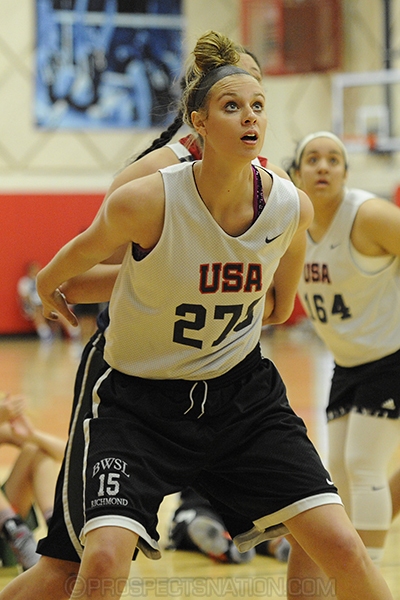 Sam Brunelle is a five-star prospect in
the 2019 class. *Photo by Chris Hansen.Unlike previous classes such as 2013, 2014, and even 2017, look for the 2019 class to be a lot more fluid. The current home of the top 10 players in the class will almost undoubtedly change as time progresses. Zoe Young currently holds the top position in the class but behind her are a number of quality players who can certainly make a claim for Young's position. Look for names such as Nyah Green, Anaya Peoples and Samantha Brunelle to be in contention moving forward.
The talent overlap in the 2019 class isn't limited to the top only. As we worked down the list it felt like we were picking between the narrowest of margins. I like this player, but I like this player too. While this makes the job harder, it is great for college coaches. Recruiting this class should allow schools to make choices based on fit and feedback and not just talent alone.
Dynamic Guard Play
When you look at the 2019 class as a whole, one thing that pops out is quality of guard of play that lies in this class. There are elite playmaking guards from the No. 1 spot throughout the ELITE 60. Athletes in the mold of Young and Green have proven to be able to use their elite size create their own looks and make plays in one-on-one situations. While Young is more of a distributor and Green is more of a scorer, they both have stood out because of their play.
The guard play in the 2019 class is not limited those two, it has a tempo pusher in Chloe Chapman, a cerebral playmaker in Jaden Owens, a pick and roll specialist in Shaila Beeler, and many more guards with their own unique identities.
Five to Watch
As this class continues to progress, here are five players to keep an eye on.
Hemingway is an explosive scorer who has the potential to put up big numbers. Over the past couple of years we have seen her game blossom into the pure scorer that she shows now. At 5 feet 10 she has the size and strength to be a tough one-on-one match up and is learning how to exploit both.
When you think of Horston, one word comes to mind, competitive. At times Horston can float and not leave the type of impact on the game that she is capable of but when "winning" time comes around, Horston is there to answer the call. She is a scoring-minded point guard with a knack for making clutch baskets.
Jones is one of the more versatile players in the class. With a well-rounded skill set and quality size, she is capable of playing multiple positions and having the offense run through her as a playmaker or run to her as a play finisher.
Pili is a fun player to watch. The Alaskan is as strong as any player in the class and the 5-foot-10 wing knows how to use her gifts. She is a capable rebounder who shows the ability to push the ball in transition while also taking smaller players into the post.
Perez is a young post player that has shown endless potential. At 6-4 she has elite size while she has shown soft hands and great feet. She is still learning how to play on the block and use her tools but the flashes of potential are there and the consistency is starting to show.

Keil Moore is the Director of Scouting for the JumpOffPlus.com National Scouting Report and international scouting report. He serves on the Naismith Trophy Board of Selectors and has been a member of the women's basketball community for more than eight years as a trainer and evaluator. He can be reached at keil@prospectsnation.com.