Posted
9 years 10 months ago
Cal Sparks guard Arica Carter has been terrific in Tennessee thus far.
Photo by Chris Hansen.
Tweet
BRENTWOOD, Tenn. – Though no championships were on the line, the Showcase portion of the 2013 Battle in the Boro was as compelling as any basketball played throughout the summer. With marquee matchups from teams all over other the country, the stage was set for epic finishes and performances, including the Mac Irvin Fire-Godfather 50-44 win over Tennessee Flight Silver. After the final exhibition finished up we look at three of the key performances from Thursday night at Brentwood Academy.
Arica Carter (Long Beach, Calif.), Cal Sparks Gold – 2014
When you play next to a guard as talented as UCLA-bound five-star point Jordin Canada, it can be hard to stand out. However Arica Carter was one of several Sparks players to show out in their showdown with the New Jersey Demons. While Canada too was playing at a higher level, Carter has been on a steady rise over the last 12 months and as she has hit perimeter jumpers and scored off the dribble, the Sparks have found the balance they've been searching for since April. What we were used to seeing in spurts the ELITE 100 player has been delivering on a consistent basis.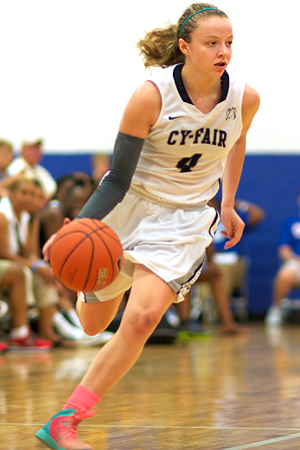 '15 Watch guard Kennedy Leonard.
*Photo by Chris Hansen.
Kennedy Leonard (Southlake, Texas), Cy-Fair Nike Elite – 2015
Great guard play is an essential element for the success of any team. Kennedy Leonard, an ELITE 100 Watch List combo guard, continues to show improvement each time that we see her. She is playing with confidence and it showed in an impressive win against a very good Team Takeover DC Elite team. She made several acrobatic baskets in transition and also showed that she can be creative off the dribble. Leonard has several college offers already on the table and there are sure to be many more in the near future.
Adrianna Hahn (Wilmington, Del.), Team Takeover – 2015
Adrianna Hahn, who played a majority of her minutes this spring off the ball, was very good today making plays and scoring the ball from the point guard position. She is a high basketball IQ combo guard with a lethal jump shot. Her ability to create her own shot was something that solidified her place in the ELITE 60, but it's her versatility as a true combo guard, being equally good at both positions, that will make her stock continue to rise. Her play in a head-to-head match up with an elite point guard like Brooke McCarty of Clear Springs, Texas, and Cy Fair turned a lot of heads in the building today in the process.

Hansen is managing editor of ProspectsNation.com and a McDonald's All-American selection committee member. He was the national director of scouting for ESPN HoopGurlz from 2005 until 2012. He can be reached at chris@prospectsnation.com.
Follow @ChrisHansenPSB

Moore is the National Director of Scouting for the JumpOffPlus.com National Scouting Report. He can be reached at keil@prospectsnation.com.
Follow @KeilMoorePSB

Peck is the owner of Dream In Motion Athletics and is a national evaluator for the JumpOffPlus.com National Scouting Report. He also serves as a on-floor skills coach at the Elite Basketball Academy events. He can be reached at StephenPeck@peachstatebasketball.com.
Follow @StephenPeckPSB