Boost Training At CMO All-American Camp
Posted
1 year 5 months ago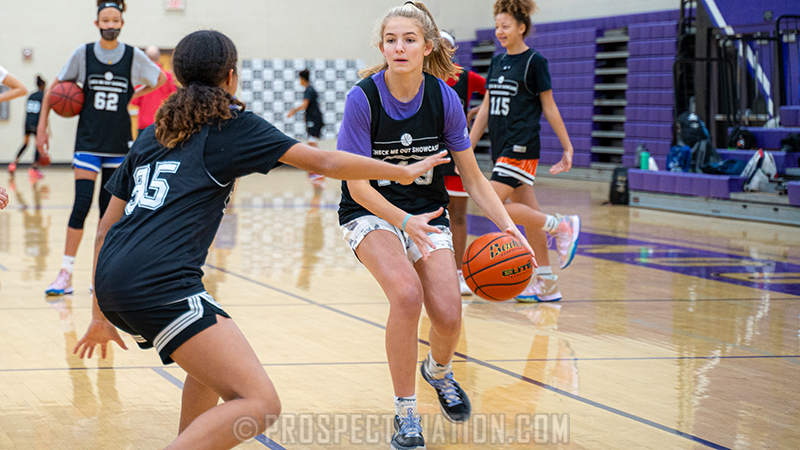 Kamryn Reinker of Billings, Montana, works against Kinzie Murray of Glendale, Arizona. *Photo by Anthony Lugardo.
SURPRISE, Arizona – Elite Is Earned basketball hosted its CMO Middle School All-American Camp this past weekend. The lineup drew players from 12 different states to the Greater Phoenix Area. Before camp officially tipped off we got some extra work in with our Elite Is Earned Boost program members to check in on where they are at in their process.

Garner showed us her confidence with the ball in her hands and ability to use her strength to create scoring opportunities. Her confidence and willingness to try different finishes in traffic are a good sign and we're excited to see how her game progresses as she learns when and where to use all her tools.

We just got started with Reinker this fall when Check Me Out hit Missoula, Montana. The Billings-native looked like a completely different player here in Arizona, in a good way. The hesitancy in her game was gone and she really attacked the workout and the entire weekend. She's got length and ball skill so she's one to keep an eye on.

Murray is a lefty guard we've tracked for several years already, in spite of her youth. She has ball skill and natural feel for the game. The daughter of two coaches, she sees the game well for her age. We'd like to see her take the next step and be decisive from the jump. She has the ability to create for herself and teammates so, naturally, we want more.

DiPuccio made her debut in the gym with us here in her home state. Despite being the youngest camper of the group, she showed a lot of positives. It took her a little bit to get comfortable but once she realized she belonged the more aggressive side of her started coming out. She has a nice release on her shot and has the makings of a strong ball skillset.

Hansen is managing editor of ProspectsNation.com and a McDonald's All-American selection committee member. He was the national director of scouting for ESPN HoopGurlz from 2005 until 2012. He can be reached at chris@prospectsnation.com.