Boo Williams: Four To Know
Posted
10 years 7 months ago
The Boo Williams is undoubtedly one of the premier tournaments in the country for the April evaluation period. This year with all of the talent that is scheduled to be on hand, a majority of the basketball world will make a stop in Hampton Roads, Va., for at least a day. Last year the tournament championship went to the Tennessee Flight and their elite combination of wings Kaela Davis and Rebecca Greenwell.
In addition to the overall tournament champions, there were a number of other interesting storylines that developed throughout the weekend. To highlight a few of the major happenings of last year's Boo Williams Invitational, Rebecca Dahlman emerged as a potential All-American candidate, Jadda Buckley turned heads with her play and elevated her stock as a top 50 caliber recruit nationally, and the Lindsay Allen coming out party commenced, ultimately leading her to Notre Dame on the otherside of the weekend.
While we don't know exactly what will happen this time around in Hampton Roads, we can take a stab at some intriguing developments to look out for. Here is a look at our top storylines going into the weekend.
Tradition Doesn't Graduate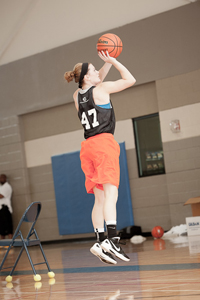 '14 Flight guard Alexa Middleton.
*Photo by Ty Freeman.
The motto on last year's Tennessee Flight team t-shirt sure was powerful: Tradition Doesn't Graduate. While most summer programs focus on logos or fun slogan's to put on their tees, the Flight had a simply stated phrase that forced their roster to back it up. As the program that has won the more Nike National's championships than any other, even their U15 won their division at Nike, and been as dominant as any summer program in the country in the last few years, the pressure was on last year's group to leave the program better than they found it. Which is an awfully tough task for a group of kids that had never played with each other before.
After a summer in which a roster led by Davis and Greenwell managed to put up a list of accomplishments that would give them the right to make a case as one of the best team's in program history, they certainly earned the right to say they raised the bar. This year's Tennessee Flight roster is compromised of a few key returners from last year, including 2014 guards Alexa Middleton and Kentucky verbal commitment Jaycee Coe. Joining them will be a core group of last year's U15 team, led by 2014 prospects Rachel Bell, Shelbie Davenport and Brooke Copeland. The Flight won't have two of the top five players in the country as they did last year, but no one will. What they will have is a roster full of top 150 caliber prospects and a proven winner to lead them in Middleton. This year's Tennessee Flight will have to carry the torch and prove once again that Tradition Doesn't Graduate.
The Race for No. 1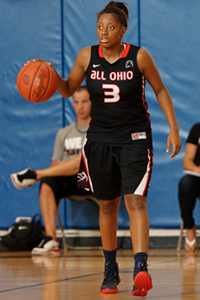 '14 No. 1 prospect Kelsey Mitchell.
*Photo by Ty Freeman.
Every year there is a legitimate race for the No. 1 spot in the overall prospect rankings. There was last year's battle between Mercedes Russell, Davis and Diamond DeShields. Two years prior there was another memorable debate, Kaleena Mosqueda-Lewis or Elizabeth Williams for the top spot. In the spring of 2012, Breanna Stewart elevated herself as the clear cut No. 1 player in the country and no one was able to catch her for that calendar year.
This year has the look of 2012 all over it. Currently Kelsey Mitchell holds the top spot in the ELITE 60, and while there are some quality prospects in the rearview mirror, at this point in the race Mitchell seems to have a nice lead on the competition. If you're Brianna Turner, Aj'a Wilson, or Jordin Canada, April is the perfect time to make up ground on the way to the top.
In addition for the race to No. 1, there also is a little mystery as to what that final top 10 will look like a year from now. There are a handful of players outside of the top 10 that could stake a claim to a spot on the inside by showing growth and development in their game this spring.
Breakout Players
Every year a kid comes into the April evaluation weekend as an unknown and leaves that weekend as one of the most popular kids in the country. The best example of this is current Syracuse freshman Brittney Sykes. In 2011, Sykes had every Division I school in the country trying to figure out who she was and how they could get her on campus. Leaving Virginia that weekend Sykes had earned offers from Baylor, Duke and North Carolina to name a few. It remains to be seen if there will be a Sykes type of story this April or not, but if there is here are a couple of names that could rise on recruiting lists.
Ariel Atkins - We've seen Atkins, the most recent Texas verbal commitment, a lot this past year. The world hasn't yet. Look for Atkins to be a major riser in the next rankings release.
Aushanae Durant - People know Durant's teammate Myisha Hines Allen. Durant's athleticism and energy should turn heads as well. The New Jersey Sparks will be led by these two and 2014 point guard Imani Tilford; a formidable trio of talent.
Imani Littleton - Littleton has all of the tools everyone loves. She's a long, athletic post player. This summer she is set to play with the Cal Sparks and a point guard like Canada should make the game easier for her.
Michelle Nwokedi - Like Durant and Littleton, Nwokedi is a long and lean athletic 4-player. She has a developing skill set and her ability to play as a new age power forward should make college coach's very interested.
The Year of the Point Guard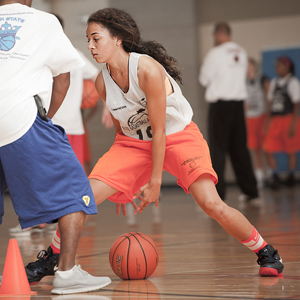 '14 ELITE 100 watch Chyanne Butler.
*Photo by Ty Freeman.
We have called 2014 the year of the point guard, and so far that theme has held serve. It is the position schools are recruiting the hardest and everyone who is anyone at the Division I level has one or two that they think would be perfect for their system. With four of the top five in the class already off the board, there are still a number of quality lead guards for your program of choice to pick up. A couple of highly sought after prospects include:
Chyanne Butler - She is arguably the best uncommitted point guard on the West Coast. Butler will pace West Coast Premier all summer with her quickness and playmaking ability.
Asia Doss - Doss is lighting quick and has played at the U17 level for multiple summers now. Look for the combination of her ability and experience to equal to a strong spring.
Katelyn Flaherty - First and foremost, Flaherty is a scorer. Sharing a backcourt with a playmaker like Sadie Edwards will allow Flaherty to play her natural role and look to be aggressive offensively. Follow @KeilMoorePSB
Moore is the National Director of Scouting for the JumpOffPlus.com National Scouting Report. He can be reached at keil@prospectsnation.com.