Beyond The Numbers: USC 2024
Posted
2 weeks 6 days ago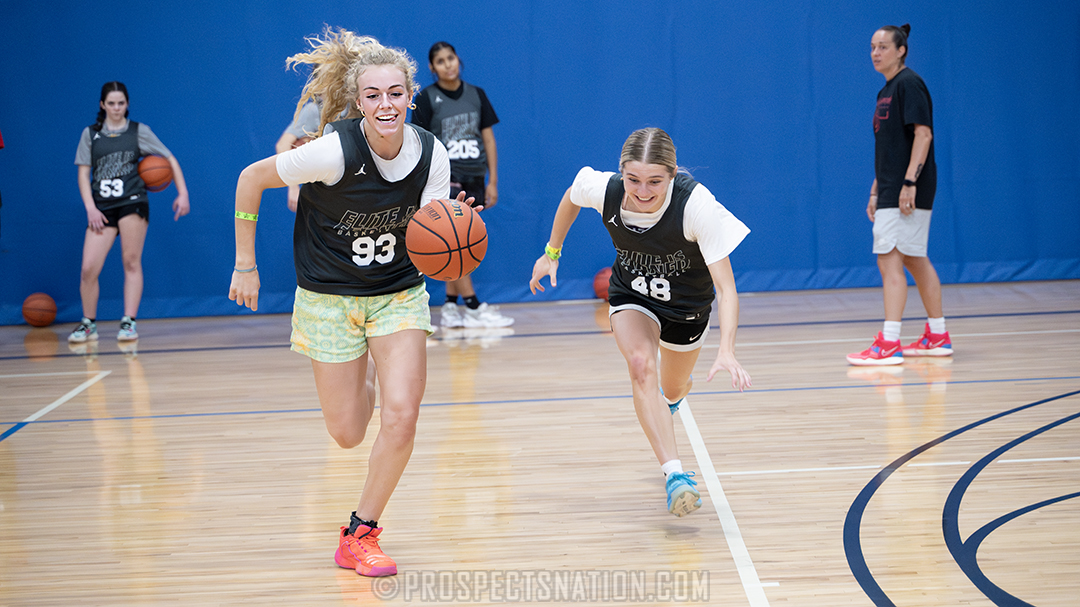 Avery Howell is a key part of a huge singing class for Lindsay Gottlieb and the USC Trojans. *Photo by Chris Hansen.
There is plenty to be made of the USC women's basketball early signing class for the 2024 graduating class. The signing class of five area all ranked in the ProspectsNation.com ELITE150, four of which are in the top 55 and three in the top 24.
By the numbers a class, headlined by No. 6 Kennedy Smith of Etiwanda, California, No. 12 Avery Howell of Boise, Idaho, and No. Kayleigh Heckel of Port Chester, New York, is worthy of praise. Add in No. 55 Rian Forestier of Helotes, Texas and E150 forward Laura Williams of Fairfax, Virginia, and you can see the future of Fight On. Then you thrown in a sixth commitment as Brooklyn Shamblin of Los Angeles, California, is expected to graduate early and join the Trojans 2024 class. She was previously ranked No. 60 in the 2025 class.
Depth; check. Talent; check. Versatility; check.
But the beauty of this class isn't the numbers or ratings but how impactful so many of these commits are in so many areas of the game.
Smith is arguably the top two-way player in the class. She can defend any position on the floor but her impact goes beyond that. She led her Cal Sparks club, which won the Nike Girls EYBL championship, in scoring, rebounding, 2-point field goal percentage, blocks, steals and carried a 1.72 assist-to-turnover ratio.
Howell has to be in the argument for elite players that contribute beyond scoring as well. In addition to leading her META Hoops 3SSB team in scoring and rebounding, averaging a double-double with 18.6 points and 12.3 rebounds per game. The 6-0 wing forwards shoots the three over 30-percent and led her team in assists.
Heckel was second to only Kate Koval, the No. 2 post in the class, for rebounding on her Exodus EYBL team. She led her team in scoring and was one of the toughest on-ball defenders in the class.
Laura Williams, the 6-2 forward for the Fairfax Stars EYBL, led her team in, you guessed it, rebounding. In addition to being second on the team in scoring she led the team in blocks and scoring efficiency.
The sum of the parts here complement the 2023 class led by Juju Watkins of Los Angeles, and Malia Samuels of Seattle, Washington. Stacking these two groups for three of their four years should give head coach Lindsay Gottlieb plenty of options and plenty of competition in practice.
USC COMMITS
CLAY'S TAKE
What coach Lindsay Gottlieb and her staff have done over the past 18 months on the recruiting trail has Southern Cal poised to make a similar move to what California did under Gottlieb's leadership a decade ago. In the Bay Area, she built a roster that made it to an NCAA Final Four. In Los Angeles, Gottlieb is constructing a roster full of varying puzzle pieces that should fit well together as they usher in the program's transition to life in the Big Ten. All four pieces in the class will compliment current freshman Juju Watkins' generational scoring ability.

Chris Hansen is managing editor of ProspectsNation.com and serves on the McDonald's All-American and Naismith Trophy selection committees. He was a co-founder of and the national director of scouting for ESPN HoopGurlz from 2005 until 2012 and is the director of the Check Me Out Showcase and ELITE is EARNED events. He can be reached at chris@chrishansenbasketball.com.

Brandon Clay serves as the Director of Scouting for ProspectsNation.com and owns The BrandonClayScouting.com Evaluation Report, which is read by more than 200 colleges and universities nationwide. He also serves as the Executive Skills Director for the Brandon Clay Scouting Academy Series.