BCT All-American Spotlights II
Posted
5 months 2 weeks ago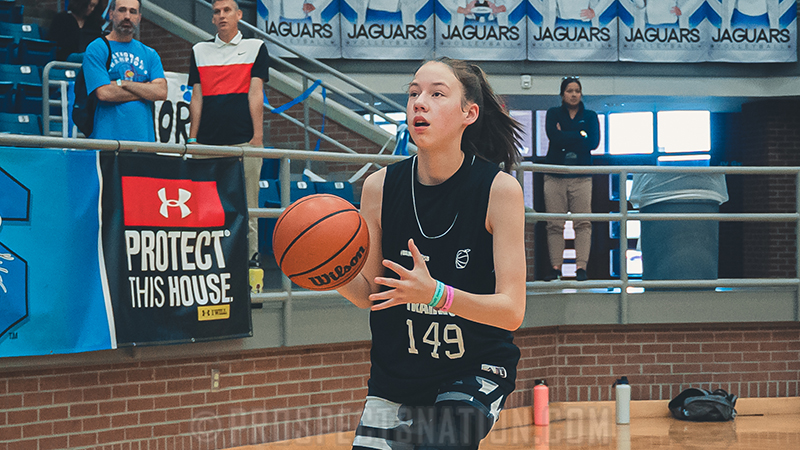 Adeline Seal of Allen, Texas, pulls up for a baseline jumper at the 2022 BCT All-American Showcase. *Photo by Tony Lugardo.
DALLAS, Texas – The Brandon Clay All American Showcase allowed some of the nation's elite prospects to start working on their games heading into the fall. We offered a spotlight training session ahead of the start of the sessions. Here are the first set of takeaways from that workout:
Boone has shown marked improvement over the past year. Her shooting release is higher. As a result, Boone's shot is more consistent. The kid works at it and is filling out physically which is also allowing her to shoot at a higher clip percentage wise.
Makayla Clarke (McKinney, Texas), Melissa MS -- 2028
Clarke has the physical tools to be a real threat and matchup problem facing the basket. Though she is still developing as an outside perimeter shooter, Clarke has the length as a shot making forward that the modern day game covets.
Mia Hannagan (Garden City, Kansas), Horace Good -- 2028
Hannagan is a willing shooter from the guard spot who converts at a high rate. She made multiple tough shots here from beyond the 3-point line. In time as Hannagan gets stronger, she should be able to keep growing as a primary shot making option. Squaring her feet will help her percentage go up.
McKinnon has shown real growth as a shooter since last year. Her left foot comes off the ground a little when she catches the ball. When she is able to stablilize that foot before she attacks or catches to shoot, McKinnon's percentages go up significantly. She is a shot maker.
Sanger is a kid who works her tail off with any takeaways that we give her. Right now, she is still working on lowering her shooting pocket as she fills out physically. Her shot looks good and she has grown since last year. If Sanger will stay dialed in, there is still plenty of upside for her going forward.
Adeline Seal (Allen, Texas), Texas Connections Acad. -- 2028
This was our first time on the floor with Seal. If history holds true based on what we saw here, she is going to end up being a really good shooter. Like most young prospects, Seal has a slight push on her outside jumper as she matures strength wise but the follow through on the shot is pretty. She has the tools to be as effective as Harper Peterson (CA-2024) as a shot maker.
Villarreal is becoming a veteran of our showcase circuit. Her jumper looks good with an improved shooting pocket that is higher than the last time we trained. As she gets more and more confident, expect Villarreal's pocket and follow through to be even more consistent as a result.

Brandon Clay serves as the Director of Scouting for ProspectsNation.com and owns The BrandonClayScouting.com Evaluation Report, which is read by more than 200 colleges and universities nationwide. He also serves as the Executive Skills Director for the Brandon Clay Scouting Academy Series.