BCS Spring Showdown First Look
Posted
1 year 6 months ago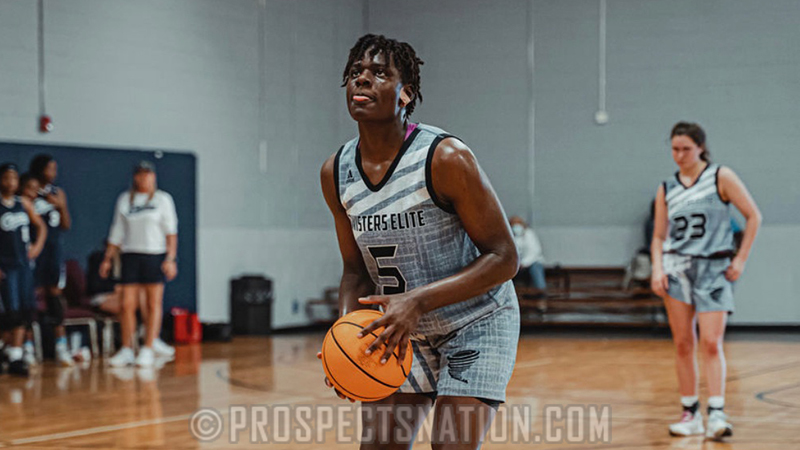 Aniya Hubbard lines up for a free throw at the 2021 BCS Spring Showdown. *Photo by Anthony Lugardo.
ATLANTA – The Brandon Clay Scouting Spring Showdown featured some of the top prospects from the Southeast. There were numerous top prospects inside the International Sports Arena facility including multiple Brandon Clay Training Academy and Recruiting Program members. Here's a look at some of the talent on hand:
2022 Checklist
Hargrove has really started to turn a corner in game with her skill set. It's refreshing to watch a prospect who has put the time in see the fruits of their labor paying off in a major way during gameplay.
Aniya Hubbard (Hoover, AL) – Alabama Twisters Elite Tanner
Hubbard is a powerful guard who plays with the energy and speed of current Georgia guard Que Morrison. Hubbard made her presence felt early and often throughout the duration of the event.
Shaina Kriews (Flowery Branch, GA) – Atlanta Cagers Smith
Kriews is a battle tested guard who has been in competitive situations in our events since she was a middle schooler. In that way, her toughness is a skill in and of itself and a hard to come by one at that.
Bri Shilitto (Lewisville, NC) – Winston Salem Stealers Eggers
Shiletto has the skill and creativity to be effective as a playmaker in the backcourt. That was on full display at our Winston-Salem Training Academy over the winter and again here this weekend. In that regard, she only reinforced the positive energy that came from the Academy.
2023 Checklist
Aaniyah Allen (Athens, GA) – Georgia Cavs Elite
Allen has carried over her play from school season into the club season. She's a player we'll track throughout the spring / summer as a leading member of the Cavs Elite roster. A dynamic guard, Allen has a chance to make waves all year long.
Childress is becoming more than just a shooter. On a weekend like this when her jumper seemed to just sit on the rim and roll off, she found ways to be hyper productive on both ends rebounding the ball. She even played some point guard on the offensive end.
Harriman is playing quality minutes as a member of the elite team for one of the Tarheel State's premier programs. That's always a good thing as we chart her progress. As the frontcourt prospect keeps adding to her game offensively, expect more and more production to come with it.
JyJy Johnson (Rome, GA) – Atlanta Cagers Storms
Johnson is officially on our Watch List. She has some of the measurables that tend to translate at the college level over time. Her size, length and athleticism are all good starting points for assessments based on her play here.
Isabella Ross (Winston Salem, NC) – Winston Salem Stealers Eggers
Ross is a smooth, lowkey backcourt prospect. Her laid back demeanor was evident from the moment we tipped off the Winston Salem Training Academy in the winter. That said, Ross has the tools to be a consistent sniper from long range.
2024 Checklist
Bates has been on our radar for a couple of years at our training academies but this was her first time suiting up as a high school aged prospect. She continues to develop at the pace we've come to expect from the long, versatile wing player.
Eva Garabadian (Milton, GA) – Atlanta Cagers Kniceley
Garabadian has the bounce and skill that reminds me of the guards that came before her in the late 2000's, early 2010's at Wesleyan. Ironically, her school coach Carolyn Whitney Blackman was one of those guards.
Nia Young (Atlanta, GA) – AOT Lady Rebels Haney
Young caught our attention with her shiftiness especially in the open floor with the ball in her hands. She's a true tempo setter in that regard as we project her game longterm to the collegiate level.
2025 Checklist
Katherine Atha (Rome, GA) – Atlanta Cagers Storms
Atha's end to end speed is noteworthy in a setting like this. The game runs in her family. Her older sister, Anna Claire, plays for North Georgia. Look for the younger Atha to benefit offensively from our training academies starting with the Atlanta Academy in June.
Hannah Morris (Riverdale, GA) – Georgia Pearls Norris
Morris has legitimate size and a solid feel for what's going on around her in the game for a middle school prospect. She is playing for the same club program that just produced All-American selection, Sania Feagin.
2026 Checkist
Kobi Barnes (Evans, GA) – AOT Lady Rebels
Keep an eye on Barnes over the next couple of years as a frontcourt prospect worth tracking. She's the perfect example of a prospect who will benefit from elite level skill development academies.
2027 Checklist
Kourtney Wright (Tulsa, OK) – 2027 Unity
Wright as all of the makings of a smooth perimeter threat. She made the trek halfway across the country to get the ball rolling with our staff leaving a good impression in the process. We expect her to do nothing but go up from here.

Brandon Clay serves as the Director of Scouting for ProspectsNation.com and owns The BrandonClayScouting.com Evaluation Report, which is read by more than 200 colleges and universities nationwide. He also serves as the Executive Skills Director for the Brandon Clay Scouting Academy Series.