Posted
4 years 1 month ago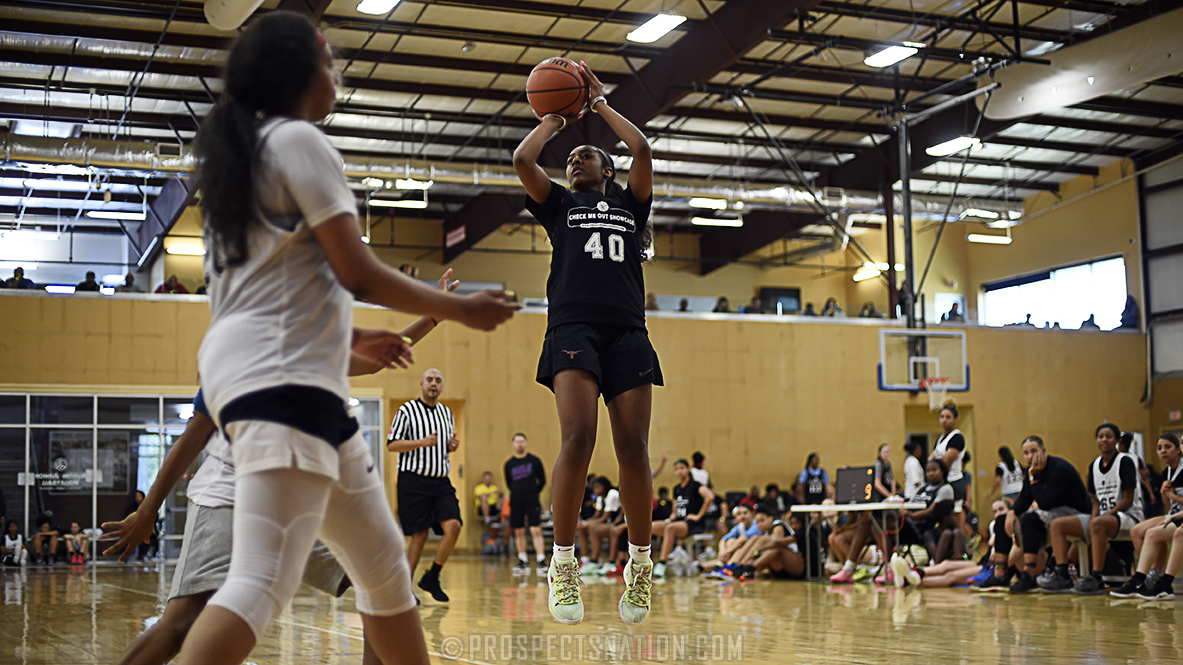 Deja Kelly of Dallas, Texas, pulls up for her patented mid-range jumper at the 2019 Check Me Out Showcase in Round Rock, Texas. *Photo by Ashley Corral.
ROUND ROCK, Texas – The 4thAnnual installment of the Check Me Out Showcase in Texas was one for the record books. From top to bottom the level of competition across the 105 competitors at the Austin Sports Center this weekend provided an opportunity for players to measure themselves. Here's a first look at some players showing out at #CheckMeOutNATION.
Rori Harmon (Houston, Texas), Cy-Fair Premier – 2021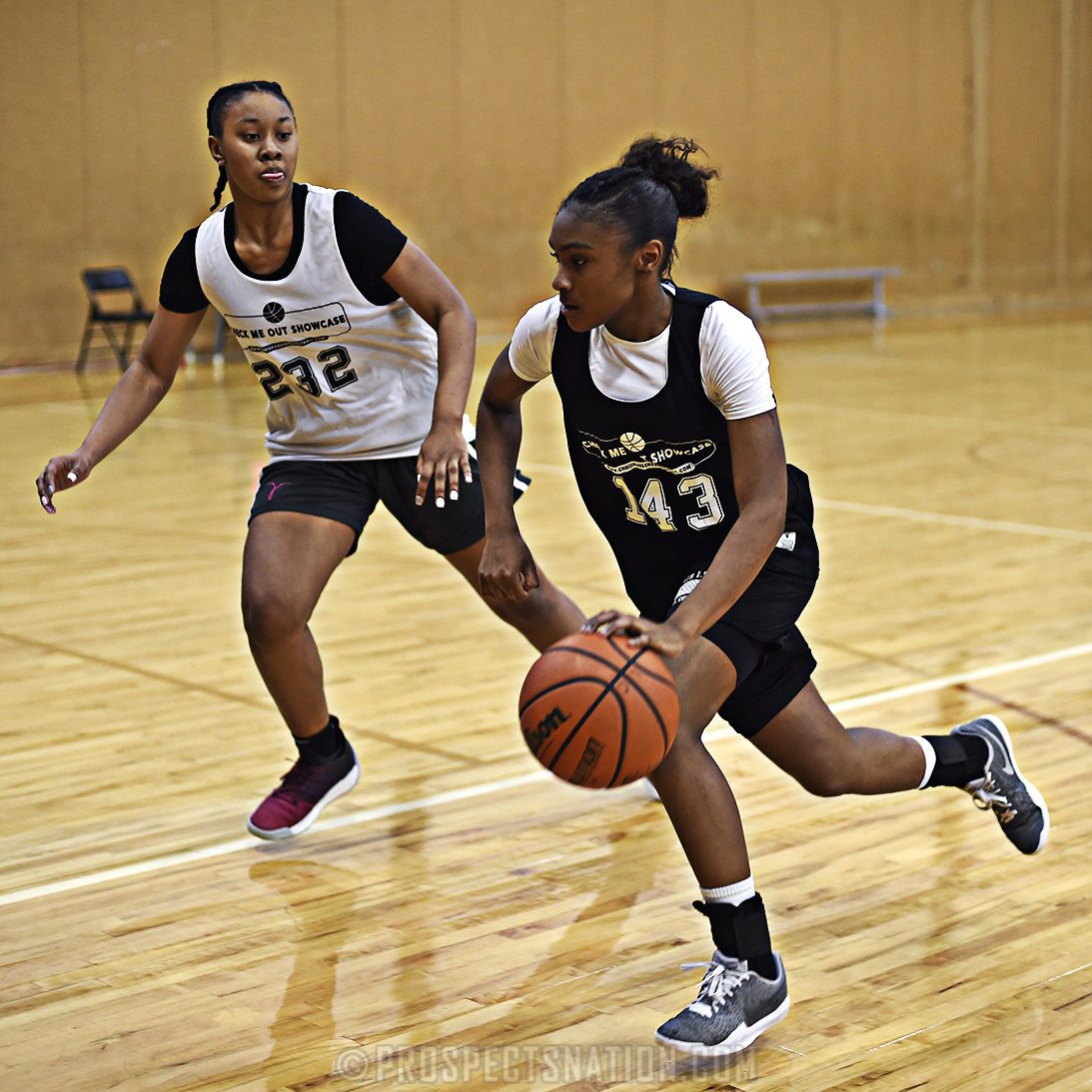 Rori Harmon attacks at the 2019 Check Me Out
Showcase in Round Rock, Texas.
*Photo by Ashley Corral.Harmon is electric with the ball in her hands. Her change of speed was incredibly impressive. She was getting past her defender consistently this weekend and given the level of competition, that speaks volumes. She plays fearless and competed right from the jump from drill work through competitions. She showed that extra gear even really good players don't have.
Paige Bradley (Dallas, Texas), SA Finest -- 2021
Bradley was a Swiss Army knife on the court this weekend. There are seemingly no holes in her game. The 5-10 guard moved well without the ball to get open scoring looks, consistently made the extra pass, found opportunities to get defensive rebounds and knocked down open jumpers. She has strength in her frame and always plays at her speed. She has multiple Power 5 offers and we got to see why this weekend.
Sarah Andrews (Irving, Texas), Pro Skills, -- 2020
Andrews has a poise and confidence about her that makes her one of the most consistent point guards in the country. In transition she's incredible hard to stop because she is so good at initiating contact in the air and using her strength to finish. Even in a camp setting her competitiveness and desire to win shined. She lead her team to a perfect 4-0 record on Sunday.
Aja Holmes (Cibolo, Texas), SA Finest -- 2020
Holmes has been a competitor at the Check Me Out Showcase in Texas since it's first year in San Antonio. Her evolution coming into her final camp concluded with her committing to TCU live at camp. This was just minutes after she hit a game clinching 22 foot three after trailing in transition. Adding the range in the last 18 months has been a big addition as her strength and fluidity attacking the basket has been there for some time. (Watch the commitment here: link)
Laila Blair (Katy, Texas), Cy-Fair Elite – 2020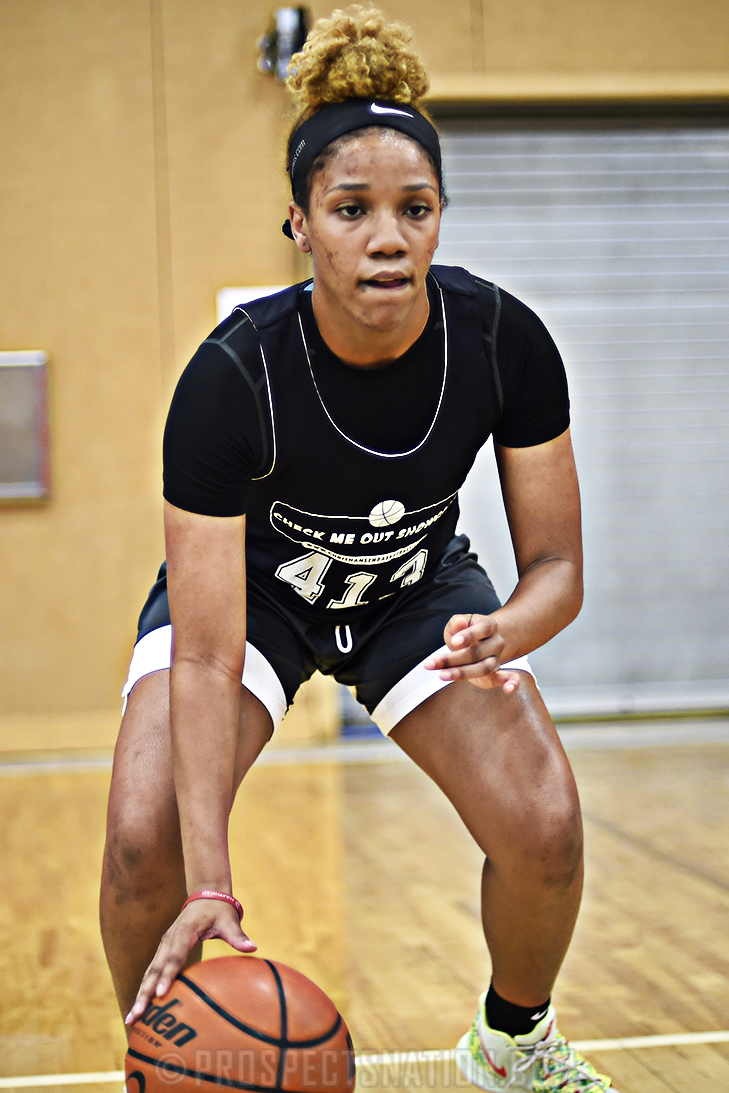 Laila Blair works on her handle at
her second CMO Texas Showcase.
*Photo by Ashley Corral.Blair is soft spoken on the floor but her game speaks volumes. She is listed at 5-8 but her powerful game plays more like 5-10. She is smooth with the ball and once she gets her body on her defenders she is in complete control. She veers and moves her defender as well as anyone in the gym this weekend. Her consistency this weekend really stood out and that bodes well for projecting her production at the next level.
AJ Marotte (Austin, Texas), Texas Elite -- 2021
Marotte caught everyone's attention this weekend with her length and smooth perimeter game. She showed no hesitation shooting open jumpers out beyond the 3-point arc. She also ran the floor really well to get herself good looks. Her versatility and size will be major assets at the next level.
Deja Kelly (Dallas, Texas), Drive Nation -- 2020​
It's really hard to make a comparison to the mid-range game that Kelly is showcasing right now. It's so smooth and the results are seemingly automatic as soon as she transitions from drive to her pull-up. Kelly shot the 3 and got to the rim as well but when you talk about being able to describe a player and what she brings to the floor every game, Kelly's go-to is that mid-range and it will translate to the next level.
Jewel Spear (The Colony, Texas), Cy-Fair Elite – 2020
Leadership is a quality that is desperately needed and though many try, not everyone is a natural leader. Spear is just that at the point guard position. Watching her play you can see her reading the floor for the best scoring opportunities and directing traffic. She's a dependable scorer when she needs to but her gift is that she can play with elite players or average players and immediately improve their productivity.

Chris Hansen is managing editor of ProspectsNation.com and serves on the McDonald's All-American and Naismith Trophy selection committees. He was a co-founder of and the national director of scouting for ESPN HoopGurlz from 2005 until 2012 and is the director of the Check Me Out Showcase and ELITE is EARNED events. He can be reached at chris@eliteisearned.com.