Ample Talent At Krossover Classic
Posted
6 years 12 months ago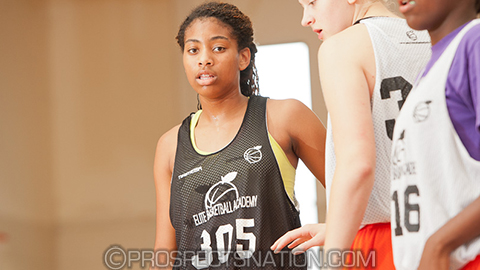 Erika Cassell pictured here at the 2012 EBA All-American Camp in Buford, Ga. *Photo by Ty Freeman.
Tweet
LAWRENCEVILLE, Ga. – The first annual Krossover Classic hosted by Archer High School saw some of the premier high school teams in Alabama and Georgia compete in a one day showcase that included three state champions, three state runners-up, two state semifinalists and two state quarterfinalists. Here is a look at some of the standouts from the event.

North Carolina State class of 2016 verbal commitment Erica Cassell of Marietta, Ga., was effective on both sides of the ball in Holy Innocents' win over nationally ranked McEachern this weekend. Cassell, a 6-foot-1 forward, managed to score 24 points while pulling down 19 rebounds; an impressive double-double. Cassell was effective scoring the ball in a variety of different spots on the floor. She was a tough one-on-one cover in the post with her back to the basket while also showing the ability to knockdown the trail three when she had room and rhythm to shoot the ball.
Cassell missed a good portion of last year with a torn anterior-cruciate ligament and this weekend she looked to be back to her pre-injury form. She is an active rebounder who has developed into a quality offensive contributor. If she continues to excel in high-level competition settings such as this her stock will continue to rise.
AROUND THE RIM
With her play in her Wenonah High School's matchup against St. Francis (Ga.) class of 2016 forward Kaitlin Rodgers of Birmingham, Ala., solidified herself as one of the premier forwards in the class of 2016. Rodgers plays with a high motor and has developed her skill set enough to be effective playing with the ball in her hands. Her willingness to defend on and off the ball was apparent this weekend as she consistently made plays and either blocked shots or jumped a passing lane to get a steal. Look for Rodgers to be a hot name in the 2016 class as she has the ability to be effective on both sides of the ball.
With Andy Landers, her future coach at Georgia, in the stands, Amber Skidgel of Lawrenceville, Ga., put on a shooting exhibition this weekend. Skidgel, a 5-10 wing, made a barrage of jumpers showing that she is among the top shooters in the class of 2015. Skidgel has a long, lanky frame and shoots the ball with a high soft release.
When she has a rhythm and can step into her shot she is lethal from beyond the 3-point line.
In one of her first games back after injuring her knee, Jasmine Walker of Montgomery, Ala., showed her physical ability and potential as an impact college recruit. Walker, who showed some rust this weekend, has a strong frame and a willingness to face the rim and shoot the perimeter jumper. At 6-2, Walker has the ability to be a difficult one-on-one matchup as she can make shots from the perimeter and is strong enough to be effective around the rim. Follow @KeilMoorePSB

Moore is the Director of Scouting for the JumpOffPlus.com National Scouting Report and international scouting report. He has been a member if the women's basketball community for more than six years as a trainer and evaluator. He can be reached at keil@prospectsnation.com.