Posted
5 years 8 months ago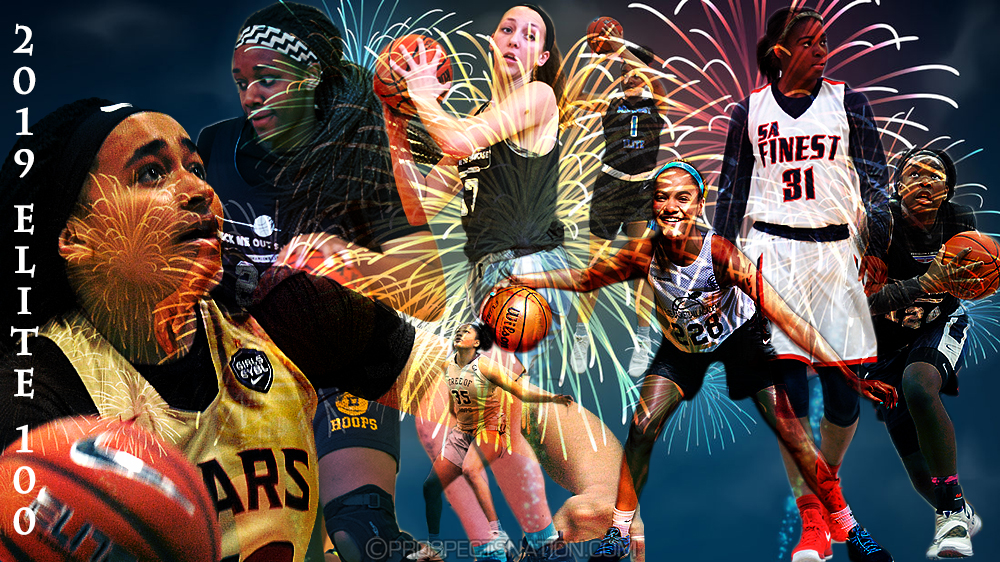 With all of April basketball completed and thousands of players competing all across the country, it's time for the ProspectsNation.com player rankings to expand. The rising junior class, 2019, sees dozens new faces added with the expansion from ELITE 60 to the ELITE 100.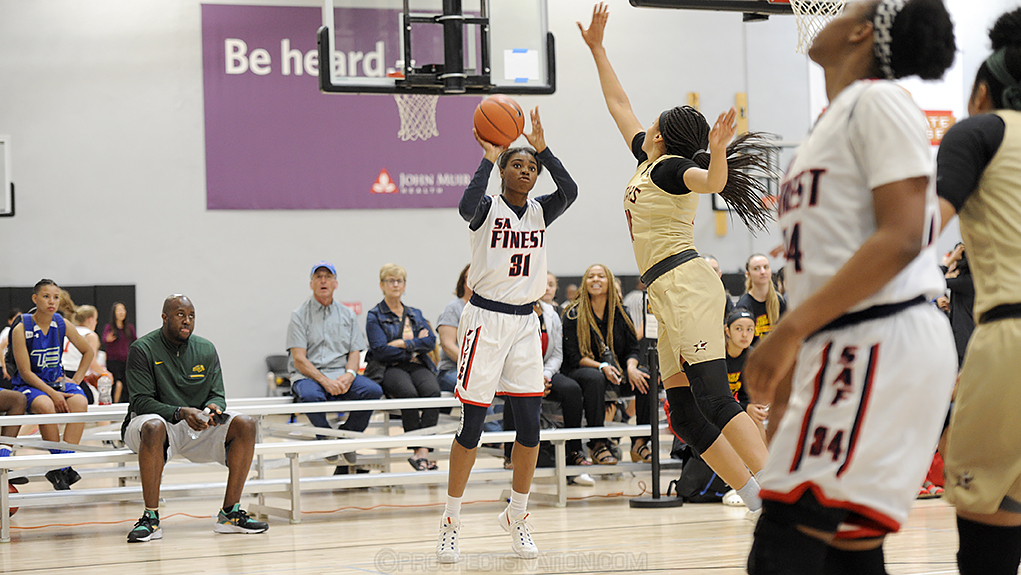 Nyah Green strokes a ball reversal three against the Cal Stars at the 2017 ELITE is EARNED Spring
Invitational in the Bay Area. *Photo by Chris Hansen.
New No. 1?
When the top players in a class continue to evolve and improve it puts them in a potentially dominant space. One of the most notable elite players to reach high ranking and still continue to raise the bar was Chiney Ogwumike before she hit the campus of Stanford and became a pro. For the class of 2019 there is much to be decided but the progress of Louisville commit Nyah Green cannot be denied.
Green, a 6-foot combo guard from Allen, Texas, burst on to the scene with her impressive array of dribble combination moves and ability to create. The biggest question was if she could be the same threat off the ball and this spring she has been special playing on the wing. Adding patience and the ball reversal three has elevated her game to new heights.
Sorry, Not Sorry, Miss Jackson
The one thing at stood out this spring was that Rickea Jackson of the Michigan Crossover is as good as anyone in the class. Her ability to impact the game on both ends of the floor was remarkable and her progress as a scorer elevated her to the No. 2 overall spot heading into the summer season.

Rickea Jackson was phenomenal this spring with the
Michigan Crossover. *Photo by Chris Hansen."In my career no one has ever jumped as much as Rickea Jackson just did," Keil Moore, director of scouting for ProspectsNation.com, said. "For starters, we were probably wrong to have her where she was but with her size and ability to impact the game in every facet, Jackson is without a doubt one of the elite members of the 2019 class."
At the Nike GEYBL stop in Hampton, Va., she put up one of the most impressive stat lines of the weekend with 16.0 points, 6.6 rebounds, 1.2 assists per game. If she continues on the development path of the last 12 months she will have a strong argument for the No. 1 overall spot in the next year.
Risers
While Jackson was the biggest riser from the previously ranked group, moving up from No. 47, she wasn't the only one to use her sophomore year well to make a move up.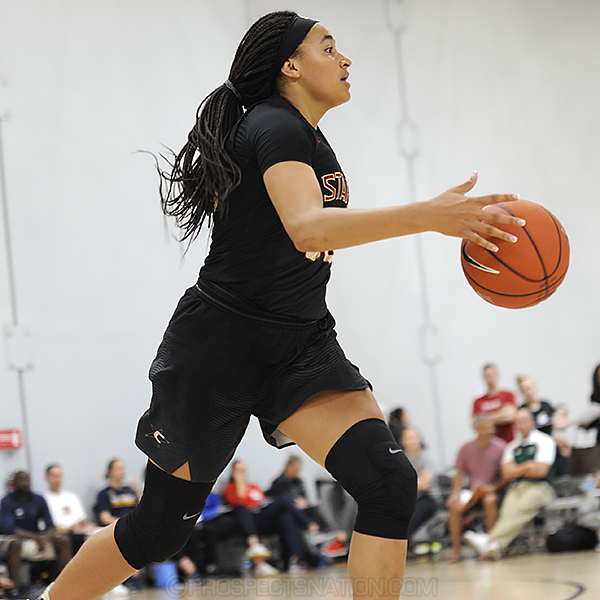 Haley Jones has continued to elevate her game from
the high school season to club ball. *Photo by Aleah
Goodman.Two other players in the top 10, No. 9 Charisma Osbourne and No. 10 Ashley Owusu, saw double-digit improvements in their ranking. In addition to them Haley Jones of Santa Cruz, Calif., and the Cal Stars program moved up 10 spots to No. 14 in the class following a terrific high school season and dynamite April.
"As far as the 2019 class goes, Haley Jones is 'Miss Versatility'," Moore said. "She can do everything on the floor and has the size to plug in at multiple positions."
Michelle Sidor of Hackensack, New Jersey, showcased her uncanny scoring ability this spring and finds her stock up considerably.
"With her ability to make shots and her growth from 'shooter' to point guard, Michelle Sidor has become one of the hottest names in recruiting this spring," Moore said. "As a staff we have had the chance to watch her develop from her middle school years to now. The way she has grown while still being a consistent producer has been impressive."
The New Jersey Sparks guard now sits at No. 17 in the class, followed by another big riser, Teisha Hyman of White Plains, New York.
"Hyman is a dynamic playmaker who has the ability to score at all three levels," Moore said. "She has the ability to be an impact backcourt scoring option in college. It will be fun to watch her grow as a prep and make the jump to college basketball."
Highest Newcomers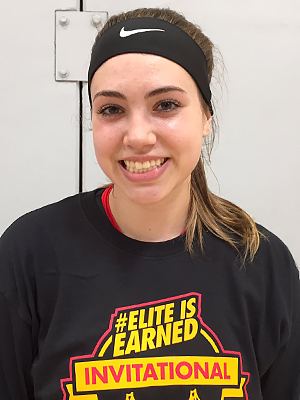 Ali Bamberger of Concord, Calif.
*Photo by Ashley Corral.Five players not ranked coming into the spring find themselves ranked in the top 40 spots of the ELITE 100. No. 31 Kennedy Brown of Derby, Kansas, No. 34 Francesca Belibi of Aurora, Colorado, No. 36 Azana Baines of Glouster, New Jersey, No. 37 Ali Bamberger of Concord, California, and No. 39 Jaida Patrick of West Havestraw, New York, all debuted in the ProspectsNation.com rankings.
Five more newcomers were ranked in the top 50 as No. 43 Angel Jackson of Richmond, California, No. 46 Diamond Miller of Somerset, New Jersey, No. 47 Nadyj Tyler of Philadelphia, Pensylvania, No. 48 Leilani Correa of Howell, New Jersey, and No. 49 Lanetta Williams of Bartlett, Tennessee, also cracked the rankings for the first time.
By The Numbers
POSITIONS
21 posts
23 guards
20 point guards
21 wings
12 forwards
RANKED PLAYERS BY STATE
California – 11
Texas – 9
New Jersey – 8
New York – 7
Missouri – 5
North Carolina – 5
Ohio – 5
Florida – 5
Maryland – 4
Pennsylvania – 4
COMMITTED PLAYERS
1 of the top 25
3 of the top 50
7 of the top 100
SIZE IT UP
21 players stand at least 6-3
Only 1 of them is committed to date.

Chris Hansen is managing editor of ProspectsNation.com and serves on the McDonald's All-American and Naismith Trophy selection committees. He was a co-founder of and the national director of scouting for ESPN HoopGurlz from 2005 until 2012 and is the director of the Check Me Out Showcase and ELITE is EARNED events. He can be reached at chris@prospectsnation.com.