2018 ELITE 60 Winter Re-Rank
Posted
7 years 9 months ago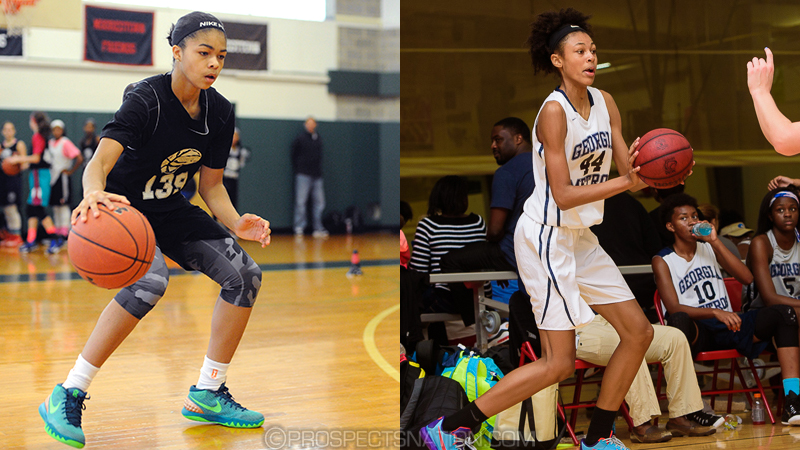 Jordan Nixon (left) and Olivia Nelson-Ododa are two of the new faces making their debut in the 2018 ELITE 60 Rankings.
As high school seasons across the country wind down and players begin to prepare for the club basketball season, the ProspectsNation.com ranking committee has revamped the 2018 ELITE 60 rankings.
The highest ranked new face is Olivia Nelson-Ododa of Winder, Ga. The 6-foot-4 post debuts in the ELITE 60 at No. 16 overall and the fourth highest rated post in the class. Her work in the fall evaluation period at the PSB End of the Road Championships, left no doubt she has the talent to be an impact player in the class.
Jordan Nixon, the 5-10 guard from New York, N.Y., cracks the ELITE 60 at No. 17, right behind Nelson-Ododa. Similarly it was her play this fall, at the Keil Moore Fall Showcase in Philadelphia, Pa., that cemented her status as an elite prospect.
Izabela Nicoletti Leite, originally from Americana, Brazil, but now lives in Raleigh, N.C., makes her debut in the domestic rankings at No. 35. The 5-7 guard has played for two Brazilian national teams in FIBA events and that experience has paid dividends here in the U.S.
On the heels of a terrific sophomore season at Valley Vista High School, combo guard Taylor Chavez of Surprise, Ariz., moved up into the top 40. The crafty guard has proven she can lead a team as a distributor and as the primary scorer.
Other new faces cracking the ELITE 60 are Check Me Out NorCal standout Shayley Harris, a 6-5 post from Redding, Calif., Andrea Aquino, a 6-8 post from Paterson, N.J., Makayla Pippin, a 6-1 forward from Severn, Md., and Taycee Wedin, a 5-9 guard from Milwaukie, Ore.

Chris Hansen is managing editor of ProspectsNation.com and serves on the McDonald's All-American and Naismith Trophy selection committees. He was the national director of scouting for ESPN HoopGurlz from 2005 until 2012 and is the director of the Check Me Out Showcase. He can be reached at chris@prospectsnation.com.