Posted
9 months 1 week ago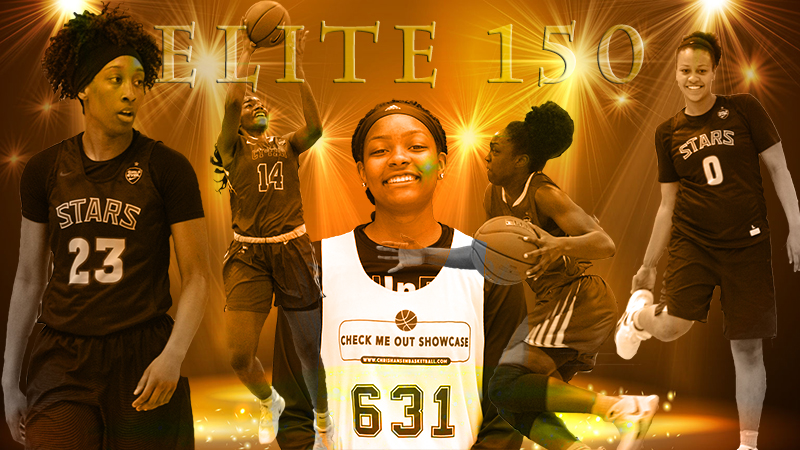 With all of April basketball completed and thousands of players competing all across the country, it's time for the ProspectsNation.com player rankings to expand. The rising senior class, 2018, sees 52 new faces added with the expansion from ELITE 100 to the ELITE 150.
New No. 1?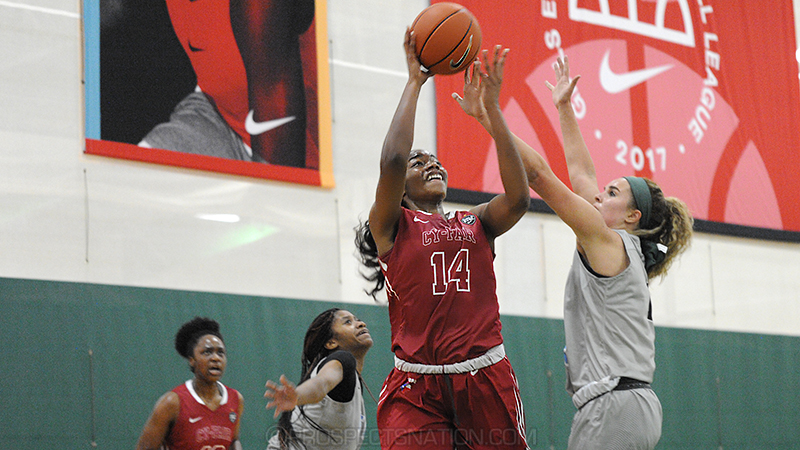 Charli Collier took on all comers for the top spot.
*Photo by Chris Hansen.Coming into every spring the talk is if the prior No. 1 will remain the same with so much time past since fall ball. For Charli Collier, the answer is 'heck no'. The 6-foot-4 post swatted away all comers when it came to her top ranking in the class. With either lens -- projection or production – Collier is the choice this Spring. She has continued to develop her game each season which only elevates the projections of where her game can go in college.
"Consistency is the name of the game with Collier," Keil Moore, ProspectsNation.com Director of Scouting, said. "She has developed into a dominant scorer and has become one of the most consistently productive players we have evaluated in years."
On that production front, the stat line from the Nike GEYBL's first stop – 16.2 points and 7.2 rebounds – is arguably the best on that circuit. And this while being on one of the deepest rosters in the country where she is surrounded by scorers and capable rebounders.
Dynamic DeCosta Dominant
There may not be a player in class with the athletic upside of Aquira DeCosta. The 6-1 wing from Sacramento, Calif., has been in the top 10 for two years now but a combination of mentality and maturity has her playing the best basketball of her young career. While still capable of making the amazing, acrobatic play in the air, there is a new calmness to her play. She was utterly dominant in six games at the ELITE is EARNED Spring Invitational the first evaluation weekend . She followed it up with five games in Hampton scoring 13.8 points and grabbing 7.8 rebounds per game. And much like Collier, she plays on a team with a deep bench full of capable producers.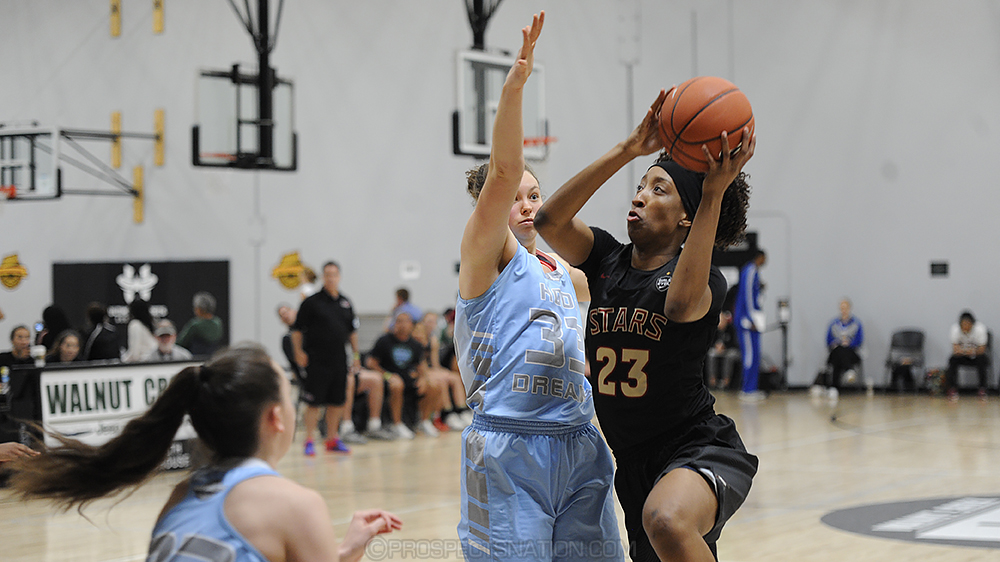 Aquira DeCosta is taking her game to a new level
mentally. *Photo by Chris Hansen."Aquira has really improved her skill set dramatically over the last six months," Kelly Sopak, her Cal Stars EYBL coach, said. "A lot of her improvement has to do with maturity and her finally being healthy. This spring Aquira has excelled in all areas of the game. I thought she was one of the top performers in the EYBL at Boo Williams."
"Despite being a handful to match up with today, what is exciting about DeCosta is her potential to be unguardable if she becomes a strong perimeter shooter," Moore said. "Shooting is a skill that requires time, energy, and effort to develop. If she puts all of that together. She's a future impact WNBA draft pick."
DeCosta showed in big moments she can sense mismatches and exploit them efficiently and it's that combination and consistency that has her at No. 2.
Risers
Cy-Fair has an almost unfair roster this year. That roster includes not only Collier but the highest riser from the prior top 20 in Madison Williams. The 6-1 wing has been dominant on both sides of the floor. She can guard the opposition's best player almost every game back with her versatility, strength and tenacity. Williams moves up eight spots to No. 8 overall with her two-way impact.
Boo Williams post Shakira Austin, a 6-4 post from Fredericksburg, Virginia, was ranked last year based on her projection and future development, as a top 40 player. Fast-forward to this spring and the production offensively is starting to come along. The Maryland commit scored 10.4 points while grabbing 8.8 rebounds per game while finishing more than 51 percent of her field goal attempts.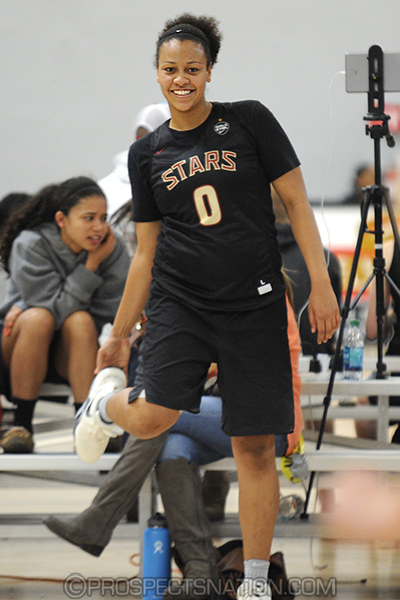 McKenzie Forbes has added the 3-
ball to her repetoire. *Photo by Chris
Hansen.Another committed player making a jump in the latest rankings is McKenzie Forbes of Folsom, California. The 6-0 combo guard has already committed to Cal but that hasn't slowed her progress as a player. She's a physical guard who has always scored attacking the basket. This Spring she has showcased her range, becoming one of the best perimeter shooters out west in April. This progression has Forbes up to No. 20 in the class.
Post players sometimes take longer to develop but apparently Queen Egbo of Houston, Texas, didn't get that memo. The 6-3 super athletic frontcourt player has been on a tear with her CyFair Premier team as well as a terrific showing at the Check Me Out Showcase in Austin, Texas earlier this month. This breakout spring has her ranked in the top 25.
Another post making a big jump is Oregon State commit Andrea Aquino. The 6-8 prospect from Paterson, New Jersey, is coming off a terrific high school season and she's starting to use all her length to impact both sides of the floor, leading to her No. 30 ranking.
Two more interior prospects also moving up are North Carolina State commit Elissa Cunane of Summerfield, North Carolina, and Emily Engstler of New York City, are up to Nos. 34 and 36, respectively.
Highest Newcomers
No. 33 Alex Scruggs of Fayetteville, North Carolina, and the Carolina Flames program is the highest ranked newcomer. Her fantastic performance at the GEYBL Hampton in late April solidified that the projections of her ability are translating to production. She averaged 15.8 points and 6.6 rebounds per game from the guard position. She was also among the best in the Nike circuit at getting the to the free-throw line.
St. John's commit Kadaja Bailey of Manhasset, New York, makes her debut in the 2018 rankings at No. 40.
"She's a 5-10 athlete who has developed into a dynamic scoring threat," Moore said.
In all 17 of the 52 new players ranked found themselves in the top 100 and with a big summer ahead the process is far from over for the 2018 class.
By The Numbers
POSITIONS
31 posts
34 guards
32 point guards
24 wings
29 forwards
RANKED PLAYERS BY STATE
Texas – 19
California – 14
Georgia – 13
New York – 12
Tennessee – 9
New Jersey – 8
Ohio – 7
Florida – 6
COMMITTED PLAYERS
12 of the top 25
22 of the top 50
39 of the top 100
53 of the top 150
13 programs have at least two ELITE 150 commits

Notre Dame – 4
Auburn, Georgia Tech, Texas – 3
Arizona, Iowa State, Kansas State, Louisville, Maryland, Nebraska, Penn State, Stanford, Tennessee – 2
SIZE IT UP
Good News: 28 players stand at least 6-3
Bad News: 12 of them are already committed

Chris Hansen is managing editor of ProspectsNation.com and serves on the McDonald's All-American and Naismith Trophy selection committees. He was a co-founder of and the national director of scouting for ESPN HoopGurlz from 2005 until 2012 and is the director of the Check Me Out Showcase and ELITE is EARNED events. He can be reached at chris@prospectsnation.com.