Posted
8 years 11 months ago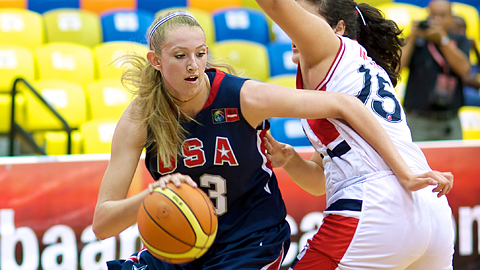 Lauren Cox is ranked atop the 2016 ELITE 25 after helping lead USA to gold this past summer at FIBA Americas U16 Championships. *Photo by Haley Weit.
Tweet
The ProspectsNation.com ELITE 25 for the 2016 class has been released and one thing is certain, this class is shaping up to be big. In total, 10 of the 25 stand at least 6 feet 1, and the top three players are all frontcourt players.
See the full ELITE 25 here.
Topping the list is Lauren Cox of Flower Mound, Texas. The 6-4 post had a terrific summer helping to lead the USA Basketball U16 national team to a gold medal in the FIBA Americas Championships in Cancun, Mexico. Cox set the bar for the top spot in the 2016 class incredibly high with her dominance on both sides of the court.
Giving chase to Cox is our No. 2 prospect, Tori McCoy of Champaign, Ill., who also is a 6-4 dominant post player. McCoy missed out on her gold medal after being selected to the U16 national team due to a concussion. However, McCoy's play during the trials and throughout the summer solidified she is in the discussion at the top of this class.
They say everything's bigger in Texas and with seven players from the Lone Star State in the ELITE 25, the Southwest has a huge presence in the class. In addition to Cox, the class' No. 3 prospect, Joyner Holmes of Cedar Hill, Texas, is another five-star prospect holding down the paint. She draws a lot of comparisons to a young Brianna Turner, the 2014 Texas-native who committed to Notre Dame.
Rounding out the top five are Crystal Dangerfield, a 5-6 point guard from Murfreesboro, Tenn., and Jazmine Jones, a 6-1 wing from Tallahassee, Fla. Both players are the top ranked at their respective positions in the class.
Though recruiting process seems to get accelerated year after year, only two players in the ELITE 25 have made verbal commitments. No. 9 Anna Wilson, the 5-7 point guard from Richmond, Va., committed to Stanford over the summer while No. 25 Chelsea Dungee, the 5-9 wing from Okmulgee, Okla., has pledged her commitment to Oklahoma.
You can see the full ELITE 25 here. Follow @ChrisHansenPSB

Hansen is managing editor of ProspectsNation.com and a McDonald's All-American selection committee member. He was the national director of scouting for ESPN HoopGurlz from 2005 until 2012. He can be reached at chris@prospectsnation.com.