2015 USA U16 Trials -- Thursday
Posted
7 years 6 months ago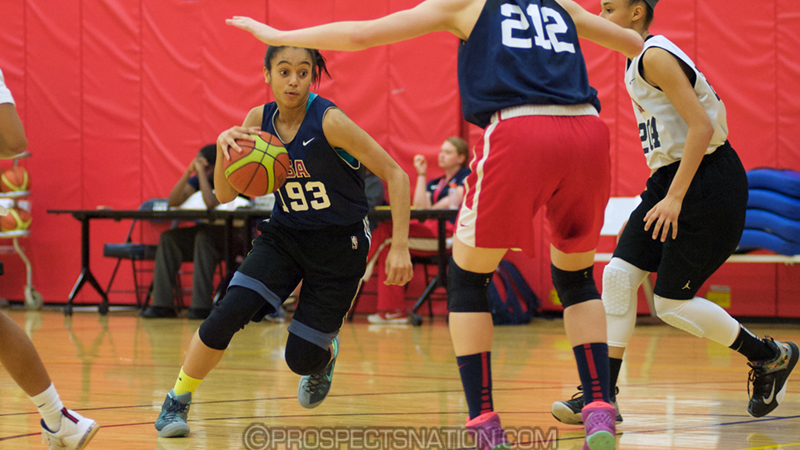 Jenna Brown of Atlanta, Ga., came into USA U16 trials with big expectations and with her day one effort she appears up for the challenge. *Photo by Chris Hansen
COLORADO SPRINGS, Colo. – It's an odd calendar year which means it's time for the USA Basketball U16 national team trials. This year day one saw 156 participants in two sessions kick off the event. The first two days historically have been more of a traditional camp setting, building towards some live play later in the Memorial Day Weekend. After a few hours of drills and some 3-on-3 play here's a look at some players that found a way to stand out in the limited action.
Class of 2018 guard Jenna Brown of Atlanta, Ga., is one of the players expected to have a strong showing this weekend at the USA U16 trials. Brown has a nice balance of skill, athleticism, and basketball I.Q. that should help her to make quick adjustments in this setting.
Brown has had a strong showing this spring in multiple events starting with her showing at EBA Top 40 camp this March. Look for Brown to be a name hot name this weekend as the trials process progresses.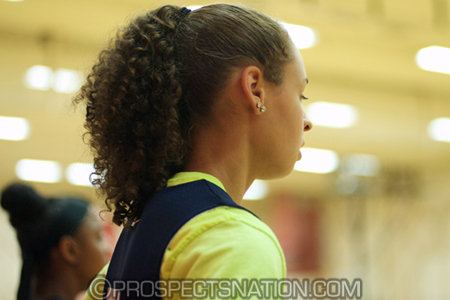 Mykasa Robinson of Catlettsburg, Ky., came into the opening session focused and ready to play. Known for a combination of skill and speed, the class of 2018 guard was one of the 35 prospects selected in the first wave by USA Basketball. Robinson's performance for Kentucky Premier at the PeachStateBasketball.com Pre-Season Shootout in April signaled that she is ready to take the next step in her game. This weekend inside the Colorado Springs Olympic Training Center is the ideal stage for Robinson to do just that.
Team USA, especially at this age group, puts an emphasis on post play and one of those interior players coming in with high expectations is Rellah Boothe of Jacksonville, Fla. The 6-foot-3 post has the size, power and athleticism to make a real impact. She's a threat in the paint but today with lots of space in the limited 3-on-3 play she showed she's going to be able to face up and attack as well. How she finishes against the other long posts in live action will be telling for this 2017 ELITE 25 prospect and her chances at making the final 12.

Brandon Clay serves as the WNBA Director of Scouting for ProspectsNation.com and owns The JumpOffPlus.com International Report, which is picked up by more than 150 colleges and universities nationwide. He serves as the Executive Camp Director for the Elite Basketball Academy Camps. He serves on the Naismith Trophy Men's / Women's College Player of the Year Academy and is chairman of the HS Boys / Girls Board of Selectors.

Hansen is managing editor of ProspectsNation.com and serves on the McDonald's All-American and Naismith Trophy selection committees. He was the national director of scouting for ESPN HoopGurlz from 2005 until 2012. He can be reached at chris@prospectsnation.com.

Moore is the Director of Scouting for the JumpOffPlus.com National Scouting Report and international scouting report. He serves on the Naismith Trophy Board of Selectors and has been a member of the women's basketball community for more than six years as a trainer and evaluator. He can be reached at keil@prospectsnation.com.