Posted
7 years 10 months ago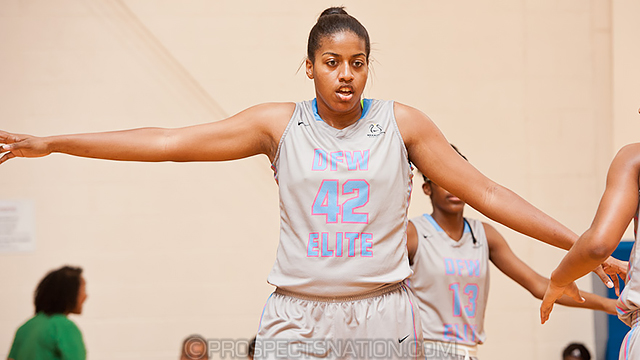 DUNCANVILLE, Texas – March of 2015 was the fifth year that our ProspectsNation.com staff was present for DFW's March Fest event. It has become one of the annual kickoff's to the summer basketball season. This year like in all the year's past, DFW T-Jack was one of the headlining teams at the event. Here is a look at a few of the standouts from T-Jack and the rest of the DFW March Fest event.

Cierra Johnson (Duncanville, Texas), DFW T-Jack – 2016
This year's DFW T-Jack team resembles the makeup of some of their classic teams, a roster full of talented and capable guards, with one quality interior scoring threat. This year Johnson is that interior scoring threat and this weekend she showed that she was more than capable of handling the role. At 6 feet 4, Johnson has elite size for the post positions. Along with her size, Johnson brings agility and mobility to the floor and when you mix in her advanced feel for the game you have a multi-tooled prospect to patrol the lane for your team.
Johnson was already considered one of premier post players in the country but this weekend she showed that she could make an impact on the game in a variety of ways. Defensively she was consistent rotating in help and defending the rim without committing fouls. She was able to challenge or change as many or more shots than she blocked. Offensively she gave her team a pressure release at the high post and showed that she could make scoring passes, setting her teammates up for shots and layups. Johnson isn't a traditional low post, back to the basket prospect, but she is a true hybrid post who can operate well on the baselines and in the high post. If she can continue to play at this level for the rest of the summer look for her stock to continue to rise.
SPOTLIGHT PLAYERS
Jaelyn Richard-Harris (Houston), AD Elite – 2016
People are going to look at Richard-Harris and say she's too small. At 5-4 she's probably heard that a good bit throughout her basketball career. That said Richard-Harris has everything else you would want a point guard to bring to the table. She's a vocal leader who can run a team and get the ball to her teammates in places where they can be effective. She is a pesky on-ball defender who can create havoc with ball pressure and she is a capable perimeter shooter who can knockdown open shots. All in all this was a very strong weekend for Richard-Harris and if she can continue to have weekends like this this summer someone will find their program a quality lead guard.
Jasmine Williams (Houston), AD Elite – 2016
Williams had a strong showing this weekend. As a combo forward with a prototype physique, Williams has a nice blend of athleticism and skill packaged into her game. This weekend we saw her knockdown perimeter jumpers, attack the rim off the bounce, and even convert a couple of runners in traffic. At 6-0, Williams has a nice set of tools to offer a future program.
AROUND THE RIM
Arleighshya McElroy of Dallas, Texas, had a strong showing on Saturday. She is a tough one-on-one cover off the bounce and looks to be more confident in her perimeter jumper. She was hurt early in the game on Sunday but look for McElroy to have a strong summer for DFW T-Jack.
Tulane verbal Brogan Jones of Little Rock, Ark., is a nice threat around the basket. At 6-3 the Tulane commit has very good size and showed some touch in the paint.
Brittany Brewer, a 6-4 post from Abilene, Texas, had a nice weekend. Brewer is a true center who proved that she can be effective on both sides of the ball. She is good finishing around the rim in traffic and is long and bouncy enough to be an imposing shot blocker on the defensive side of the ball.

Moore is the Director of Scouting for the JumpOffPlus.com National Scouting Report and international scouting report. He has been a member if the women's basketball community for more than six years as a trainer and evaluator. He can be reached at keil@prospectsnation.com.