2015 International ELITE 25
Posted
8 years 11 months ago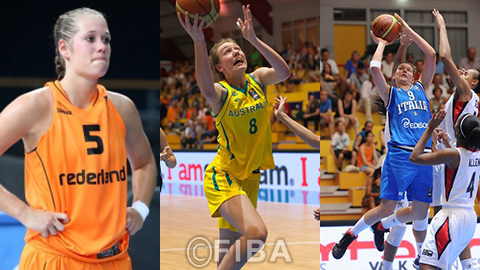 Laura Cornelius, Angela Salvadores and Cecilia Zandalasini bolster a strong international crop of players in 2015.
The international game continues to grow. And while not every star outside the United States takes the collegiate student-athlete approach, foreign players are making a mark on the NCAA.
The 2014 class top ranked international player, Kia Nurse of Hamilton, Ontario, Canada, is already producing at a high level at Connecticut, averaging 12.8 points, 3.5 rebounds and 3.4 assists per game while starting in 11 of the Huskies' first 13 games.
The 2015 class also has no shortage of impact players. Four five-star prospects top this group – Cecilia Zandalasini of Broni, Italy; Angela Salvadores of Barcelona, Spain; Laura Cornelius of Groningen, Netherlands; Alanna Smith of Hobart, Australia.
Cornelius was originally ranked in the 2014 International ELITE 25, but an injury and a coaching change led her to reclass to 2015.
Some overseas players go professional and don't make the rankings but one country that utilizes basketball for education in the U.S. is neighboring Canada. Of the 25 ranked players, 10 come from Canada, a number duplicated in the 2013 class.
Spain and its neighbor Portugal are the only other countries in 2015 to have multiple players in the rankings with four and three, respectively.
See which college programs have international players committed in 2015 here.