2015 EBA Top 40 -- Upperclass
Posted
8 years 2 months ago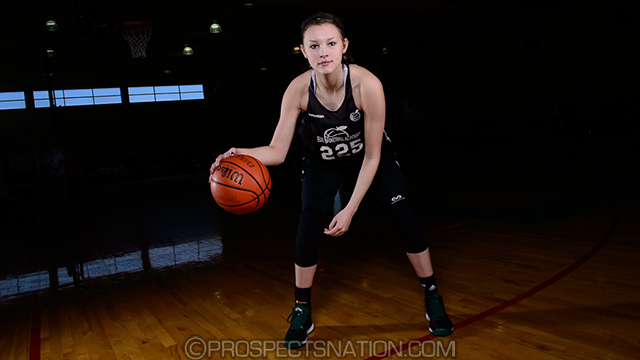 BUFORD, Ga. – Bogan Park was the setting for the annual EBA Top 40 Workout. This was an opportunity for some of the premier girls from near and far to get together and work on their craft. This setting not only allowed the players be evaluated by the ProspectsNation.com staff and be ranked by the jumpOffPlus.com International Report, but also have the chance to play in live stream broadcast games that can be sent out to colleges. Here is a look at some of the players that caught or attention.
#ProspectsNationTV links: 2015 Live Streams
Faustine Aifuwa of Dacula ,Ga., is becoming a consistent game-changing type of player. She helped lead Dacula High School to the state playoffs for the first time in nine years. The class of 2016 post player is really developing her game. Aifuwa uses every bit of her 6-foot-4 frame, playing with her strong hand around the basket and showing that she can score through contact. She is more confident and consistent with her turnaround jump shot out to 10 feet.
Riley Casey of Norcross, Ga., is a combo guard with a high basketball I.Q. She is a solid shooter from the free-throw line and knocked down shots consistently from the perimeter. She has a nose for the ball and has the knack for finding the open space on the floor to get shots. Casey is a solid guard in the class of 2017.
Quannecia Morrison plays the game at a different speed than most players. The shooting guard from Powder Springs, Ga., is a go-to scorer that will beat you off the dribble all well as make shots from the perimeter. Morrison has things in her arsenal that she has yet to reveal. The well-rounded ELITE 25 playmaker is just as effective on the defensive end with her quickness and her ability to alter many shots.
There are players that you notice when you see the potential but not giving the effort and then all of a sudden turn it up several notches. That's exactly what happened with Endia Banks Of Duluth, Ga., The 2017 shooting guard started off slowly but finished strong. She is a better shooter when set and can make shots from beyond the arc. She is a smooth athlete and when she gets in a rhythm she is tough to defend.
Khayla Pointer of Marietta, Ga., has the ability to play the game at all speeds. She is very patient with a solid basketball acumen, which makes her a threat in any situation on the floor. The ELITE 25 point guard showed her many skills at the EBA top 40 workout. What makes her special is that she got her teammates involved in a camp setting. Pointer will be an exceptional player in the next phase of her basketball career.
Kianna Adderton of Conway, S.C., has a solid foundation and skills that are beyond her years. At 5-11 she is in between positions. Although she plays in the post at the present, she has the versatility to step out and play facing the basket. She plays big and alters a lot of shots. With that being said, she can play even bigger as she learns to keep her arms straight up when contesting shots. Getting stronger will help her add the physicality and fire to her game. Her progress this summer will be worth watching.
Haleigh Reinoehl of Westfield, Ind., wins the furthest distance traveled award. The 6-1 small forward brought down her Hoosier State basketball fundamentals and solid perimeter shooting. Reinoehl has great length and energy that add to her total package. She can score from beyond the arc and all areas in between. She possesses one of the best shooting forms that we've seen. Her game will heighten as she gets stronger and fine-tunes her face-up game.

Peck is the owner of Dream In Motion Athletics and is a national evaluator for the JumpOffPlus.com National Scouting Report. He also serves as a on-floor skills coach at the Elite Basketball Academy events. He can be reached at StephenPeck@peachstatebasketball.com.