Posted
10 years 1 week ago
The high school season put Ariel Atkins in the rankings and this.
spring she moved into the top five with Cy-Fair Shock *Photo by Ty Freeman.
Tweet
We kicked off rankings week yesterday with the release of our ELITE 100 for the class of 2014. We have labeled the class of 2014 the year of the point guard and when you take a look at the position make up for the ELITE 100, the point guard theme certainly rings true. Currently in the ELITE 100 there are 27 point guards. Five of whom are ranked in the top 11 spots in the class. The power forward position is also deep with 24 members of the ELITE 100 playing the four spot. Rounding out the numbers for the ELITE 100 are 14 posts, 16 Shooting guards, and 19 Wings. As you can see this class is light in the post and with the lack of depth at the center position look for more and more teams to play only one true post in the next couple of years as finding quality post talent has become harder and harder for college programs to accomplish.
Who Elevated Their Stock?
No one moved in the rankings as much as Ariel Atkins of Dallas, Texas. Atkins went from No. 36 to No. 5, making quite the leap and giving the University of Texas two of the top 11 players in the class as Brooke McCarty is slated to join Atkins at Texas. It was Atkins' athletic ability that got her into the ELITE 60 upon our initial launch, but it is her energy and passion for the game that allowed her to improve her ranking this much. Atkins is a relentless prospect who will play her heart out in order to win a basketball game. The smooth lefty has also improved as a perimeter shooter and playmaker off the bounce.
Also moving into the top 10 is Gabby Green of Oakland, Calif., who was ranked 17th previously. Ironically the biggest question about Green was if is she is a point guard or not? That question still seems to linger among college coach's and talent evaluators alike. What we can be certain of is the fact that she is a five-star caliber prospect who can score the ball and create for others. When a program signs a top-10 caliber recruit they need them to be able to score the ball and make the game easier for their teammates. As of late Green has shown that she can handle this role, regardless of position.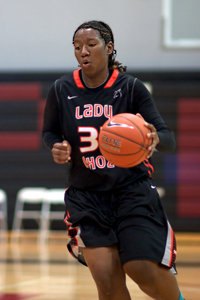 Zaire O'Neil doesn't let her
versatility keep her from rebounding.
*Photo by Chris Hansen.
Zaire O'Neal of Newark, N.J., is one of the best rebounders in the class and when you mix in the fact that she is also a capable scoring threat you have quite the combination in what is a shallow class for post players. We valued her ability to rebound highly and gave her a bump in the rankings, from 19 to 12, as a result.
Katelynn Flaherty of Point Pleasant Beach, N.J., is a scoring minded point guard who we undervalued largely due to a lack of quality evaluations against elite competition. After seeing her play during the April evaluation period it was clear that her stock was more valuable than we had previously given her credit for and she moved up from 46 to 23.
Similar to Flaherty, Mikayla Venson's time away from competitive basketball made it tough for us to accurately gauge where she fit in with the best players in the country. Having seen Arlington, Va., prospect as a younger player, we felt that she was a possible fit for an ELITE 60 spot upon the launch of Prospects Nation. But with her not playing high school basketball and this being her first summer on the circuit, club basketball wise, Venson was a bit of an enigma for our staff. Venson checks in at No. 24 in the pre-July ELITE 100.
Previously unranked, Jasmine Lumpkin of Joliet, Ill., has emerged as one of the more talented wing prospects in the country and as a result has earned a spot in our ELITE 100. Lumpkin's energy and activity will be a welcomed addition at Michigan State as she has already given the Spartans a verbal pledge in addition to the No. 27 spot in the class.
Months Of Work
The ranking process for the ELITE 100 was as detailed and arduous as we've ever encountered. Countless e-mails, phone calls, and text messages were exchanged as the panel debated everything we could think of to try and put the best list possible. Over a calendar year our Prospects Nation staff will travel the globe in search of talented prospects to cover and grow the game. We are looking forward as much as anyone to an awesome summer of basketball and many opportunities for players to elevate or join the ELITE 100 for the class of 2014 and beyond.
Follow @KeilMoorePSB

Moore is the National Director of Scouting for the JumpOffPlus.com National Scouting Report. He can be reached at keil@prospectsnation.com.