2013 Year In Review - Part 2
Posted
8 years 7 months ago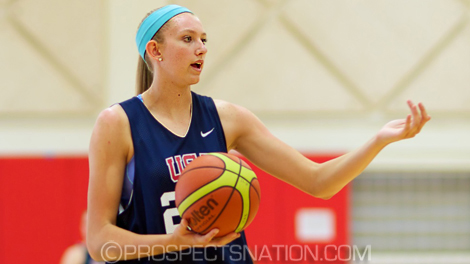 Lauren Cox was spectacular at the USA U16 national team trials in May. *Photo by Chris Hansen.
Tweet
As we continue our "Year in Review" series here is a look at the major headlines that took place her on the Nation from March to the end of May. We had verbal commitments from players such as Alex Louin, Ariana Freeman, and Alexa Middleton. Coverage from the McDonald's All-American game and USA Basketball in addition to a few more verbal commitments closed out a busy second half of 2013.
McDonald's All American Game Player Comparison's
This year we put together a cheat sheet on the current freshman McDonald's All-American's during our time at the 2013 game. With a majority of these kids currently earning major minutes in college it is worth it to check this list out again and see how we did.
At the McDonald's Game in April, the last major chess piece in the class of 2013, Ieshia Small of Tallahassee, Fla., picked Baylor over South Carolina.
April's Top Commit
In April of 2013 Ariana Freeman of Mansas, Md., decided to make Louisville her school of choice. Freeman had previously committed to West Virginia.
Platinum Reax: Freeman To Louisville
Middleton's May
In the middle of May one of the top guard prospects in the country, Alexa Middleton of Murfreesboro, Tenn., decided to stay home and make a verbal pledge to Tennessee.
http://prospectsnation.com/story/reax-middleton-tennessee'>Platinum Reax: Middleton To Tennessee
May was a busy month as far as recruiting went. With top prospects from each coast making verbal pledges here is a look at just one of our recruiting recaps from the month of May.
The USA Basketball U16 trials provided a great opportunity for our Prospects Nation staff to see some of the best underclassman in the country. After four days in Colorado Springs we tried our hand at previewing the selections of the 2013 team.
USA Position By Position Breakdown Follow @KeilMoorePSB

Moore is the Director of Scouting for the JumpOffPlus.com National Scouting Report and international scouting report. He has been a member if the women's basketball community for more than six years as a trainer and evaluator. He can be reached at keil@prospectsnation.com.