Rankings Roundtable Part III
Posted
8 years 1 week ago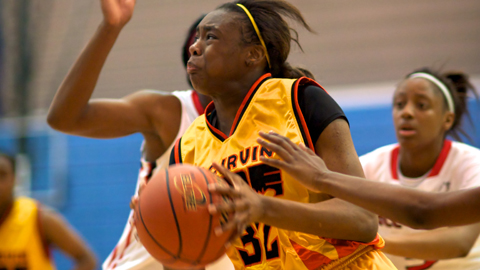 Michigan State commit Jasmine Lumpkin has a chance to develop into a special player in college. *Photo by Chris Hansen.
Tweet
The Rankings Roundtable will cover several topics throughout this week on the recently released PropsectsNation.com ELITE 150 prospect rankings for the Class of 2014.
Read Monday's Roundtable on the exciting trends in the 2014 class.
Read Tuesday's Roundtable on who could break out in college.
Who do you from the ELITE players still having room to improve and have a chance at developing into a star?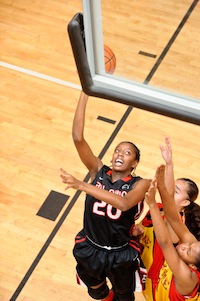 Ohio State commit Alexa Hart.
*Photo by Ty Freeman.
Alexa Hart has one of the highest ceilings in the class of 2014. Standing at 6 feet 4 inches, she already is the premier shot blocker in the class. Her wingspan makes it nearly impossible for opponents to get a quality look at the bucket in the lane. While Hart is blessed with a number of physical talents, her ability to affect the game on the offensive end has been inconsistent over the years. Although we were able to see some improvement this year at the Midwest Showdown in May and also in July at the Summer Invitational in July, Hart is far from being the go-to player that you would want on the interior. She has shown flashes of footwork and finishes, but future coach Kevin McGuff and his staff at Ohio State will be working to make those moves a consistent element of her game.
-- Jonathan Hemingway
I'm remixing this question and picking a player who isn't in the ELITE 150 but will be coming to a college campus soon -- Kia Nurse, the 5-11 Canadian combo guard. I know Nurse isn't in the ELITE 150, but if she had been born a couple hours south she would easily be a top 25 caliber prospect, and in a lot of ways she doesn't get the respect that she deserves because she is from north of the border. Nurse is the definition of a physical guard and has matched that physical nature with a lethal mid-range jumper and court savvy to be envious of. She is a fun kid to watch play the game because more than anything she just wants to win. She isn't selfish, she is selfless; a trait that many American players with her talent level seem to lack. While Nurse already is a special talent I think the ability to play on and off the ball and learn to control the tempo of the game while still leading her team in multiple statistical categories something that she can reach in the not to distant future. If she is able to get there she is potentially a player we will talk about for years to come.
-- Keil Moore
No. 29 Jasmine Lumpkin, the 5-11 wing from Joliet, Ill., was a standout for a loaded Mac Irvin Fire-Godfather squad this past spring and summer. She has a knack for getting to the ball and somehow making a play, which combined with her top shelf athletic ability, makes her an impact player. She has also taken games over, and I'm talking about against good competition. But her shooting range and ability to make plays off of reads and not instincts still leaves room to improve. What she has you can't teach so Suzy Merchant and her staff have all the pieces to mold an All Conference player that few opponents should be able to match up with.
-- Chris Hansen

Hansen is managing editor of ProspectsNation.com and a McDonald's All-American selection committee member. He was the national director of scouting for ESPN HoopGurlz from 2005 until 2012. He can be reached at chris@prospectsnation.com.
Follow @ChrisHansenPSB

Hemingway is the Assistant Director of Scouting for the JumpOffPlus.com National Scouting Report. He can be reached at jonathanhemingway@peachstatebasketball.com.
Follow @JLHemingwayPSB

Moore is the Director of Scouting for the JumpOffPlus.com National Scouting Report and international scouting report. He has been a member if the women's basketball community for more than six years as a trainer and evaluator. He can be reached at keil@prospectsnation.com.
Follow @KeilMoorePSB