CMO All-American Spotlight
Posted
1 year 5 months ago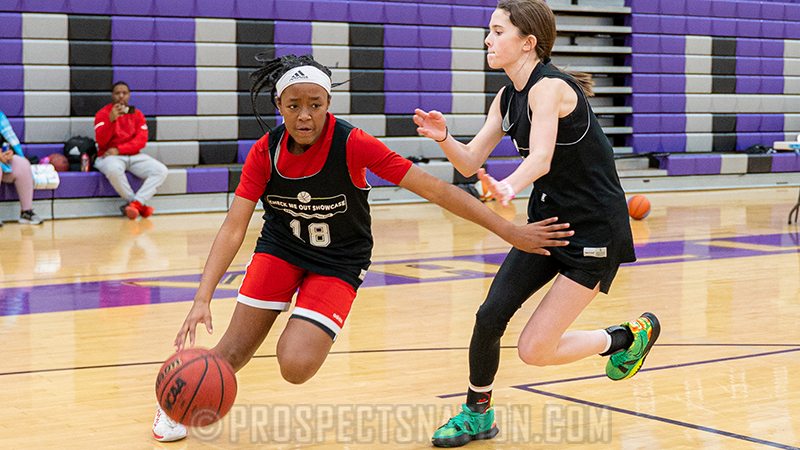 Trinity Boone of Oklahoma and Kenzie Koch of Indiana compete at the CMO MS All-American Camp in Surprise, Arizona. *Photo by Anthony Lugardo.
SURPRISE, Arizona -- The Check Me Out Showcase circuit added an All-American Camp for Middle School players to take center stage. Brandon Clay Training joined the mix and offered a spotlight training session ahead of Sunday's camp. Here are the first takewaway from that workout.
Boone has worked with me in four different regions across the country showing real improvement from our first session. She's the type of kid who lead from the front even in shooting drills. Boone has worked on having her feet under her shoulders as well as a tall follow through. She's grown multiple inches over the last 18 inches. Her shot is coming together nicely as a result.

Jazlyn Bowman (Lutz, Florida), Cambridge Christian -- 2026
In our first session together, Bowman showed fantastic size for a wing who hasn't entered high school yet. She is vocal on the floor which is a major plus for shooter with consistency on her follow through. For Bowman, picking her spots for midrange chances off the screen and roll action is the next read series to grow into.
Charlotte Cavin (Frisco, Texas), Griffin MS -- 2027
Cavin has really good length for a young prospect. Her jumper is solid with plenty of room to fill out physically. Getting her feet under shoulders on every shot on the move is a place for growth. As that happens, expect her off the dribble shooting to keep improving as it happens.
Giselle Fialho (Kirkland, Washington), Kirkland MS -- 2028
Fialho is smooth in seemingly every facet of her game. She can shoot the ball from the outside and has the ability to keep defenses honest as a result. Fialho's range will benefit from continuing to work on her overall strength.
Novelle McQuiston (Bozeman, Montana), Gallatin HS -- 2026
McQuiston is a really nice shooter already. Her footwork is crisp allowing her to be a consistent off the catch shot maker. For McQuiston making a shot off the bounce once the defense closes out will be a place for her to elevate her shooting another level until we meet again.
Kate Myers (Rancho Murieta, California), Pleasant Grove -- 2026
Myers is a competitor in both drills and gameplay. She's got a high shooting pocket with a quick release. In that regard, the foundation for Myers jumper is in a really good place. As she gets more comfortable picking her spots to let it fly, she'll see even more opportunity to see the ball go in the basket.
Morgan Sanger (Fort Smith, Arkansas), Trinity Catholic -- 2028
Sanger has only been training at a high level for less than a year. She's already making great strides. Sanger held her follow through higher and higher as we got through the session. That's the area for her shot that should be a point of emphasis for her over the next six months.

Brandon Clay serves as the Director of Scouting for ProspectsNation.com and owns The BrandonClayScouting.com Evaluation Report, which is read by more than 200 colleges and universities nationwide. He also serves as the Executive Skills Director for the Brandon Clay Scouting Academy Series.