Check Me Out Texas Underclass
Posted
7 years 1 week ago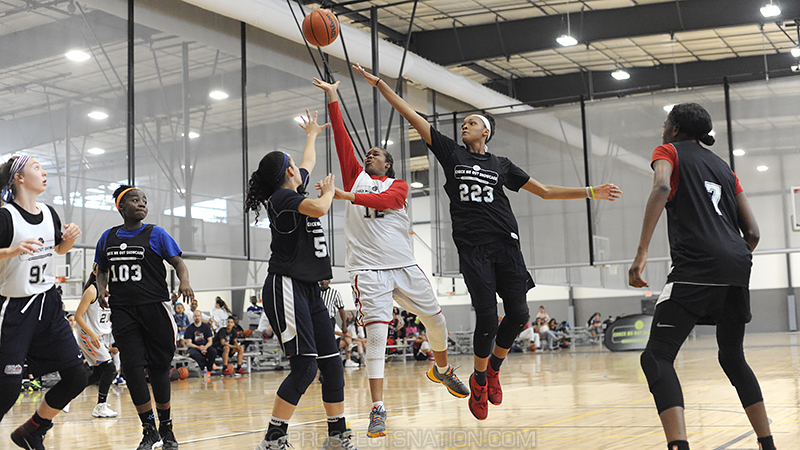 Aja Holmes splits a pair of defenders, including Jordyn Merritt (223) for a floater at the 2016 Check Me Out Texas Showcase. *Photo by ChrisHansenBasketball.com.
UNIVERSAL CITY, Texas – If you walked into the gym during the afternoon session of Check Me Out Texas, you might not know what age level you were watching. The underclass group not only played at a high level, they possessed the size and athleticism to match many of their high school counterparts.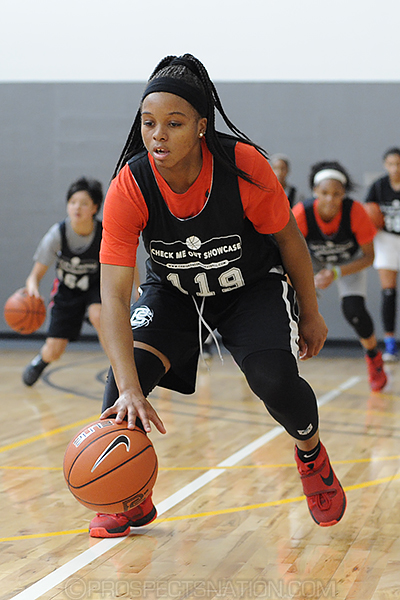 Sarah Andrews is a budding star in the
2020 class. *Photo by Chris Hansen.Look for Andrews to burst on to the scene in 2016. She will be in the topic of discussion as of one the top guards in the country for years to come. Explosive off the bounce, an elite defender, she is a nightmare for opposing point guards. She's a good finisher at the rim and got there plenty of times throughout the weekend. Sag off of her because your worried about her quick handle and explosive step and she will make you pay with her ability to stop and pop from deep.
Merritt was arguably the most impactful, dynamic player all weekend in the underclass division of Check Me Out Texas. She was a tremendous force for her teams and basically un-guardable most of the weekend. She takes advantage of mismatches with her ability to make moves with her back the basket and face-up, shoot or attack the basket. Opponents were left to try and double her and she showed that she can play with poise, good court vision and passing ability. She plays both ends of the floor hard and gets rim to rim extremely fast. If your post player is being lazy or can't run, this 6-foot-2 forward will make them pay.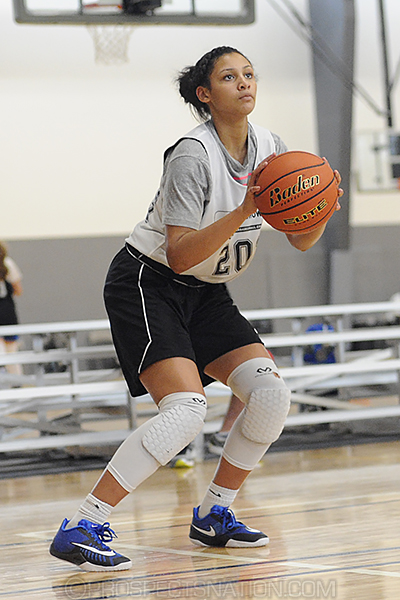 Myra Gordon of Fort Worth, Texas, lines
up for a jumper. *Photo by Chris HansenMyra is the younger sister of UConn commit Lexi Gordon. She is showing some of the same elite talent but doing it as a point guard. She brings elite size as a point and a great understanding and feel for the game. She possesses superb court vision and passing ability. She's a quick learner and student of the game. She's a great leader and her teams were very manageable because of her ability to be coached and lead.
McClure brought a "wow" factor from the guard position throughout weekend at the Check Me Out Texas Showcase in the underclass division. The 5-0 point guard proved there wasn't much she couldn't do on the floor with inventive finishes, ingenious basket attacking, and crisp ball handling. The young gun had a series where she knocked down three money balls in a row, and had an acrobatic opposite hand, opposite leg finish at the rim that had every fan questioning whether they have finally seen it all after that move. McClure is ahead of her years in terms of seeing the play develop before it happens.
AROUND THE RIM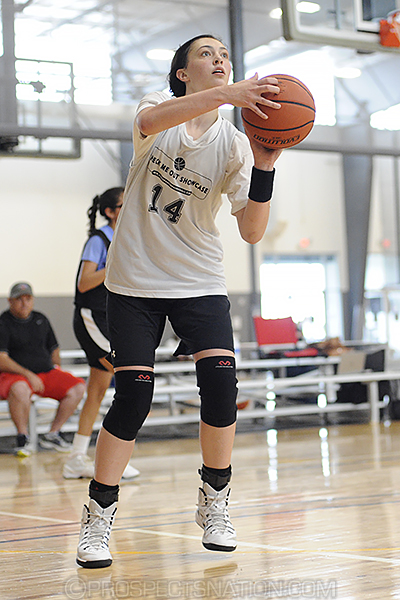 Nicole Leff of Cedar Park, Texas, shoots
at Check Me Out Texas. *Photo by
Chris Hansen.Ironically Nicole Leff is a left-handed star in the making. The Cedar Park, Texas, native is strong attacking the basket and keeps her defender on their heels. She had two really strong days at Check Me Out Texas.
Aja Holmes of Cibolo, Texas, is already creating a name for herself. The explosive wing has great size for the position and plays with great confidence at an early age. She was hard to stop one-on-one without early helpside.
It will be a long time before Samantha Wagner of San Antonio, Texas, even hits the high school ranks, let alone the college level, but her competitive spirit allows her to compete well beyond her years. She's got a toughness about her and some shifty handle to go with it.
With length and ample quickness on the wing, Sahara Jones of San Antonio, Texas, showed a world of upside. She covers a lot of ground in one step and elevates well to finish.