Austin Spotlights 2020 - Part III
Posted
2 years 3 months ago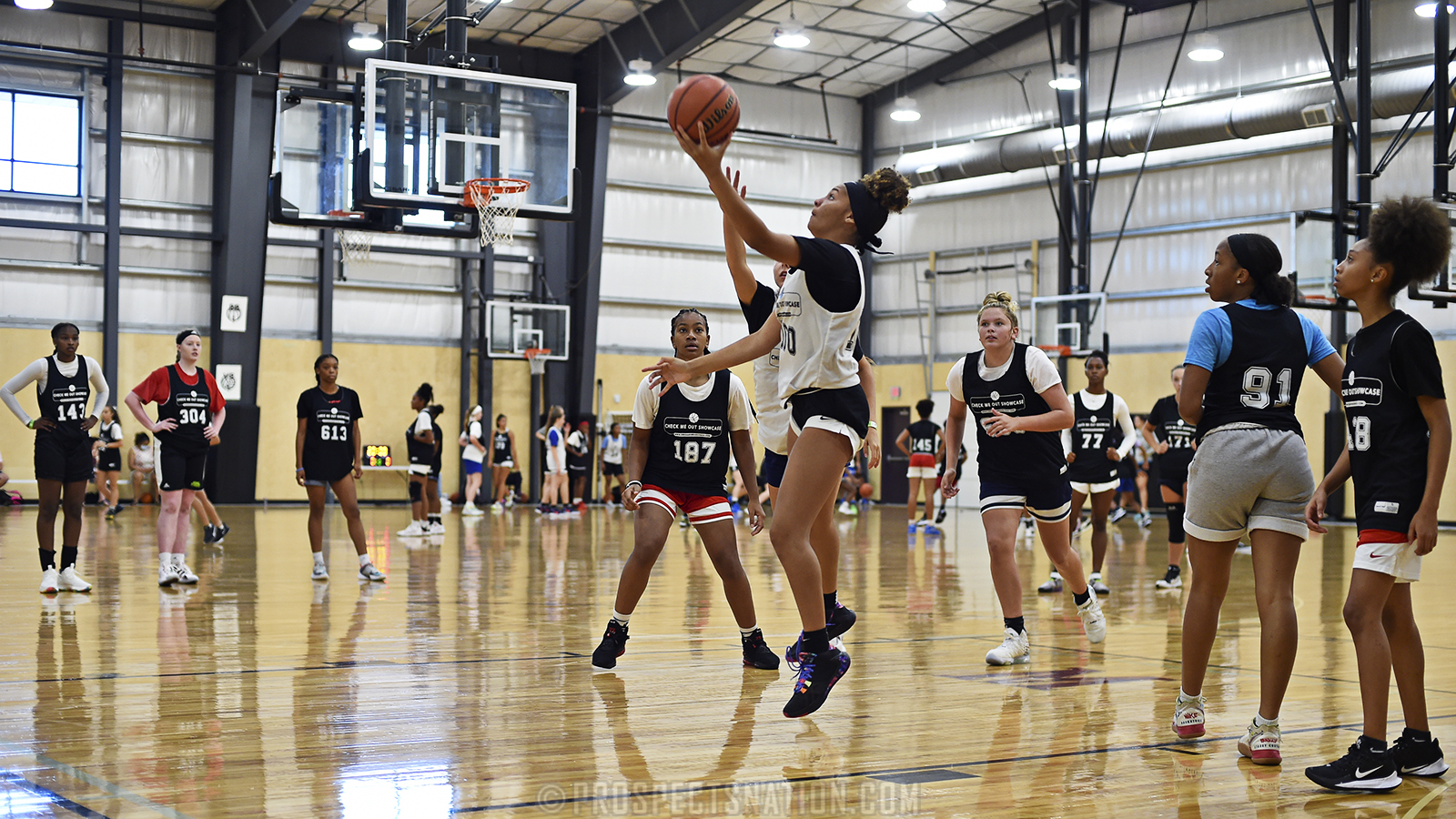 Gabby Robinson made the trip to Austin, Texas, from Southern California. *Photo by Rob Kinslow.
The morning before the start of the Check Me Out Showcase event, a collaboration of Brandon Clay Training and Elite Is Earned Basketball, spotlight sessions were held. Groups of 14 players, starting with the 10:30 a.m. group came through to get extra work in. Here are the takeaways from the 12:30 p.m. workout and two days on the floor from camp.
Jada Brown (Bentonville, Arkansas), Cy-Fair Elite – 2022
Brown has a fantastic skill set coupled with a quiet demeanor that reminds me of Jillian Brown (Northwestern commit). Jada's game and style of play are different but the production, efficiency are strikingly similar. For Brown, continuing to add strength to her frame will only enhance her ability to complete the reads that she sees on both ends.
Peyton Freiermuth (Austin, Texas), Cy-Fair Premier – 2023
Freiermuth's game is starting to round the corner as she'll be a key piece for one of the state's premier school programs next season. She's come a long way since our first eval almost two years adding several inches physically. Freiermuth is working on her skill set to be a reliable catch to shoot threat from the outside in addition to a multi-faceted kid on both ends of the floor as well.
Modesti McConnell (Edmond, Oklahoma), Arkansas Banshees – 2022
Making her way back from a major injury, McConnell showed a good looking skill set in this evaluation. She can handle the rock, shoot the ball and has a good overall understanding of what she's seeing on the floor. As she regains that extra burst of speed, look for McConnell to just keep getting more and more confident in her game.
Ella Jewell (Cedar Park, Texas), Lady Phoenix – 2022
Jewell is a dynamic guard with her pace and style of play. She has the skill set to be effective especially in transition. Though Jewell wasn't the quickest guard in the Austin Academy, she definitely that she can hold her own. If she'll shoot the 3-pointer between 33-36 percent in game, her game stands out even more as a result.
Suma Kasarla (Round Rock, Texas), Cy-Fair Elite – 2022
Kasarla is a smooth option in the backcourt who was a quiet competitor in every drill. She's one of those prospects who can do a myriad of things skill wise including make the open jumper when her feet are set. In time with added strength, our staff full expects Kasarla to be a next level guard capable of being a positive matchup in multiple areas of the game.
Cassidee Kinslow (Huntington Beach, Calif.), Cal Swish EYBL – 2021
The improvement in Kinslow's game over the past two years is extremely noticeable. She's turned herself into a consistent threat to catch and shoot all the way to the 3-point line. Add that to her physical development and she has the look of a true next level forward. Kinslow's energy and vocal nature did not go unnoticed here as she led her teammates in seemingly every drill, competition.
Mackendra Konig (Mill Creek, Washington), Tree of Hope EYBL – 2022
Fresh off of a quality showing at the Atlanta Academy, Konig was able to go toe-to-toe against some of the best guards in the country in Rori Harmon, Ashlon Jackson and Sammie Wagner. Her ability to compete athletically was noteworthy as Konig's skill is never a point for concern.
Ramsey Robledo (Shavano Park, Texas), Players First – 2023
In our first evaluation of her game, Robledo caught our staff's attention with her unique ability to do multiple things on the floor. She can catch to shoot, handle to pass and defend on the other end. While she might not have a specific single specialty, Robledo's versatility makes her game special.
Skye O'Rourke (Austin, Texas), Cy-Fair Elite – 2022
O'Rourke was one of the premier catch and shoot off the ball guards in the Academy. She has a very specific skill, knows it and utilizes what she's been given. Her confidence from the outside was evident both in drills and gameplay. Add that to O'Rourke's academic prowess and she's got a really nice outlook for the next level.
Azjah Reeves (Oklahoma City, Oklahoma), Unity – 2023
Reeves has the length in the backcourt to be a threat especially on the attack downhill. She showed time and time again the ability to make plays with her shiftiness and handle getting to the rim. She is also a solid jump shooter who can keep leveling up in that regard. As her frame fills out, Reeves will be able to make even more plays with a bump and still finish.
Gabby Robinson (Yorba Linda, Calif.), Cal Swish – 2024
Robinson seemed even more comfortable in this setting than she did at our Atlanta Academy in February. She's a legitimate shooter with size on the perimeter and the skill to create off the bounce. In a gym full of talented upperclass prospects, she didn't look out of place at all. For Robinson, continuing to work on finishing with contact will take her game to another level.
Nia Santiago (Rockwall, Texas) , Texas U – 2023
Santiago is a developing threat at the wing spot. Her game is tailored for a straight line driver, catch to go style at this moment. Her willingness to start building on her catch and shoot footwork her bodes well for her future projection. Santiago also has plenty of upside to keep filling out physically.
Kyra Stewart (Irvine, Calif.), Cal Swish EYBL – 2021
Stewart is no stranger to our staff. Right now, she excels getting downhill off the bounce looking for a chance to score in the lane. As Stewart develops her pullup and catch to shoot range, look for increased production to come along with it. She's got a dynamic pace to her play that is hard to come by.
Alyssa Tarpley (Gunter, Texas), Cy-Fair Elite – 2022
Tarpley is a perimeter option with good size and skill on the wing. She shot it well in drills and in competition. Tarpley was coachable with an understanding of what was being asked coupled with the IQ to implement it on the fly. With her size, shooting ability she projects as a legitimate next level prospect.

Brandon Clay serves as the Director of Scouting for ProspectsNation.com and owns The BrandonClayScouting.com Evaluation Report, which is read by more than 200 colleges and universities nationwide. He also serves as the Executive Skills Director for the Brandon Clay Scouting Academy Series.