Austin Spotlights 2020 - Part II
Posted
2 years 1 week ago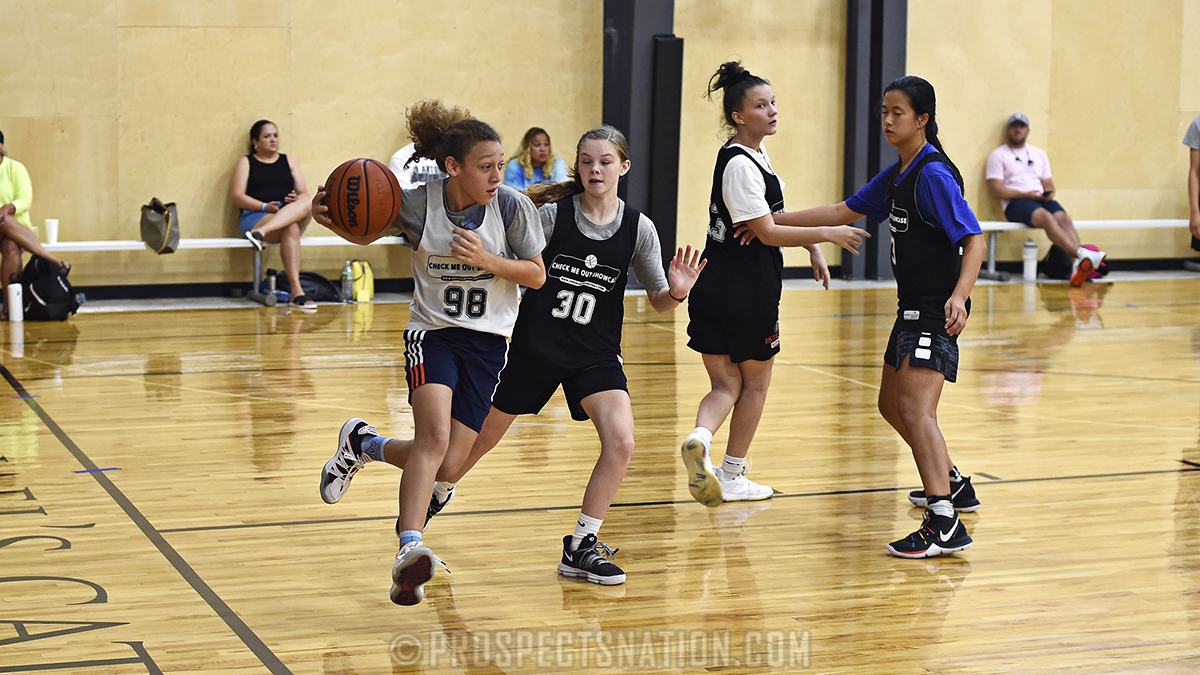 Delaney Arredondo of San Antonio, Texas, made the trip in Austin to participate in the Academy as well as get extra spotlight work in. *Photo by Rob Kinslow.
The morning before the start of the Check Me Out Showcase event, a collaboration of Brandon Clay Training and Elite Is Earned Basketball, spotlight sessions were held. Groups of 14 players, starting with the 10:30 a.m. group came through to get extra work in. Here are the takeaways from the 11:30 a.m. workout and two days on the floor from camp.
Delaney Arredondo (San Antonio, Texas), SA Finest – 2026
Arredondo is a smaller guard who was able to make an impact on our staff with her energy. We love her work ethic coupled with her ability to get downhill off the dribble on a consistent basis. Arredondo has all the makings of a quality shooter. When her form stays the same, it usually equals success.
Anastacia Baker (Austin, Texas), Lady Phoenix – 2024
Baker is a hybrid forward with good size and length. Her build and skill set represent a new age of versatile forwards who have the handle to play on the perimeter. At an early age, Baker puts me in the mind of Kiya Dorroh (Missouri commit) with her upside and versatility at a young age. If Baker will really commit to building her handle and passing ability going either direction, playing time as a point forward is not out of the question.
LaQuayla Chambers Wells (Westlake Hills, Texas), AD Elite – 2021
Chambers Wells is a dynamic guard and came into the session as a good shooter. Her footwork on her jumper can continue to improve and flourish. That aspect will make Chambers Wells that much tougher to guard for opposing defenders. Athletically, she is capable of defending the quickest of guards. Committing to being a lockdown option on that end will only enhance her overall value at the college level.
Bella Flemings (San Antonio, Texas), SA Finest – 2026
Flemings has fantastic size and skill on the wing early. Her game and ability to make a jumper give her a chance to be one of the kids people talk about statewide for years to come. Armed with a first class work ethic, Flemings was very receptive to coaching especially the nuance points we talked about with her jumper. She's officially on my radar.
Rian Forestier (Helotes, Texas), Players First – 2024
Forestier has made an impression on our staff two weekends in a row. She's talented guard who showed a lot of the same skill traits here in Austin that she did in Atlanta. That said, Forestier's jumper already came a long way mechanically in just seven days. Her follow through was noticeably higher and her shot was falling more consistently. The next step for her will be becoming more comfortable with her weak hand handling and passing.
Kaitlyn Hedge (Ladera Ranch, Calif.), Cal Swish – 2022
Hedge has good size on the perimeter. In this new age of the game, she potentially could play multiple positions in the frontcourt based on matchups and/or style of play. She can shoot the ball with consistency out to the 3-point line. We talked about some tweaks with her feet and a high two-handed follow through but Hedge is in a fantastic place with her shot overall.
Ananda Jenerson (Arlington, Texas), Pro Skills – 2025
Jenerson is a smooth yet quiet backcourt option. She shot the ball extremely well here even taking our shooting drill off the one bounce to shoot the 3-pointer. Jenerson was one of the premier shooters in the camp. Her ability to let it go early and often with consistency was impressive. She also has the skill to be an effective ball handler in the backcourt as well.
Molly Ly (Cedar Park, Texas), Cy Fair Premier – 2023
Ly is a smooth backcourt prospect. What the left-hand dominant shooter lacks in size, she more than makes up for in IQ. Ly is the type of high academic, shifty movement point guard that schools are looking for to run the point for their teams. As Ly continues to build the footwork on her jumper, her game will go to another level as a result. Guards who can shoot 35-37 percent or better from the 3-point line are tough to come by. Ly potentially could do just that.
Tatum Ott (Austin, Texas), Cy Fair Premier – 2025
Ott has the bloodline to not only produce as she gets older but understand the work it takes to be successful. We were locked in from the opening drill with Ott responding in a positive manner to any teaching point our staff made. That willingness to pay attention and ability to take that instruction will allow Ott not to become just a high level shooter but a player who can play this game for a school team for another decade.
Kendall Sneed (Beaumont, Texas), Cy Fair Elite – 2024
Sneed is a smooth option in the backcourt with the rock in her hands. She does multiple things well using her skill set to keep opposing defenders on their toes. Sneed has both IQ and athleticism which allows her to make reads then attack the defense as a result. For prospects like Sneed, the ability to force opposing defenders to guard them all the way out to the 3-point line every possession is key.
Ellie Stanley (Burleson, Texas), True Texas Hoops - 2026
Stanley was one of the youngest kids in the camp. She came in with a smile on her face ready to work. Her talent is evident already and should continue to blossom as she matures physically throughout middle school. If Stanley will commit to being able to use both hands to make plays and keep her work ethic revving at a high level, she's going to be just fine.
Payton Tatum (Lampasas, Texas), LB Chaos – 2023
Speaking of smiles on campers faces, Tatum might have had the biggest one in the building. She approached the sessions with both joy and energy allowing us to coach her game based on detail orientation not lack of effort. Tatum was significantly more comfortable on Sunday has a chance to be a consistent option making shots on the perimeter.
Daryn Thienpont (San Antonio, Texas), Players First – 2025
Thienpont was a solid backcourt option who came ready to get better. She was literally hanging onto every word our staff said and we loved that about her. Thienpont is a smaller guard but competed against any guard we threw her way during the academy. Couple that tenacity with her skill set and she projects as a legitimate college level prospect.
Amari Byles (McKinney, Texas), Pro Skills – 2026
Byles has a chance to be one of the state's elite in due time. Her current trajectory reminds of Nyah Green's years ago. Like Green, it will be important for Byles to keep refining her skill, shooting techinque in settings like this as often as possible. Already standing at 6-feet tall, she has the length coupled with the skill to be a real threat in the backcourt. Byles will go as far as her work ethic and love for the game will take her.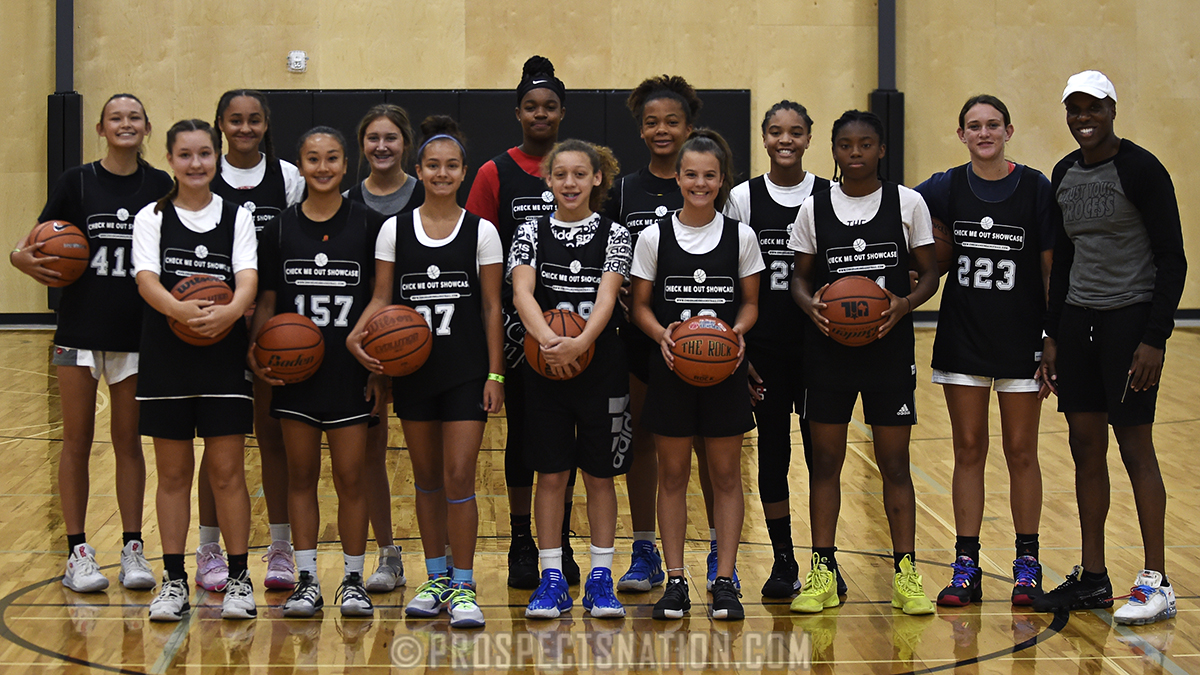 Brandon Clay serves as the Director of Scouting for ProspectsNation.com and owns The BrandonClayScouting.com Evaluation Report, which is read by more than 200 colleges and universities nationwide. He also serves as the Executive Skills Director for the Brandon Clay Scouting Academy Series.