2014 Recruiting Class Rankings
Posted
9 years 2 months ago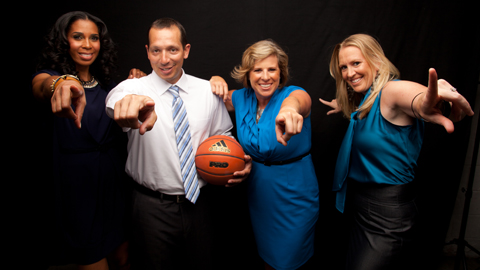 UCLA currently has the No. 1 ranked recruiting class in the country
giving (l-to-r) Shannon Perry, Tony Newnan, Cori Close and Jenny Huth
plenty to be excited about. *Courtesy of UCLA Athletics.
With the National Champions crowned in the 2012-13 season, the world of college basketball shifts completely to recruiting for the next six months. But that's not to say that the recruiting is just beginning in 2014.
Three of top 10 players in the ProspectsNation.com ELITE 60 already have committed and 13 of the top 60 are off the board. And with so much early decision-making we offer our first look at the 2014 Recruiting Class Rankings, with our Top 10.
Click here for the ProspectsNation.com 2014 Class Rankings: http://www.prospectsnation.com/2014-class-rankings-april-10
The race for the mythical recruiting championship is far from over but it is safe to say that UCLA is off to a tremendous start, landing two players in the top five – No. 4 Jordin Canada of Los Angeles, Calif., and No. 5 Recee' Caldwell of San Antonio, Texas.
In close pursuit, not surprisingly, is the recently crowned champion Connecticut Huskies. The Big East school has tabbed three of the ELITE 60's top 15 players – NO. 8 Sadie Edwards of Meridan, Conn., No. 13 Courtney Ekmark of Phoenix, Ariz., and No. 15 Gabby Williams of Reno, Nev.
The Texas Longhorns have also landed multiple ELITE 60 prospects with No. 6 Brooke McCarty of League City, Texas, and No. 36 Ariel Atkins of Duncanville, Texas.
Rounding out the top five are Duke, with No. 18 Azura Stevens of Raleigh, N.C., as well as four-star prospect Erin Mathias of Pittsburgh, Pa., and Minnesota, whose class is anchored by No. 27 Carlie Wagner of New Richland, Minn. Follow @ChrisHansenPSB
Hansen is managing editor of ProspectsNation.com and a McDonald's All-American selection committee member. He was the national director of scouting for ESPN HoopGurlz from 2005 until 2012. He can be reached at chris@prospectsnation.com.