What We Learned: KM Fall Showcase
Posted
7 years 2 months ago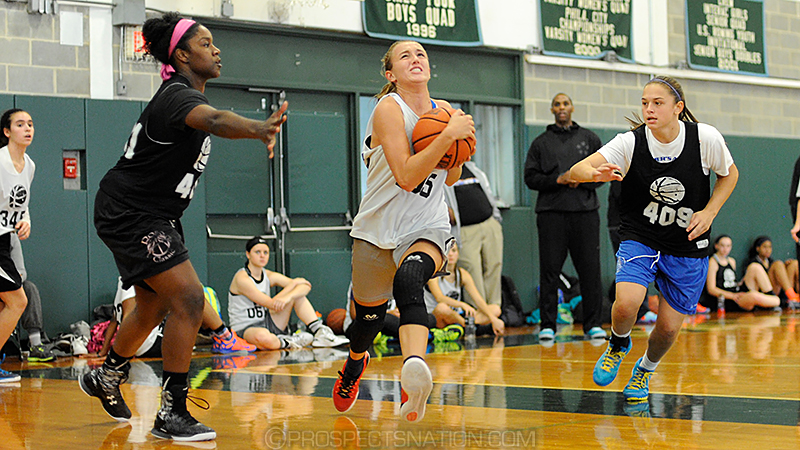 Dara Mabrey of Manasquan, N.J., made her presence felt early at the Keil Moore Fall Showcase. *Photo by Chris Hansen.
BRYN MAWR, Pa. – The Keil Moore Fall Showcase entered its third year in existence this fall and with it came growth from both a numerical and talent perspective. With a focus on underclassman, this year's edition of the Keil Moore Fall Showcase gave our ProspectsNation.com staff a great snapshot of what the Northeast has to offer the recruiting world in years to come.
Here is "What we Learned" during the two-day event in the Greater Philadelphia Area.
Familiar Faces
There were a number of players who showed up this weekend and continued to play at a high level after making an impact with their play in July. One of the things we are always looking for is consistent production and it was nice to see this group of players produce on a different stage.
In 2018, Amira Collins of Laplata, Md., has shown tremendous growth in the past 12 months. As a 6-foot-3 forward, Collins has vastly improved her perimeter game. As a result the No. 6 player in the 2018 ELITE 60 increased her versatility on the offensive side of the ball. This weekend she shot the ball with confidence while also making moves off the bounce to get to the rim.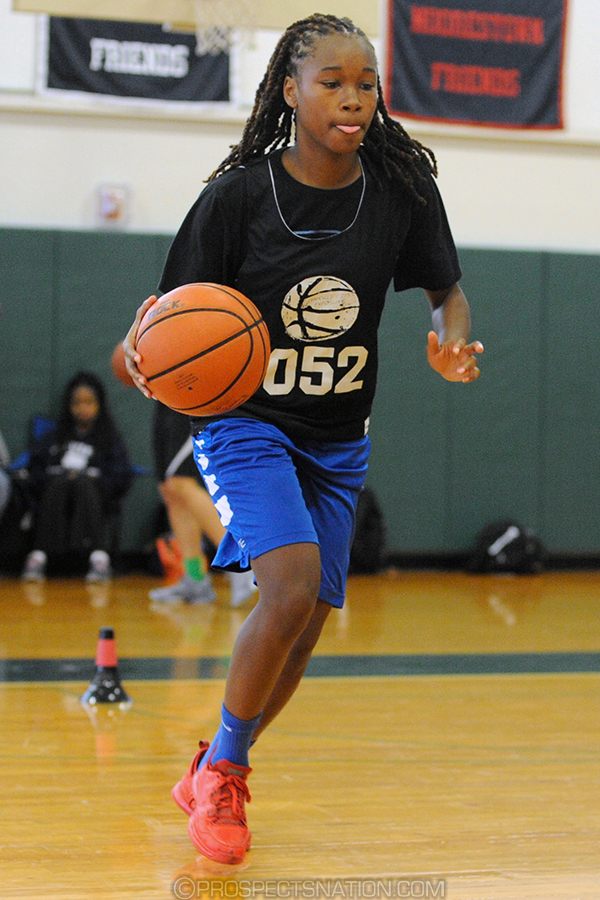 It doesn't matter if she is playing the point or scoring from the wing, Qadashah Hoppie of Newark, N.J., has the ability to be impactful. Hoppie, a 5-8 junior guard, was a standout at last year's showcase and this year she made even more noise. She is a tough one-on-one cover who has the ability to get to the rim and beat defenders with one quick move. Defensively, Hoppie projects as a potential perimeter stopper.
Speaking of defense, there might not be a better on ball defender than Breyenne Bellerand of Lodi, N.J. Bellerand is a 5-10 junior and a high level athlete who uses her length and athleticism to pressure offensive players.
On the Rise
If you could buy stock in college prospects, theses players would be worth the investment.
One player who showed a lot of long term upside this weekend was class of 2017 wing Daija Jefferson of Hopewell, Va. At 6-2, Jefferson has the ability to develop into the prototype wing prospect. Offensively she has a developing skill set with a good feel for how to make moves in one-on-one situations while defensively she has elite length and the ability to guard multiple positions.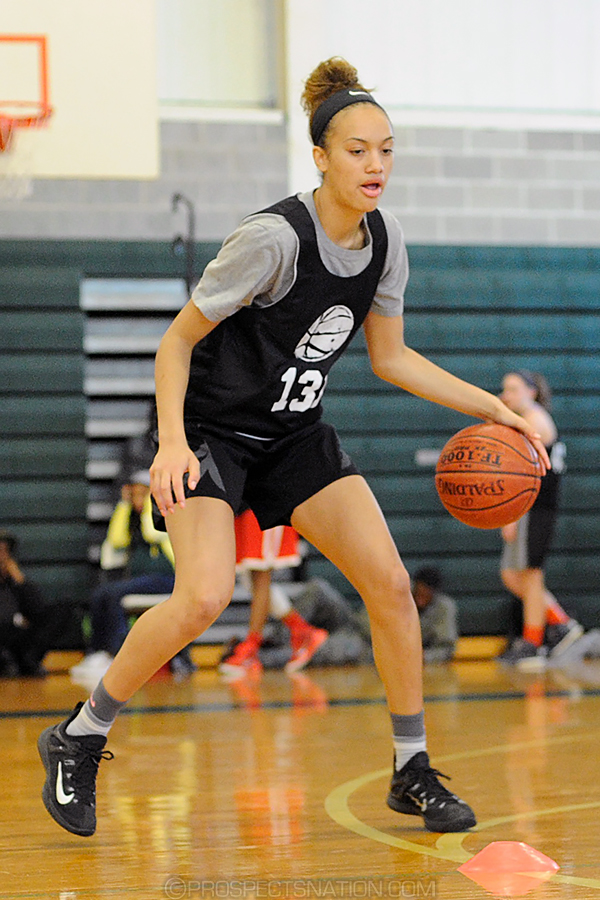 Like Jefferson, 2019 guard Nia Jordan of Philadelphia, Pa., has continued to develop and expand her skill set. For a young prospects she is very sure of herself on the court and in multiple camp settings, including EBA Super 64, Jordan has shown promise of developing into an elite prospect when her time comes.
Class of 2017 forward Akiene Tera Reed of Burlington, N.J., is another player who has shown immense promise. Reed brings a combination of skill and athleticism to the floor every time she plays but it is her energy that separates her from the pack. She is an extra effort kid who is consistently a factor on the boards, in passing lanes, and when guarding the ball.
Youth Movement
It is always fun to get a glimpse at the future and this event surely didn't disappoint. Here are some young prospects that proved that they are up next.
After watching Mariah Perez of Newark, N.J., at the USA Basketball U16 trials. Since then, Perez has proven to be a refreshing young prospect, showing well in multiple evaluations throughout the year. This weekend Perez was able to compete and hold her own against a number of older and highly regarded post prospects. Standing 6-3, Perez has a nice feel for the game and the ability to turn over either shoulder and finish a post move. Her energy and willingness to play in the paint make her an enticing post prospect.
For the better part of a decade there has been a Mabrey on the circuit. First it was Michaela, a current senior at Notre Dame. While Michaela was finishing her prep career, Marina, a current freshman at Notre Dame, was entering the fray. Now it is time class of 2018 Dara Mabrey of Manasquan, N.J., to make a name for herself. Like her sisters, Dara has a lethal perimeter jumper for which she is effective both making shots off the bounce and in catch and shoot situations. Unlike her older sisters, Dara is more of a combo guard than a wing. She is a capable playmaker and showed the ability to be a vocal leader this weekend at camp. Dara, who stands 5-7, is also highly competitive and willing to bring a blue-collar mindset to the floor whenever she plays.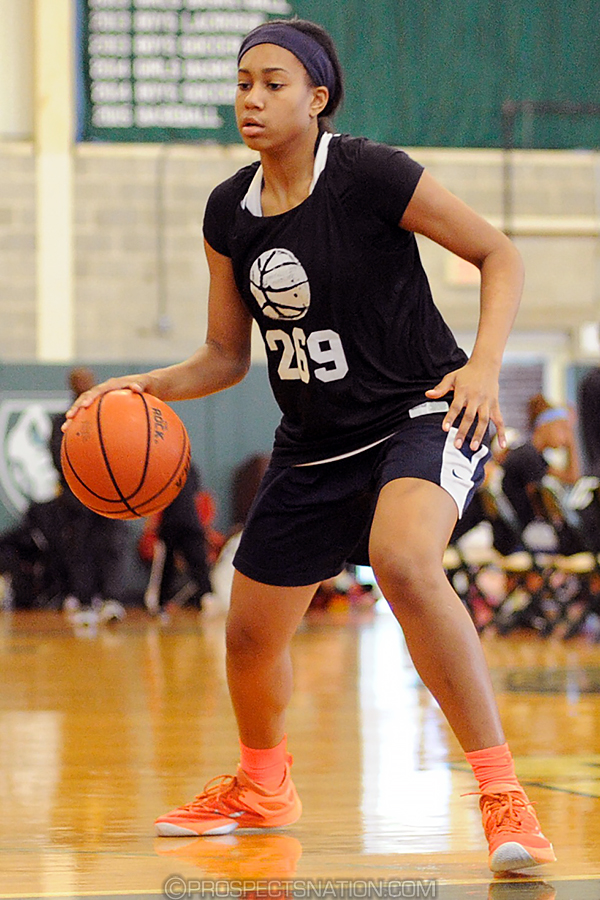 Class of 2019 wing Jakia Brown-Turner of Temple Hill, Md., brings size and athleticism to the wing positions. Her ability to rebound on the offensive and defensive glass will make her a welcomed addition to any team as she has the tools to be effective around the rim but the skill set to flourish as a wing.
Hard to Guard
There were a handful of prospects on hand that proved to be tough one-on-one matchups. Whether they were effective creating offense off the bounce or playing around the rim and bringing physicality, this group put pressure on defenders.
Jordan Nixon of Bronx, N.Y., proved to be as tough a one-on-one cover as anyone in the gym this weekend. The class of 2018 guard has a great feel for how to operate off the bounce in traffic and attack defenders. Nixon blends her creative ball handling skills with a lethal pull-up jumper. The combinations of both give her quite the emerging offensive game.
Around the rim, class of 2017 forward Makayla Pippin of Severn, Md., brought a high level of activity to camp. She is a physical presence and uses her recipe of size and strength as a true asset. Class of 2017 post Danielle Deoul of Saddle River, N.J., brings true versatility to the post position. Deoul can step out and make a face-up jumper but is equally as comfortable playing with her back to the basket and making a scoring move.
Savannah Simmons of Bel Air, Md., brings size and playmaking ability to either guard spot. At 5-10, Simmons has a great feel for the game and understands how to use angles or a change of speed to beat defenders. She has a reliable pull-up jumper and seemed always to be under control this weekend.

Keil Moore is the Director of Scouting for the JumpOffPlus.com National Scouting Report and international scouting report. He serves on the Naismith Trophy Board of Selectors and has been a member of the women's basketball community for more than eight years as a trainer and evaluator. He can be reached at keil@prospectsnation.com.