USA U16's: Point Guard Play
Posted
7 years 10 months ago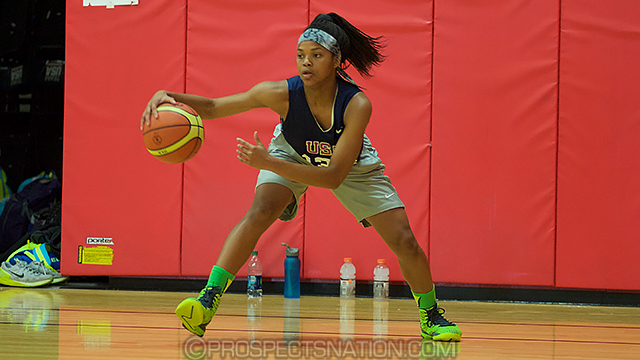 Destanni Henderson of Fort Myers, Fla., has the physical gifts to make an impact on offense and defense. *Photo by Chris Hansen.
COLORADO SPRINGS, Colo. -- The competition at the point guard position at this year's U16 women's basketball trials has the potential to be as tough or tougher than any other spot in terms of actually making the team. There is a depth of talent at the lead guard position this weekend and a nice mixture of styles of play for the committee to choose from.
Without a doubt there will be multiple ELITE 100 caliber point guards left off this year's U16 team. Who the committee members ultimately pick this weekend could come down to their overall vision of the team and the vision for style of play with the winner of the head-to-head match ups playing a lesser but important role as well.
As one of the best scoring point guard's in the building this weekend, Honesty Scott-Grayson of Brick, N.J., has the ability to make the team as either a point, a combo guard, or maybe even as a true wing. At 5 feet 10, Grayson has elite size for the point guard position and the ability to put pressure on opposing defenses as either a scorer or a playmaker.
Two players who fit the mold as true playmakers are class of 2018 point guards Jenna Brown of Marietta, N.J., and Desiree Caldwell of San Antonio, Texas. The 5-9 Brown is a natural pass-first point guard who has added a consistent jumper to her game over the last year and a half. Caldwell on the other hand is a pick-and-roll maestro who knows how to make the right reads and keep her teammates involved.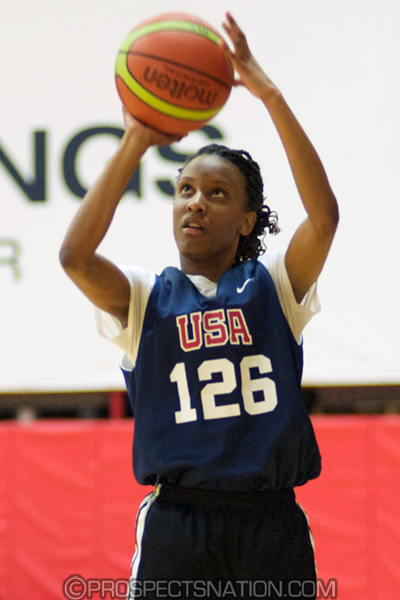 There are also a handful of athletically gifted point guards who can bring an interesting dynamic to a potential U16 roster. Class of 2018 point guard Destanni Henderson of Fort Myers, Fla., is physically gifted enough to make plays on either side of the ball with her athleticism, but Henderson is also savvy enough to make the right play at the right time.
Similar to Henderson, Alexis Morris of Beaumont, Texas, brings an elite level of athleticism to the lead guard position. She has the ability to make plays in one on one situations and is gifted enough to be a lockdown defender on the perimeter.
Not to be forgotten, Chelsie Hall of Wesley Chapel, Fla., and Kiana Williams of San Antonio, Texas, have the ability to compete for a spot on this U16 team as well. Williams is a high level playmaker with range on her jumper while Hall is consistently getting in the lane and putting pressure on defenses.

Moore is the Director of Scouting for the JumpOffPlus.com National Scouting Report and international scouting report. He serves on the Naismith Trophy Board of Selectors and has been a member of the women's basketball community for more than six years as a trainer and evaluator. He can be reached at keil@prospectsnation.com.