Posted
9 years 5 months ago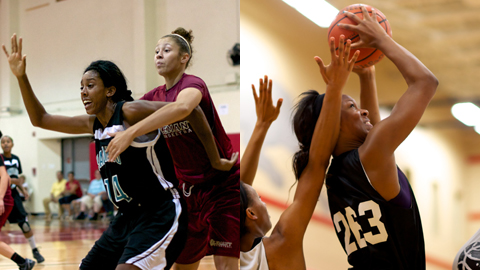 UCLA added two more pieces in 2014 with Monique Billings (left) and LaJahna Drummer (right) committing on Tuesday.
Tweet
The UCLA Bruins' top ranked 2014 recruiting class got considerably better on Tuesday with verbal commitments from LaJahna Drummer of Los Angeles, Calif., and Monique Billings of Corona, Calif.
Drummer, the 6-foot-2 forward ranked 10th in the ELITE 100, and Billings, the 6-2 forward ranked 19th in the 2014 class, were both on a visit this past weekend, setting the stage for what has to be a hallmark day for head coach Cori Close and her staff.
The interior duo gives the Bruins the depth and talent in the paint to go with its already stellar perimeter play. UCLA landed verbal commitments from No. 4 Jordin Canada, a 5-6 point guard from Los Angeles, No. 6 Recee' Caldwell, a 5-8 combo guard from San Antonio, Texas, and No. 40 Kelli Hayes, a 6-0 wing-forward from San Jose, Calif.
While both Billings and Drummer cited proximity to their families as a reason for choosing the Bruins, both had other factors as well.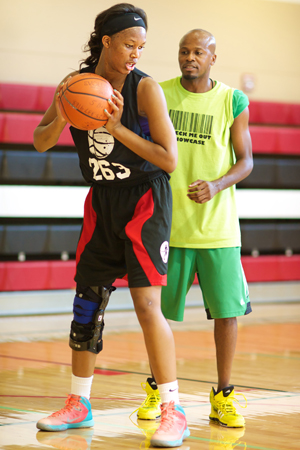 LaJahna Drummer committed
after her official visit this
weekend *Photo by Haley Weit.
"I just thought about what I wanted to do after basketball," Drummer said. "Everyone's ball is going to go flat."
Drummer cancelled visits with Baylor, Notre Dame and USC because of her commitment.
"I really like their fashion program and it's right down the street, close to home, so my mom can see most of my home games," Drummer added.
Billings chose the Bruins over finalists Connecticut and USC.
"I felt very comfortable with the coaches from the jump," Billings said. "(They're a) classy team that I fit in with very, very well. I have the comfort and support of having my family right down the street. And lastly, I wanted to play with these girls and start a new legacy."
And based on the incoming talent in this class, Billings could be dead on about starting a legacy. Drummer brings the ability to score the ball both on the block and with a solid face-up game while Billings can block shots as well as anyone on the West Coast and can also score on the block.
This quintet, which includes three of the top 10 players, four in the top 20 and all five in the top 40 of the ProspectsNation.com ELITE 100, will have two years with power guard Nirra Fields and sharpshooter Kari Korver. They will also potentially play three years with 6-9 post Savannah Trapp, 6-2 forward Paulina Hersler from Sweden, and a pair defensive stoppers at guard in Dominique Williams and redshirt freshman Lauren Holiday. This forms the core of a team that Close and her staff hope can lead them to UCLA's 110th overall NCAA national championship.
The Bruins might not be done in the 2014 class as they are still recruiting Jaime Nared, the 6-1 wing from Beaverton, Ore. Nared was on campus with the rest of the 2014 recruits this past weekend on an official visit. Regardless the future got even brighter for UCLA this week. Follow @ChrisHansenPSB

Hansen is managing editor of ProspectsNation.com and a McDonald's All-American selection committee member. He was the national director of scouting for ESPN HoopGurlz from 2005 until 2012. He can be reached at chris@prospectsnation.com.