Posted
1 year 10 months ago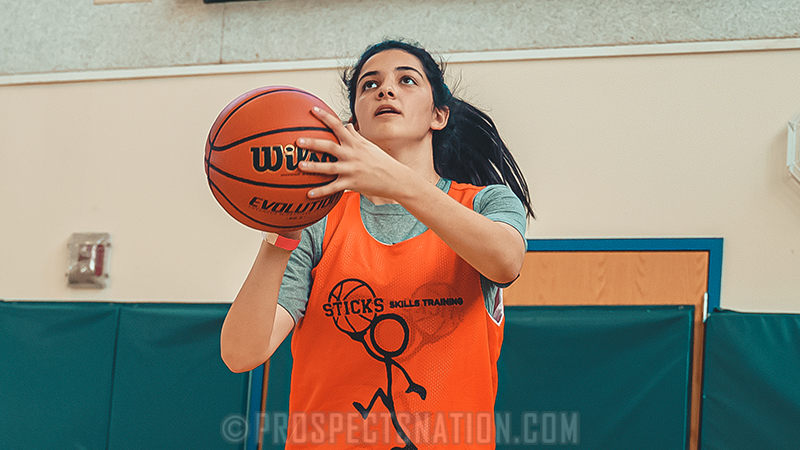 Josie Cancro of New Haven, Connecticut, gets her reps at the pre-camp spotlight workout with Brandon Clay. *Photo by Anthony Lugardo.
BOSTON - The BrandonClayScouting.com National Training Academy partnered with Sean "Sticks" Smith to bring a unique training atmosphere to the Northeast region. Our favorite part of the Academy is working with campers during our Spotlight Session Workout. Here are the takeaways from the session:
Class of 2022 forward Shay Bollin of Rayhnam, Massachusetts, has proven herself as one of the hardest workers and best frontcourt shooters in the class nationally. Her willingness to be in the gym even after a campus visit to her future home, Duke, immediately followed by being a part of a family friend's wedding all within 24 hours speaks to Bollin's work ethic.
Class of 2023 forward Alyssa Velasquez of Winchendon, Massachusetts, is a legitimate shooting option in the new age frontcourt. She has good size but has the touch needed to keep opposing defenses honest. Based on what we saw here, Velasquez is just scratching the surface of the shooter that she can be when she locks her follow thorough in.
Class of 2023 forward Josie Cancro of New Haven, Connecticut, has all of the physical tools to be a consistent shot maker from the perimeter. In that way, Cancro can create matchup nightmares for opposing defenses when she gets a high release and a follow-through. Canrcro is already a positive shooter mechanically. Now her confidence has to dial up a notch.
Class of 2024 guard Zya Rosa of Lawrence, Massachusetts, is a joy to train especially on her shot. Rosa was a late add to the session but brought an A1 attitude and demeanor. She has a solid foundation shooting wise. Look for Rosa to raise the release point on her jumper over the next 12 months to ensure even better results.
Class of 2024 guard Annie Stanton of Medford, Massachusetts, was a joy to work with. She literally improved her aggressiveness in shooting the ball during the two-day Academy. Mechanically, Stanton will benefit from finishing each shot with a nice fully snapped right wrist in the bucket in addition to a tall guide (left) hand on the side of her shot.
Class of 2025 guard Emma Phelan of Johnson City, New York, brought a true blue collar attitude to the shooting session. She was engaged, asking questions and has the skill set to go complete the drills once she gets her answer. When she gets her feet underneath her with a high, one second follow through to match the result is a made basket more times than not.
Class of 2026 guard Olivia Fleming of Windham, New Hampshire, has a smooth, effortless feel to her jumpshot. She's got a slender frame that should fill out in time giving her even more range on her shot as a result. Fleming's two-hand, one-second follow through should be a point of emphasis.
Class of 2026 guard Florence Ajunwa of Abdington, Pennsylvania, is a tough, young prospect who brought focus to the shooting session. For a middle school player, Ajunwa's footwork was solid here. That coupled with her physical build should allow her to be a shooter with range as her consistency develops.
Class of 2026 guard Ava Dwyer of Medford, Massachusetts, was fantastic with her release point in this shooting workout. She has a compact shooting motion that will serve her well at the high school level and beyond. Like most young guards, adding strength will allow her the latitude to comfortably stretch her shooting range.

Brandon Clay serves as the Director of Scouting for ProspectsNation.com and owns The BrandonClayScouting.com Evaluation Report, which is read by more than 200 colleges and universities nationwide. He also serves as the Executive Skills Director for the Brandon Clay Scouting Academy Series.