Recruiting Rundown--Feb. 25, 2013
Posted
10 years 7 months ago
Editor's Note: "Recruiting Rundown" is designed to give readers a look at prospects nationwide who schools have been out to see or showing interest in recently.
This week we catch up with a trio of juniors and the colleges that have been in to see them play recently.
Chatrice White of Lincoln, Neb., is one of the nation's most sought after centers in the class of 2014. Though the four-star post prospect does not have a short list, White has been in contact with some of the nation's top programs including Iowa State, Nebraska, Notre Dame, Penn State and Purdue among others. All of those schools have been out to see her play this school season. Currently ranked No. 24 in the ELITE 60, White is a skilled post player who can score with her back to the basket. Her recruiting will cause a domino effect for some of the other centers in the class with similar styles of play.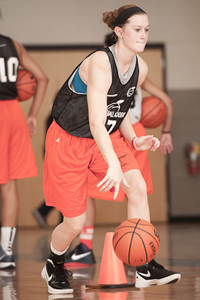 '14 ELITE 60 guard Alexa Middleton.
*Photo by Ty Freeman.
Class of 2014 guard Alexa Middleton of Murfreesboro, Tenn., has said that she is hearing the most from Florida, Georgia, Georgia Tech, Kentucky, LSU, Rutgers and Vanderbilt. The No. 20 ranked junior has offers from all of the schools and all seven of them have been in for high school games this season. Recently, Connecticut reached out to her coaches as well. Right now, the sharpshooting combo guard is focused on the Tennessee state tournament that starts March 6th. ProspectsNation.com will be on hand at the Murphy Center in Murfreesboro.
Oregon State and Gonzaga dropped in on Carondelet High's practice last week to watch 2014 guard Natalie Romeo of Martinez, Calif. ProspectsNation.com has seen Romeo at nine different events over the past two years and have watched her mature as a point guard. The three-star guard made an impression leading her team to a victory during a game that we watched Tournament of Champions in front of Air Force, Brown, Oregon and San Diego State.
Follow @BrandonClayPSB