Recap: 2014 EBA Fab Five Underclass
Posted
8 years 2 weeks ago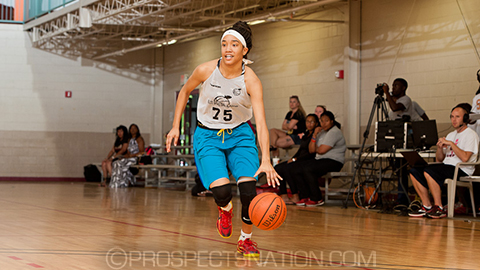 Ariel Colon is a matchup problem on the perimeter as she proved at EBA Fab Five Camp over Labor Day Weekend. *Photo by Ty Freeman.
SUWANEE, Ga., -- With over 100 prospects from across the nation in attendance, the 2014 edition of the Elite Basketball Academy Fab Five Camp went down as a success with players receiving high level training with experienced trainers and coaches. They also had the opportunity to showcase their abilities on the ProspectsNationTV powered by TheSUVTv.com. This proved valuable on Labor Day weekend as dozens of families tuned in to watch their loved ones perform on the broadcast.
Here are a few of the names that jumped out from the camp in the underclassmen division.
Alliyah Chaplin (Chapel Hill, N.C.), Team Carolina – 2018
One might say that Chaplin shifted into "Beast Mode" this weekend with her physical style of play. The 5-foot-10 power forward seemed to overpower nearly everyone who got in her way. She rebounds the ball with strength, but she combines that with a soft touch that allows her to score effectively in the lane.
Ariel Colon (Orlando, Fla.), Central Florida Elite – 2017
Standing 5-9, Colon has the size to play on the wing or even battle inside. However, what is impressive is her ability to handle the ball and create on the perimeter. She shows the confidence that is needed from the lead guard position, but she also is a willing slasher to the hole with either hand.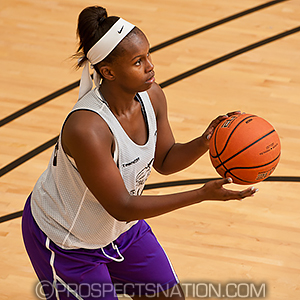 Kaila Hubbard showed off her point forward skills at
Fab Five Camp. *Photo by Ty Freeman.
Kaila Hubbard (Jonesboro, Ga.), Team Elite Pointer – 2018
Hubbard provides versatility as an inside-out threat. She can handle the ball as a facilitating point forward. However, she has the size and touch to be able to score with brute force in the lane. Her skill and size should allow her to make an impact this year as a freshman at Holy Innocents High School.
Dena Jarrells (Dunlow, W.Va.), West Virginia Thunder – 2019
Although she will not enter high school for another year, Jarrells made as big of a splash as any kid in the camp. The diminutive guard makes giant-killer plays while wowing the crowd with an array of dribble moves. The talented guard hits jumpers from well beyond the arc as well. She will be a cornerstone of Scott Johnson's program for years ahead.
Gabby Lupardus (Pineville, W.Va.), West Virginia Thunder – 2018
The 5-8 shooting guard plays with fury on the court. She slashes to the lane and can finish over defenders that try to stop her. The high energy freshman can shoot the ball effectively from the perimeter as well.
Tierra Wilson (Winston Salem, N.C.), Carolina All-Stars – 2017
Wilson showed marked improvement in her ability to score the basketball at camp this year. She is a combo guard who shoots it consistently from the 3-point line. However, it is her slashing ability to score in the lane that separated her as one of the better guards in this setting. Follow @JLHemingwayPSB

Hemingway is the Assistant Director of Scouting for the JumpOffPlus.com National Scouting Report. He can be reached at jonathanhemingway@peachstatebasketball.com.