Player Introduction: Nalyssa Smith
Posted
6 years 10 months ago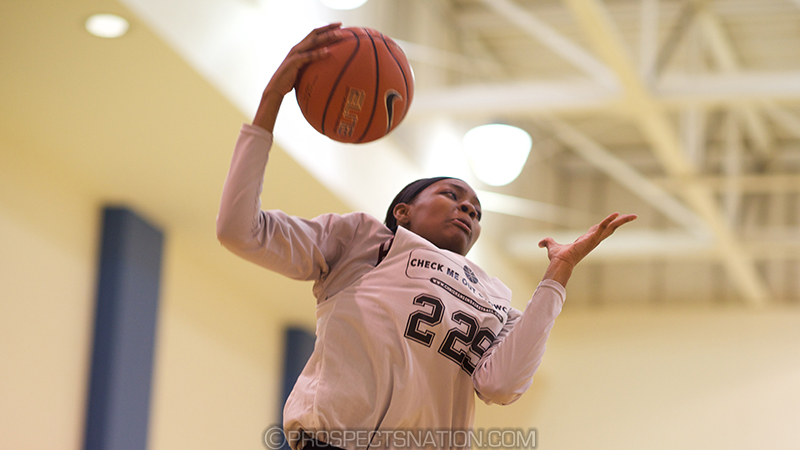 Nalyssa Smith is one of the most explosive and versatile prospects in the 2018 class. *Photo by Glenn Nelson.
Overview
Unlike many of her peers at the top of the 2018 class, forward Nalyssa Smith emerged on the scene as a player with potential that lacked development. She needed time to grow into her body, get stronger, and develop her skill set. In the last 18 months Smith has advanced from a developing active interior defender with an emerging offensive skill set to a more polished offensive player with the potential to make an immediate impact in college.
First Eval
Smith is a 4 player with great length and a prototype body. She is a pick and roll type of forward who also rebounds the ball well. At this point however, she is not affecting the game consistently. (7-23-14 @ PSB Summer Invitational – Suwanee, Ga.)
What They Are Saying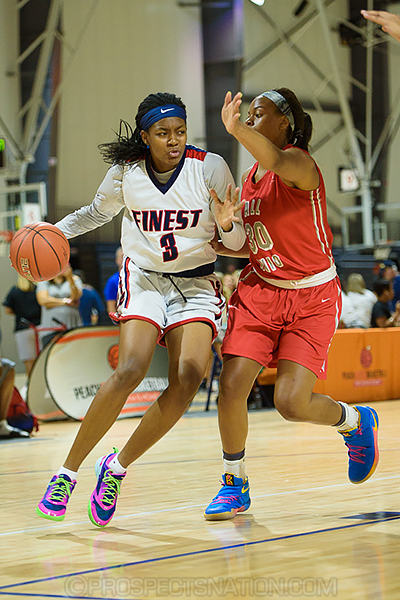 Nalyssa Smith is a dymaic player on
both ends of the floor. *Photo by
Ty Freeman."Nalyssa Smith had a breakout year in 2016, moving from a prospect with potential to an impact player. Her ability to use her length and athleticism both in the post and on the perimeter makes her one of the toughest matchups in the class." Chris Hansen, Director of the ELITE is EARNED Report.
"Smith is probably the most versatile prospect in the 2018 class. A superb athlete, Smith can play and guard just about every position on the floor. A great finisher at the rim, she is a midrange producer, can post with her back to the basket and make plays off the bounce. Her outside jumper has seen much improvement as of late. Smith is a player who can clean the boards, take it coast to coast and is as athletic of a finisher as they come. – James Parker, West Coast Hoops Report.
For The Next Level
When looking at Smith's game, players such as Texas forward Joyner Holmes and South Carolina forward Aja Wilson come to mind. The scary thing about Smith is she might be the most fluid athlete of the group. Physically, Smith has what seems to be unlimited potential. Her perimeter game has grown exponentially and she is still capable of making a post move here and there. She has WNBA potential but she will need to stay focused and continue to develop her skills and feel for the game.
Recruiting
In alphabetical order Smith is considering the following schools, Baylor, Connecticut, Kansas, Louisville, Ohio State, Texas Tech, Texas, South Carolina and West Virginia.

Keil Moore is the Director of Scouting for the JumpOffPlus.com National Scouting Report and international scouting report. He serves on the Naismith Trophy Board of Selectors and has been a member of the women's basketball community for more than eight years as a trainer and evaluator. He can be reached at keil@prospectsnation.com.