One Year Later, Miles Ahead
Posted
4 years 6 months ago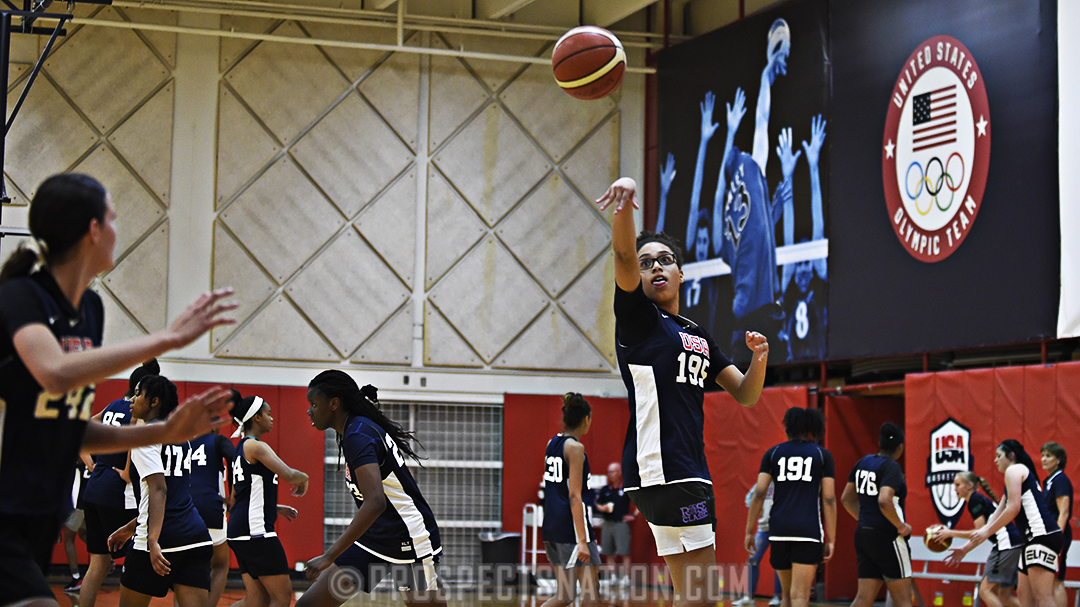 Olivia Miles makes a touch pass to Kennedy Basham at the 2019 USA Basketball U16 national team trials openins session. *Photo by Chris Hansen.
COLORADO SPRINGS – Olivia Miles of Phillipsburg, New Jersey, comes into this USA Basketball U16 national team trials weekend in a lot different position than a year ago when she was one of the youngest players trying out for the U17 team.
Some of this new situation is on her for competing at such a level these past 12 months. Miles has been so good that she has garnered national recognition, including the No. 3 spot in the ProspectsNation.com ELITE 25. Fair or not that brings on expectations and sometimes those can be unreasonable.
Add things outside her control, such as the knee injury to Azzi Fudd that will keep out of this cycle as she recovers, and it thrusts an even bigger spotlight on Miles to be the best version of herself we've seen to date.
"I honestly haven't really thought about the expectations," Miles said at the conclusion of the first day of the trials. "I have just tried to learn from what I did last year and what I could have done better. I got feedback and I really took that into account and worked on it through the winter and the spring and start of the summer."
There is a coolness to her game that has always been there. She has a confidence that permeates her playmaking and draws people in. But that wasn't enough last year and she knows exactly what she wants to show improvement in this year.
"My defensive intensity, definitely, that's what I really needed to work on from last time around here," Miles said. "Really just picking it up and playing hard every play, not giving up, rebounding, pushing the ball up."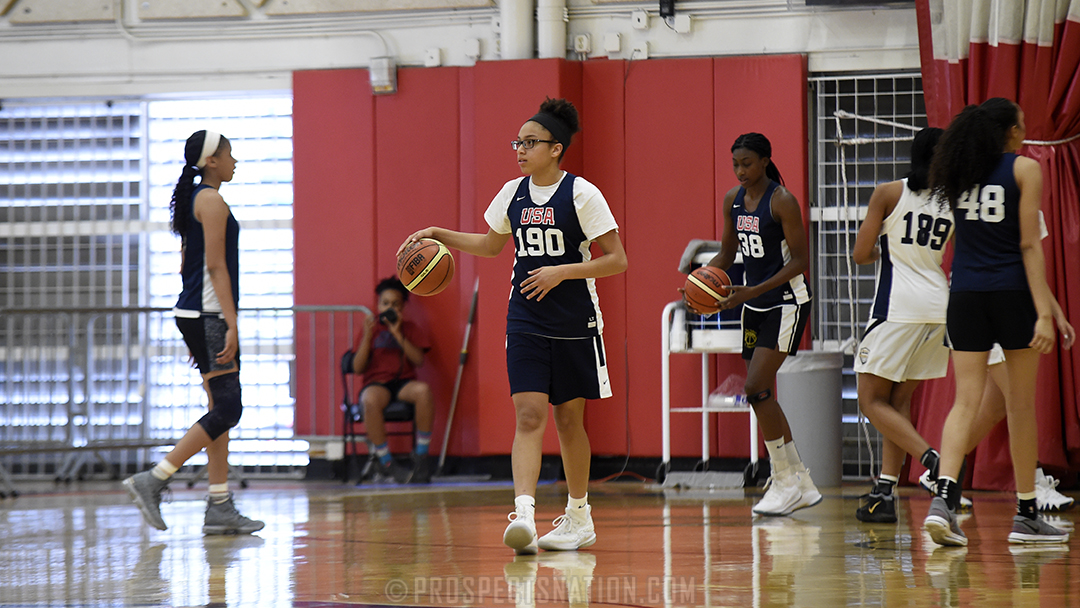 A year ago Olivia Miles had a breakout weekend here
at the USA U17 trials. *Photo by Chris Hansen.Miles said she feels a difference in how people are playing against her now too.
"Even though I don't know, I would definitely say they have it out for me essentially, because, you know, I'm trying to get that top position as they are as well," she said.
There are different reactions for players who go from the hunter to the hunted. Depending on the player's mindset and maturity it can be a step forward in the journey of an elite player or it can derail a player just as easily.
"It's definitely more fun because, I don't know it's just fun to know that people want (to come at you), it's kind of like humbling at the same time to know that people are trying to go for you because you're up there," she said. "It's really rewarding because I know the work I've put in. So it's like I'm going to trust it."
So far, Miles has focused more on competing and putting her work in as opposed to getting caught up in the hype surrounding her rise to national prominence.
"I just try to focus on playing my game," Miles said. "My dad always tells me it doesn't matter what everyone else has to say it's just you and what you have to prove to yourself and what your training does for you and just trusting everything."
Miles seems like she is on a great path in her game's development. And while we're still days of trials away from team selection, she seems ready to accept the pressure of being a go-to player on this squad if she does make it.

Chris Hansen is managing editor of ProspectsNation.com and serves on the McDonald's All-American and Naismith Trophy selection committees. He was a co-founder of and the national director of scouting for ESPN HoopGurlz from 2005 until 2012 and is the director of the Check Me Out Showcase and ELITE is EARNED events. He can be reached at chris@eliteisearned.com.