Posted
9 months 4 weeks ago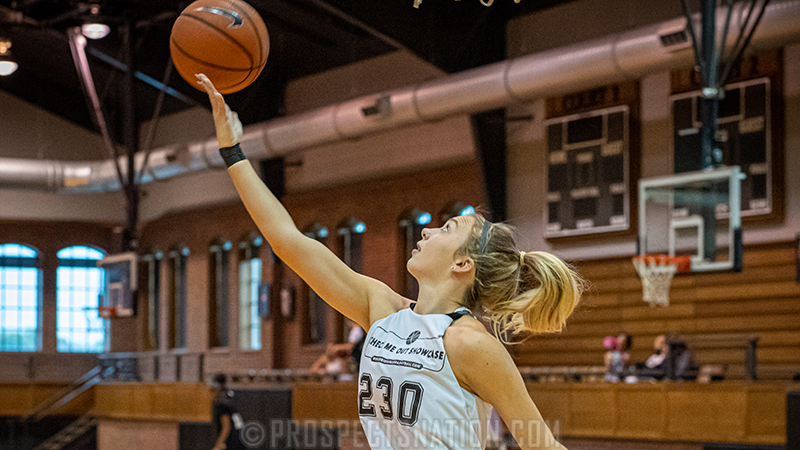 Cassidee Kinslows is heading to UTA in the Mavericks 2021 recruiting class. *Photo by Anthony Lugardo.
Cassidee Kinslow of Huntington Beach, California, has given her verbal commitment to the University of Texas Arlington. The 5-foot-11 inch wing from Huntington Beach, California, chose the Mavericks and new head coach Shereka Wright after considering interest from Air Force and Tarleton State.
"Kinslow is the perfect fit for newly minted coach Shereka Wright," Brandon Clay, ProspectNation.com Publisher, said. "Kinslow is a competitor who possesses the size and skill to be a threat on both ends of the floor. She brings a whole host of intangibles to the table including the ability to walk in the door knowing the type of work it will take to compete at the Division I level. Her sister, Cydnee, is finishing up her career at Florida after spending time at three other Division I schools along the way. That type of firsthand insight is invaluable for an incoming freshman and should serve Cassidee well in Arlington."
Kinslow is a long distance threat on the perimeter. She also proved this summer she can be physical and defend multiple positions. At UTA that should allow her to be a defender that can switch the pick and roll action as well as be a factor on the glass.
Cassidee Kinslow (23917)

Chris Hansen is managing editor of ProspectsNation.com and serves on the McDonald's All-American and Naismith Trophy selection committees. He was a co-founder of and the national director of scouting for ESPN HoopGurlz from 2005 until 2012 and is the director of the Check Me Out Showcase and ELITE is EARNED events. He can be reached at chris@prospectsnation.com.