In The Gym With Shay Ijiwoye
Posted
1 year 11 months ago
MANSFIELD, Texas – Class of 2024 guard Shay Ijiwoye has been on a tear these past 12 months. Her recruitment is really starting to take off as she's morphed from dominant at age level in her region to competitive nationally.
#CheckMeOutNATION Seattle 2021@shayijiwoye of @azelitebball pic.twitter.com/sTjQXAfUXW

— ELITE is EARNED ®️ (@ELITEisEARNED) March 9, 2021

After multiple sessions this calendar year, it's safe to say that Ijiwoye has all the tools to be an elite level option at the point guard position. She is a shot maker, distributor and on-ball defender wrapped into one. There will be some collegiate suitors who take Ijiwoye's size into play as a negative. My counter to that with shorter point guards is show me a guard capable of posting up consistently and they'll be a star in the WNBA one day. Chelsea Gray's success at the high school level taught me that. Ijiwoye is a tough, tenacious competitor who will be an impact on both ends of the hardwood. Her play this club season has her in a fantastic place recruiting wise with offers from schools coast to coast. Eastern Michigan, Miami, North Carolina, SMU, South Florida and Washington State have all offered.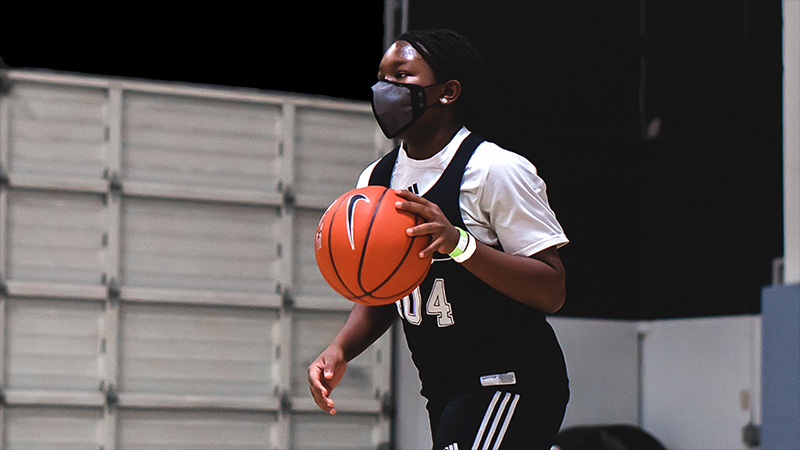 It's been a couple winters since I sat on the baseline watching the seventh grade version of Ijiwoye playing at Ron Coleman's Diamond Classic with Arizona Elite. Playing against players her age, her physical dominance made all the difference. Two years later she stepped in gym at the Check Me Out Showcase in Seattle as a rising freshman and against a roster of mostly older talent from across the west, she showed her game translated to that next level up. She showed sharp ball skill, feel for the game and that physicality we loved back in her home state sure played out as she competed in the Pacific Northwest. Add two more weekends in the gym since then and what we now know to be true is that she's an elite athlete who can excel taking high level instruction. She is on a course to be a more explosive version of former Arizona State standout Dymond Simon, who was a McDonald's All-American back in 2006.

Brandon Clay serves as the Director of Scouting for ProspectsNation.com and owns The BrandonClayScouting.com Evaluation Report, which is read by more than 200 colleges and universities nationwide. He also serves as the Executive Skills Director for the Brandon Clay Scouting Academy Series.

Chris Hansen is managing editor of ProspectsNation.com and serves on the McDonald's All-American and Naismith Trophy selection committees. He was a co-founder of and the national director of scouting for ESPN HoopGurlz from 2005 until 2012 and is the director of the Check Me Out Showcase and ELITE is EARNED events. He can be reached at chris@prospectsnation.com.