Posted
2 years 1 month ago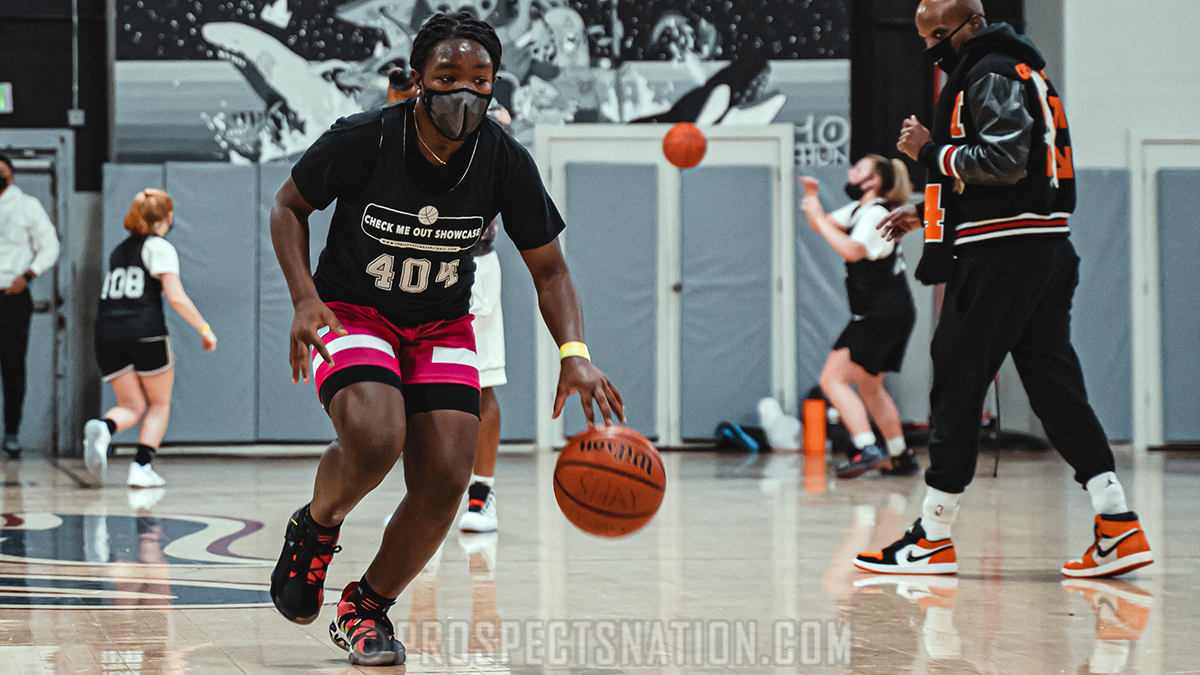 Shay Ijiwoye of Arizona Elite GUAA competes at the 2020 Check Me Out Showcase in Seattle, Wash. *Photo by Tony Lugardo.
HOOVER, Alabama – The Under Armour Association event was loaded with familiar faces currently enrolled in our Brandon Clay Recruiting members and Brandon Clay Training participants. Here's a look back at some of the players on hand who caught our eye:

This was Bollin's first live gameplay since the fall for Bay State Jaguars. It came against Wisconsin Flight Elite, who are undoubtably one of the best teams in the league this season. Bollin had stretches especially in the second half where her next level ability and versatility were on full display. She can post to score or draw the double team on one offensive possession then be the recipient of the kickout for a corner 3-pointer on the next.

Hockley has grown leaps and bounds from our Training Academy evaluations in 2020. Even with a new club team, we saw a lot of the same steady hand at the guard spot that we've come to expect from Hockley. As the season progresses, look for her to get more comfortable with each event she plays in for Kelvin Hamm and FGB.

This was our staff's first time seeing Ijiwoye play for Arizona Elite after training with her in Seattle earlier in the year. She played her position at the point exactly how we expected given her style and skill set. Ijiwoye has the ability to lead a team from the point guard spot. Her latest scholarship offer came from South Florida late last week.

In two games on the opening day, Mains dropped just shy of 60 points total for FBC Reign. In that regard, she picked right up where she left off from the summer time. Mains versatility goes a long way on both ends of the floor as she is a willing defender on the interior when need be in addition to scoring the ball outside and inside.
AROUND THE RIM
Class of 2022 point guard Kamy Peppler of Wisconsin Flight Elite is one of our favorite point guards nationally. She'll be on the floor with us at our Wisconsin Academy in June.
In that same organization, keep an eye on Class of 2024 guard Taylor Stremlow. She was a standout at our Wisconsin Academy last summer and showed why again with her play here.
Class of 2022 guard Talaysia Cooper of Team Curry is one of the elite players nationally and was fantastic in the open floor on multiple possessions. She was a part of our Dallas Academy last fall.
Class of 2024 wing Lexi Blue of FGB has grown since last summer and projects as a bigtime prospect. She was a headliner at our Atlanta Academy to end the summer of 2020.
Class of 2023 guard Diana Collins of FBC has a big summer ahead of her with International FIBA play on deck. For now, she's focused on getting ready and went to work in limited minutes here. Her diversified skill set was on display at our Atlanta Academy last summer as well.
Class of 2022 point guard Mya Petticord of Michigan Storm has all the tools to be a high octane backcourt option at the college level. She blazed the hardwood for buckets time after time like she did at our Indianapolis Academy last summer.
Fresh off of a commitment to New Hampshire, Class of 2022 wing Avery O'Connor showed well here for Bay State Jaguars. Her size and skill is a tough combo we saw firsthand at our Rhode Island Academy.

Brandon Clay serves as the Director of Scouting for ProspectsNation.com and owns The BrandonClayScouting.com Evaluation Report, which is read by more than 200 colleges and universities nationwide. He also serves as the Executive Skills Director for the Brandon Clay Scouting Academy Series.