Posted
9 years 11 months ago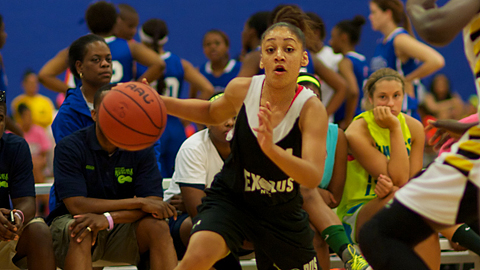 Bianca Cuevas is arguably the best scoring point guard in the country. *Photo by Chris Hansen.
Tweet
Bianca Cuevas of Brooklyn, N.Y., a point guard that has represented New York City well throughout her prep career, will play her college basketball at South Carolina.
Cuevas, who picked South Carolina over Mississippi, is a major addition to Gamecock program. The prospect ranked 18th in the ELITE 150, has the ability to handle the point position immediately if need be and should be a great extension of Staley on the floor.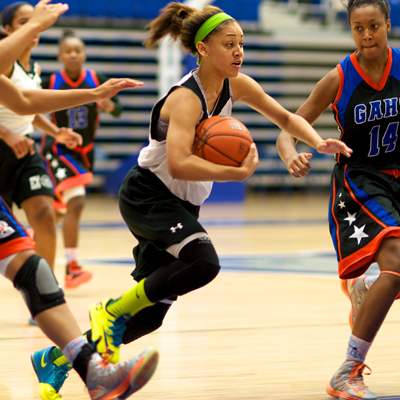 '14 ELITE 60 guard Bianca Cuevas.
*Photo by Ty Freeman.
Perhaps more than any prospect in the recent history of New York City basketball, Cuevas is New York. Inside of what appears to be a slight 5-foot-6 frame, she has brought together a mix of show stopping skill, brash confidence, and maestro like point guard ability. There isn't another city in the world that is as synonymous with a position as New York City is to the point guard position, and while Cuevas brought her own flare to the position, she is also the quintessential definition of a New York City point guard.
Now the point guard that New York helped raise is headed to SEC country to play for one of the games all time best at the position. In Cuevas, Staley is getting a player that fits her and her style of play. Bianca can do a little bit of everything, but most importantly, she has the ability to grow inside of South Carolina's system for four years and really flourish.
The Gamecocks have one prior commit in the 2014 class, Kaydra Duckett, a 5-10 four-star shooting guard from Columbia, S.C.
If Staley and her staff have their way, Cuevas won't be the last addition to South Carolina's 2014 recruiting class. They are actively pursuing both Jatarie White of Charlotte, N.C., and Aj'a Wilson of Columbia, S.C. If South Carolina is able to add both prospects to the mix with Cuevas, Staley and her staff would have a top five class sown up for 2014.
ProspectsNation.com analyst Brandon Clay takes a look at Cuevas from Elite32 Summer Jam in Augusta
Follow @KeilMoorePSB

Moore is the Director of Scouting for the JumpOffPlus.com National Scouting Report and international scouting report. He has been a member if the women's basketball community for more than six years as a trainer and evaluator. He can be reached at keil@prospectsnation.com.