Clay's Take On Fall Eval Weekend
Posted
6 years 9 months ago
As both the founder and owner of Peach State Basketball, Inc., I am responsible for making executive financial decisions on a daily basis. I employ over 250 staffers during the course of a calendar year, many of whom rely on our efforts to help provide food and shelter for their children and spouses. When a revenue stream is eliminated such as exhibition tour teams playing Division I schools after the 2008-09 season, my charge was and is to create a quality offering for the marketplace to replace that financial void. If we can't afford a new product or additional labor that would benefit the company, it is up to me to create the revenue needed to invest in those areas or reallocate current funds to make it happen. If that still doesn't generate the necessary cash flow, then we have to go without the product or help until we can raise the funds.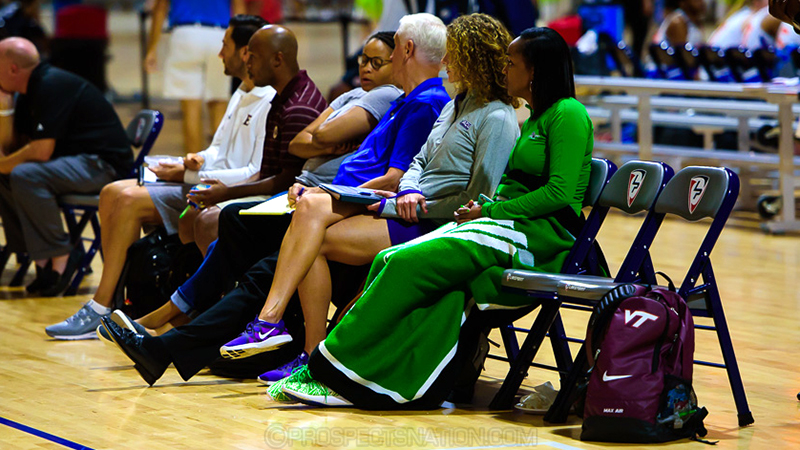 In the case of college head coaches, I view them as acting presidents of women's basketball inside the universities who employ them. On-floor instruction and in-game management make up a very small part of their annual time breakdown. As a result, they're charged with making executive decisions regarding everything inside the program while staying fiscally responsible. Though their budgets and the salaries derived as a result are, in large part if not wholly, subsidized by the institution, choices still have to be made.
Contract extensions, pay raises, budget or facility upgrades, and, potentially new coaching opportunities as a result of winning, are all worth as much as seven figures annually for Division I coaches. With a college player transfer rate that is at an all-time high, nailing down times to watch potential prospects live, in addition to using other sources (local media, scouting services), to find players who fit a program's culture are as important as ever for coaches. Both limited budgets and NCAA-approved evaluation days also factor in to the equation making it a challenge to maximize. An approved weekend such as the fall is a golden chance for coaches looking to find the diamond in the rough needed to help their program take that next step.
As a talent evaluator, there is a fine line between going out every time the doors to the gym are open and working smart. I understand how efficient and cost effective quality club season and/or elite level high school showcases are in comparison to attending single high school games in the players' hometown. Not only would my expenses skyrocket but the level of play would vary greatly from game to game depending on the prospect's high school situation. In attending 15-20 major national events annually, my primary costs are getting to and finding lodging, food at the location. The cost of admission into the event and an information packet are secondary but essential to gathering the information I need to make the trip worthwhile.
On an average weekend I can gather quality evaluations on 50-60 teams at a tournament or 90-100 kids at an individual showcase. Financially, our company cannot afford to attend every event produced so we pick and choose based on multiple factors: region of the country, quality of the attendees, detail of the information packet provided and overall organization by the operator of the event.
As a group we have to tackle many of the same questions regarding budgets, scheduling and time that these programs do. So it is no surprise that each fall some programs utilize the fall weekend in their planning and others do not.

Brandon Clay serves as the WNBA Director of Scouting for ProspectsNation.com and owns The JumpOffPlus.com International Report, which is picked up by more than 150 colleges and universities nationwide. He serves as the Executive Camp Director for the Elite Basketball Academy Camps. He serves on the Naismith Trophy Men's / Women's College Player of the Year Academy and is chairman of the HS Boys / Girls Board of Selectors and is on the McDonald's All-American Selection Committee. He also is the publisher of PSBPopCulture.com.