Austin Spotlights 2020 - Part I
Posted
2 years 7 months ago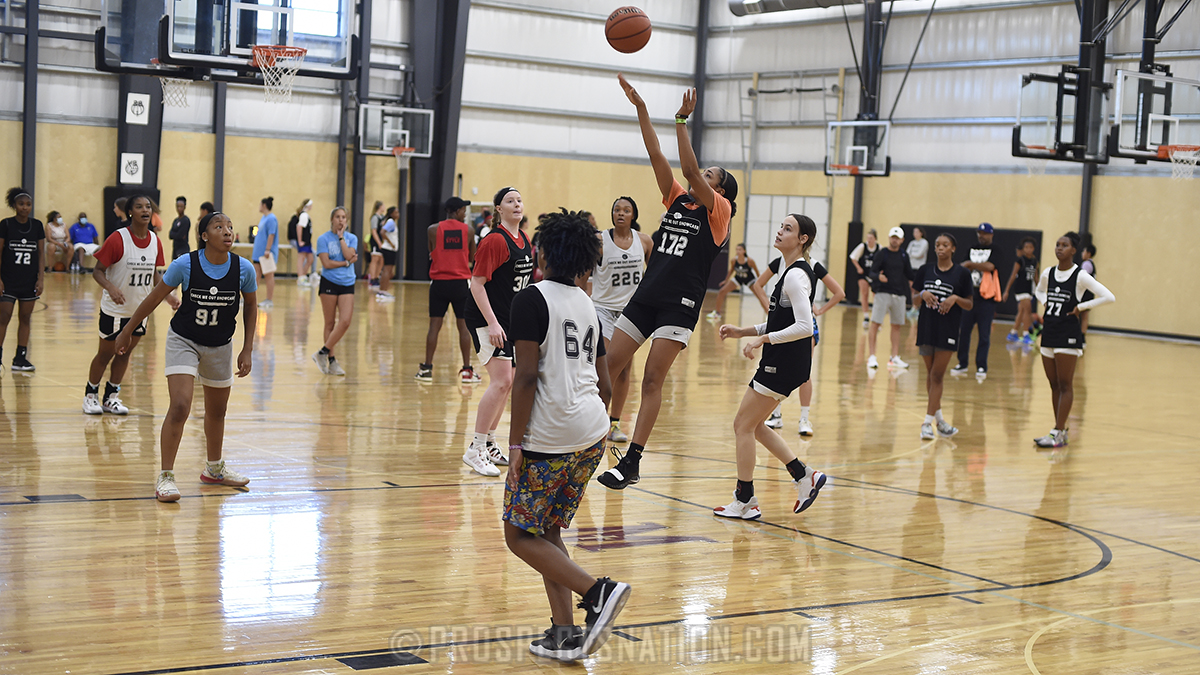 Jazmyne Jackson of Aubrey, Texas, elevates at Check Me Out Texas in June 2020. *Photo by Rob Kinslow.
The morning before the start of the Check Me Out Showcase event, a collaboration of Brandon Clay Training and Elite Is Earned Basketball, spotlight sessions were held. Groups of 14 players, starting with the 10:30 a.m. group came through to get extra work in. Here are the takeaways from the workout and two days on the floor from camp.
Salena Carrasco (Fort Worth, Texas), Cy Fair Elite – 2026
Carrasco is a good athlete with some speed to end-to-end to go with it. As her jumper progresses and becomes really fluid on each rep, she'll be a tough matchup for other defenders in her size range. Carrasco's ability to wiggle through traffic give her an advantage that most don't at this age.
Jessie Connolly (Austin, Texas), Cy Fair Elite Austin – 2022
Connelly has a solid build and was able to get some quality instruction to apply to her game. She is a big guard with a nice, tall follow through already. Adding a floppy wrist that drops into the net so to speak on each shot will only increase her overall shooting percentage. Connelly is a next level prospect capable of playing multiple guard positions.
Macey Hein (Devine, Texas), SA Hoops Elite – 2022
Hein brought a welcomed positive attitude and a sharp shooting stroke to the group. The prospect of being coached and taught only seemed to enhance her outlook on the academy. That's a rare quality in any age. Hein has the skill set needed to catch and shoot out beyond the 3-point line and is developing her one bounce pull up jumper as well.
Jazmyne Jackson (Aubrey, Texas), DFW Elite – 2022
Jackson made an impact her with her court awareness and quickness. She's a smaller guard who is able to change directions offensively then play quality on ball defense on the end. She is working on her range. A big piece of that is getting her elbow above her eye on a consistent basis when she steps out beyond 15 feet to shoot it,
Addie McCormick (Georgetown, Texas), Lady Phoenix – 2023
McCormick approached the session with a worker's like mindset and saw improvement in her shot as a result. She's got a really nice shot mechanically and can build on that as her physical strength increases. Like most guards, McCormick's toolbox needs to include the ability to pass and handle with both hands
Mia Monroe (Colorado City, Texas), Texas Elite Force – 2021
Armed with a compact build and legitimate strength in the backcourt, Monroe proved that she is a college level caliber guard. Continuing to find high level settings to train such as this one will be important in her development. That said, the physical tools and work ethic are already in play for Monroe.
Madisen Moten (Houston, Texas), Texas Flight Elite – 2026
Moten was one of the youngest players to attend the event. She showed all the shiftiness in her game to really make an impact off the dribble when she gets older. Playing against older competition it was clear her quickness is already on track to translate to the high school game and beyond. When she adds strength over time we'll get an even better feel for her game.
Aly Obregon (Helotes, Texas), SA Hoops Elite – 2024
A left-hand dominant guard, Obregon has a smooth shooting form that was very easy to make slight adjustments to. She has a slight build but gets her jumper out relatively quickly to help offset that. If Obregon becomes a more consistent talker on the floor, then her game will go up a level as a result.
Alea Pinai (Cedar Park, Texas), Lady Phoenix – 2023
Pinai is a smaller guard who is still developing physically but has a solid base to build her game upon. At her size, becoming a consistent knockdown jump shooter will be important. She showed flashes here of being able to do just that.
Marisa Seaton (San Antonio, Texas), SA Hoops Elite – 2022
Seaton has a fantastic build and shooting consistency for an underclass prospect. From the opening drill, she was locked in and willing to take instruction. We talked about her finishing each and every shot without exception with a tall two-handed follow through.
Kemah Shaw (Kyle, Texas), AD Elite – 2024
Our staff couldn't be more pleased with the progress that Shaw has shown over the past couple of years. She has been to multiple academies and the work is starting to shine bright in the light. Shaw's shooting mechanics are crisp and consistent. Inside of gameplay, she showed the ability to make plays downhill off the bounce as well.
Kate Faith Valle (Frisco, Texas), Fire And Ice – 2021
Valle has great size and work ethic. Her willingness to compete was a pleasant surprise in this setting. She even drew a charge during the transition gameplay. Keeping that energy at a positive level in always important but the base for her to be a consistent double-double type of player in the frontcourt certainly exists.
Makenna Walker (Greenville, Texas), Cy Fair Elite Dallas – 2022
Walker is strong enough through her shoulders to be a threat as a shooter out beyond the arc. She's solid off of the bounce too giving her a chance to be a consistent one bounce pull up threat. Walker was listening to all instruction given, attentive and a player we look forward to working with again this fall at an academy down the road.
Brooke White (Georgetown, Texas), Lady Phoenix – 2023
White is a guard who can shoot it off the catch or create off the bounce. Her skill set is smooth and she was a dream to work with in this setting. White was able to take instruction, apply it to her game then ask a question if something felt off or didn't register. That's impressive for a high school prospect.

Brandon Clay serves as the Director of Scouting for ProspectsNation.com and owns The BrandonClayScouting.com Evaluation Report, which is read by more than 200 colleges and universities nationwide. He also serves as the Executive Skills Director for the Brandon Clay Scouting Academy Series.