Recruiting Rundown: Chavez, Giusto, Gross
Posted
4 months 3 days ago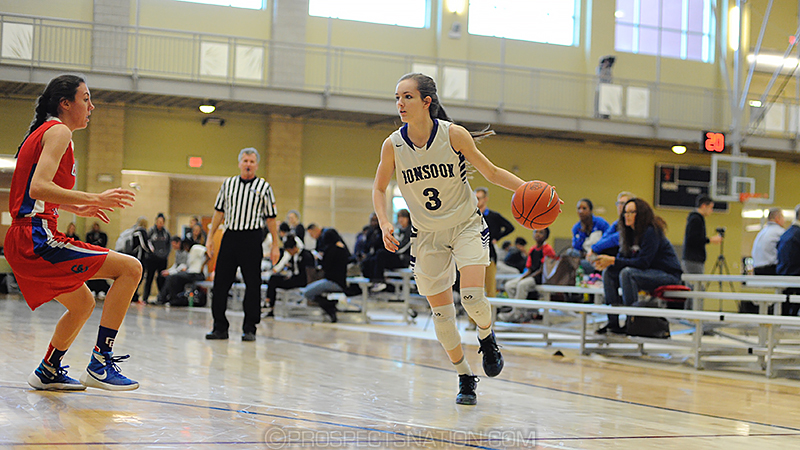 Taylor Chavez of Surprise, Arizona, gives the Ducks a terrific playmaker in the backcourt. *Photo by Chris Hansen.
#BrandonClayScouting#CommitmentCentral

'18 G Taylor Chavez (AZ) commits to Oregon.

Chavez is a former #EBASuper64 Showcase participant. pic.twitter.com/MyhN0iUtZj

— Brandon Clay (@BrandonClayPSB) October 16, 2017
Class of 2018 sharpshooter Taylor Chavez of Surprise, Arizona, is headed up the West Coast to Oregon. Chavez took a number of visits including stops to Baylor and Southern California before visiting Eugene and ultimately deciding on the Ducks as her future home. Dating back to her days as an Elite Basketball Academy Super 64 Showcase participant, Chavez has displayed a penchant for making shots and being a quality ball handler. Currently ranked No. 53 in the senior class nationally, Chavez is capable of providing Kelly Graves roster with another quality weapon in the backcourt starting next season.
HANSEN'S TAKE
Chavez is one of the most versatile guards in the class. Having watched her in both the club setting and with her high school, it is impressive to see how she can change gears from a volume scorer to being a distributor. The Ducks are set with skilled guard play for years to come with Chavez following Maite Cazorla and Sabrina Ionescu.
#SMPMember Recruiting Program

THIS JUST IN#CommitmentCentral

'19 G Mya Giusto of @GCSHARKGBB & @ETYBA to Tampa: https://t.co/VKAc4MEeVQ pic.twitter.com/bsTO0lRjbx

— Brandon Clay (@BrandonClayPSB) October 17, 2017
Class of 2019 point guard Mya Giusto of Florida, committed to Tampa after visiting campus. Her play at the RedsSuper64 Showcase two Sundays ago landed the dynamic guard an offer from Tampa. Coming off of a knee injury, Giusto showed no lingering effects while displaying both the activity and explosiveness that makes her one of the Sunshine State's premier floor generals in the junior class.
HANSEN'S TAKE:
Guisto is a hyper competitive perimeter player who can play with or without the ball in her hands. Her authentic enthusiasm for training was a regular highlight working with her at EBA Camps over the years.
#SMPMember

THIS JUST IN

On a USC-Upstate visit, '18 Kaylea Gross gets an offer

Upstate saw her at #EBAFallFinalehttps://t.co/ZuF821z0Y1 pic.twitter.com/nMrztH7MuJ

— Brandon Clay (@BrandonClayPSB) October 14, 2017
Class of 2018 post Kaylea Gross of Harlan, Kentucky, received an offer from USC-Upstate. A 6-1 post player, Gross made her presence felt during the Elite Basketball Academy Fall Finale over the NCAA-certified fall evaluation period. USC-Upstate was front and center watching her work. Their staff made the trip to visit Gross at Harlan County High School last week. Gross, a three-star prospect, then returned the favor by visiting the Spartanburg-based campus this weekend where she received the scholarship offer.

Brandon Clay serves as the WNBA Director of Scouting for ProspectsNation.com and owns The JumpOffPlus.com International Report, which is picked up by more than 150 colleges and universities nationwide. He serves as the Executive Camp Director for the Elite Basketball Academy Camps. He serves on the Naismith Trophy Men's / Women's College Player of the Year Academy and is chairman of the HS Boys / Girls Board of Selectors and is on the McDonald's All-American Selection Committee. He also is the publisher of PSBPopCulture.com.

Chris Hansen is managing editor of ProspectsNation.com and serves on the McDonald's All-American and Naismith Trophy selection committees. He was a co-founder of and the national director of scouting for ESPN HoopGurlz from 2005 until 2012 and is the director of the Check Me Out Showcase. He can be reached at chris@prospectsnation.com.