Posted
4 months 2 days ago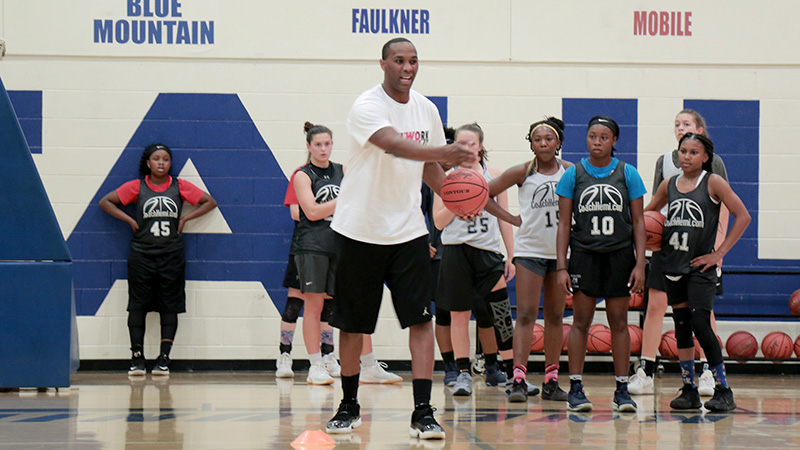 Christian Simmons led the skill development sessions at the #CoachHemi334Showcase in Alabama. *Photo by Parallel Media.
MONTGOMERY, Alabama, - Faulkner University served as the host location for the #CoachHemi334 Showcase. Forty prospects from five different states showed up to train and compete at the camp. Here is a rundown of the standout performers from the October camp.
See the social media coverage from the camp here: LINK
High School Standouts
Artasia Cannon (Marbury, Alabama), - Marbury High School – 2018
Cannon is a skilled guard who showcased her shot-making abilities very well at the camp. She hit the spot-up 3-pointer with consistency while also mixing a nice mid-range game to keep the defense honest. Her step-back jumper to her left-hand is her go-to move when she is forced to put the ball on the floor. Cannon's size, 5-foot-8, and accurate shooting touch is worth watching in final year of high school.
#CoachHemi334

Tay Cannon using her go to step back jumper to get separation and knockdown the jumper! pic.twitter.com/jFe8MCzNMD

— Jonathan Hemingway (@CoachHemi) October 14, 2017
Madison Henegar (Murfreesboro, Tennessee), Riverdale High School - 2020
Henegar is going to be a prospect of interest for an array of schools throughout the Southeast in the very near future. At 6-foot tall she proved she can score the ball over smaller defenders in the paint. However, it is her face-up skill that makes her a true mismatch problem. She is consistent with her jump shot from 3-point range. While she also showed footwork to skirt past lunging defenders on the drive. If she continues to work and improve at the rate we have witnessed over the past 18 months, Henegar should be a prospect that receives multiple offers while she is in high school.
Niaira 'Tuti' Jones (Troy, Alabama), - Charles Henderson High School – 2020
The point guard position could be the most important one in the game today. Coaches expect players in that slot to create a high volume of plays and points. Jones is a player that can fulfill that expectation effectively. Her explosiveness and quickness with the ball makes her a threat to get to the lane consistently. She demonstrates consistent range on her jump shot and a willingness to find the open player with the pass. Jones checked a lot of boxes at this camp and should be a player that trends upwards in the recruiting world as she heads into her sophomore year of high school.
Amiya Payne (Trussville, Alabama), Hewitt-Trussville – 2021
The term positionless basketball is a popular term among coaches and basketball aficionados these days. Payne is a player that is made to play in a system that encourages versatility and highlights mismatches. The 5-11 forward can fill up the stat sheet with rebounds and paint finishes. However, she is equally effective at leading the fast break or attacking the lane with nimble footwork.
#CoachHemi334

Amiya Payne @AmiyaSkye03 has been making plays like this all day. Good outing for the 2021 Wing. pic.twitter.com/697Qx3uzbE

— Jonathan Hemingway (@CoachHemi) October 14, 2017
Antanisha Wade (Cleveland, Mississippi), Cleveland Central High School – 2019
Wade made a name for herself by being coachable and doing what was asked for her team. She is a 5-10 forward who excelled in the pick and roll game. Her size and willingness to be physical allows her to produce in the middle 1/3 of the court. In addition, she showed footwork to attack defenders around the elbow area. Wade's ability to play inside and out is notable.
Middle School Standouts
Madison Booker (Ridgeland, Mississippi), Germantown Middle School – 2023
Booker stole the show on Saturday afternoon. The seventh grader showed rare confidence with her ball handling for a player who normally would be labeled a center at this age. She stands at 5-10 and has a frame that could easily stretch out several more inches. She led the break, hit spot-up 3-pointers and displayed great instincts on the court. Booker has a chance to be a very special player if she stays in the gym and continues to develop.
Reniya Kelly (Hoover, Alabama), Bumpus Middle School – 2023
Kelly demonstrated the tightest, quickest ball handling regardless of age at the camp. She is lightning quick moving left to right. She is a talented guard who proved she can create plays and make shots in a gym full of talented prospects. Expect her impact upon the game to increase as she matures and game experience.
#CoachHemi334

Reniya Kelly @KellyReniya2023 out here showing off her tight handles and quickness! pic.twitter.com/DmMjz9ebLd

— Jonathan Hemingway (@CoachHemi) October 14, 2017
Masyn Marchbanks (Hartselle, Alabama), Hartselle Middle School – 2022
It was not immediately noticeable, but Marchbanks had the task of competing versus the high school prospects in competitive settings. Despite the age difference, the 5-7 eighth grader made herself one of the camp's biggest producers. She slid past defenders and made plays going towards the basket. She possesses a great feel for the game already.
Leah Sutton (Byram, Mississippi), Carver Middle School - 2023
Sutton is an interesting prospect who possesses many skills needed to be successful. She has a great feel for the game. Her body control and touch around the basket is unique for a player her age. She showed off-hand finishes around the basket while also battling for rebounds. Her high energy attitude should translate well as climbs the ladder of basketball from middle school to high school.
Hope West (Union Grove, Alabama), Liberty Middle School – 2023
West's best days of basketball are still in front of her. She is a 5-9 wing with guard skills. She can handle the ball like a secondary handler and can hit jumpers from beyond the arc with consistency. However, her size is what could elevate her into higher levels in future years. On this day, however, it was her defense that stood above all. She took on the challenge of defending the best player in the gym and made it difficult for her to maneuver. Look for West to have a bright future on the court.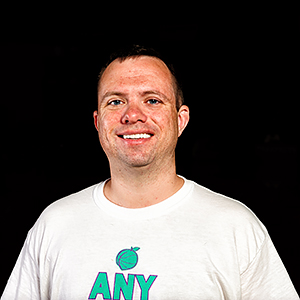 Jonathan Hemingway is the Assistant Director of Scouting for the JumpOffPlus.com National Scouting Report, is on the Naismith Trophy Board of Selectors and owns CoachHemi.com, the go-to source for coaches for X's and O's. He is the floor director of #TeamEBA camps, a site director for #TeamPSB tournaments and can be reached at jonathanhemingway@peachstatebasketball.com.